Editors' Note: This article covers a micro-cap stock. Please be aware of the risks associated with these stocks.
Vapor Corp. (NASDAQ:VPCO) is a micro-cap pure play electronic cigarette, or "e-cig," stock that closed at $0.87 on Nov. 4, 2013. The company started selling e-cigs out of mall kiosks and has now expanded into a $58.56M publicly traded company. It is currently traded OTC.
Click to enlarge images.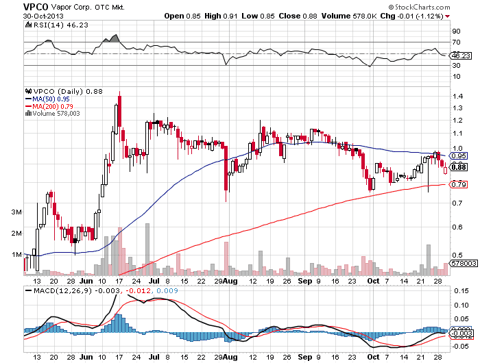 Vapor Corp. designs, markets, and distributes electronic cigarettes and accessories primarily in the United States and Canada. The company offers its products under the Fifty-One, Krave, VaporX, Alternacig, EZ Smoker, Green Puffer, Americig, Fumaré, Hookah Stix, and Smoke Star brands. Vapor Corp. sells its products primarily through its online stores, direct response television marketing efforts, direct sales force, and third-party wholesalers, retailers, and value-added resellers.
Krave is currently the companies flagship brand and is distributed to more than 60,000 locations currently in the US and Canada. Both rechargeable and disposable versions are available. Notable chains carrying Krave include all Rite Aid, Dollar General locations, and Hess gas stations.

The VaporX is a personal vaporizer that allows the user to choose his or her own "e juice." The "e juice" comes in multiple flavors, nicotine strengths, and manufactured at Vapor Corp.'s onsite flavor laboratory. There is also a dry VaporX vaporizer that allows the user to smoke the dry herb of his or her choice conveniently.
Vapor Corp. Recent Results
Vapor Corp. reported excellent results on Oct. 21, 2013. Sales for the three months ended Sept. 30, 2013, and 2012 were $6,411,605 and $3,855,568, respectively, an increase of 66.3%. Sales for the nine months ended Sept. 30, 2013, and 2012 were $18,958,196 and $16,844,097, respectively, for an increase of 12.6%. (It should be noted sales to a single new distributor in 2012 have distorted revenue comparisons year over year. Sales to that single distributor dropped 61% YOY through nine months after initial inventory build. Backing out the effects of this single distributor on results the remainder of the business revenue through nine months 2013 is $17,361,232 vs $12,751,011 or up 35% YOY.) Vapor Corp. has also displayed strong revenue growth over the past three years with $21.3M in revenue in 2012, $15.9M in 2011, and $10.9M in 2010.
In the recent quarter VPCO came in just shy of a $.01 share EPS with net income of $280,827 vs. ($819,010) in Q3 of 2012 and 61.8M diluted shares outstanding. For those nine months ended income results stood at $349,721 vs. ($1,195,461) in 2012. Cash on the balance sheet stood at $303,097, with long-term debt at $610,358. So the company is not overleveraged. Gross margins increased to 40.1% from 36.5% in the prior nine-month period. A 1.5M back order left at the end of Q2 was filled which was above their normal 0.5M backorder level.
Competition and Market Share
The main competition for Vapor Corp.'s premier product Krave at this point as mentioned above is LO's Blu, NJOY, FIN, and V2. Again, the market is very fragmented and with Internet sales untracked officially it is hard to give concrete market share numbers. But VPCO's market share has been estimated at 16% according to CEO Kevin Frija.
Soft Rip Patent
As per the investor relations website:
On 6/5/2012 the company filed a non provisional patent for a 'Padded Cartridge for an Electronic Cigarette Apparatus' based on Vapors previously filed provisional patent application, as filed with the U.S Patent and Trademark Office on 6/7/2011. Vapor Corp.'s Soft Padded Electronic Cigarette Cartridge is a soft tip filter with the same tactile feel of a traditional cigarette filter.
This is a significant asset for the company for several reasons. For one, when trying to get smokers to leave their favorite, usual brand of cigarette it's hard to replicate the experience with a hard plastic filter. Many early users of e-cigs named this as their main complaint for not switching. This innovative design allows the user to feel as if they are using a traditional analog cigarette and closely replicates the experience they have been used to before switching.
Also, nearly all manufactures including Blu and NJOY are currently using soft tip filters. They also realize that this is an integral part of the user experience. Although the patent has not been granted yet, one would have to believe if it was there would have to be remuneration to Vapor Corp. for others using a similar design. If granted, it's hard to put a price tag on what this is worth. Nonetheless, it's a very valuable asset for a $58M market cap company.
Recent Developments
On Oct. 23, 2013, the company announced via an 8-K filing they were raising gross proceeds of $10M in a private placement of 16,666,667 shares of its common stock at $.60 per share. Net proceeds of the transaction are expected to be 9M after fees. Those involved were institutional, accredited investors and insiders. The transaction also extinguished high interest convertible notes the company was carrying in return for 3.9M shares. This will bring the diluted share count to 82,396,367. Shareholders were diluted by 33%, but this deal comes with many other significant beneficial developments outside of the huge cash raise -- including eventual listing on the Nasdaq.
Quick Overview of the E-Cig Industry
For any investor well-versed in the tobacco sector, it is known that e-cigs are an exciting new alternative to traditional (analog) cigarettes. This is exciting for tobacco investors in that analog cigarette usage has been a steadily declining business for many years. This is occurring as governments impose significant taxes, smokers are ostracized with smoking restrictions, anti-smoking education and advertisement have become a government priority.
Major U.S players -- including Altria (NYSE:MO), Lorillard (NYSE:LO), Reynolds American (NYSE:RAI) -- and international companies, including British American Tobacco (NYSEMKT:BTI) and Phillip Morris International (NYSE:PM), have either acquired or are developing e-cigs or low smoke alternatives. LO seems to be ahead of the game at this point in regard to the big players with their Blu acquisition in the U.S., and their recent Skycig acquisition in the U.K. Altria is currently marketing their brand Mark-Ten in Indiana and Arizona, and Reynolds American markets Vuse as their offering. Phillip Morris International said in their last conference call that they are looking at multiple traditional smoking alternatives, but not targeting release for at least a couple more years.
The e-cig business is very fragmented at this time in the U.S. with an estimated 250 brands (as per CNBC), little oversight from regulators, multiple flavors/nicotine levels, and a very robust internet business. LO in their recent earnings release estimated they had a 49% market share in the third quarter with their Blu brand. They go on to admit they also cannot estimate the amount of Internet sales in their conference call. Other very relevant brands in the industry at this time include FIN, V2, and NJOY and Vapor Corp.'s premier brand Krave.
Projected Growth of the Industry
Analyst Bonnie Herzog from Wells Fargo has been the most outspoken analyst on potential growth in the industry as well as one of the earliest analysts to discuss and recognize the huge growth potential of the industry. She estimates e-cig sales will double to >1B in 2013 from 500M in 2012, and grow up to 10 billion in next 10 years.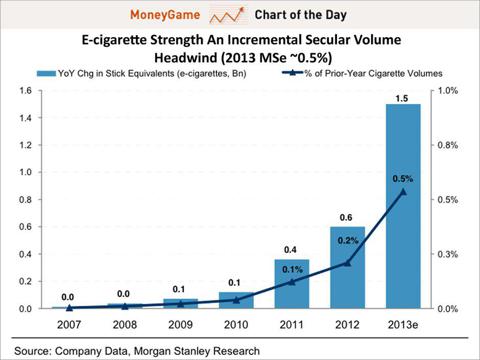 As per the most recent conference calls by LO and MO, there is the thought that the recent decrease in analog cigarette usage is due to the sudden explosion of e-cig users. There are an estimated 2.5M regular e-cig users as well as thousands if not millions that have tried or are dual users. Again with the category being so segmented and new, its hard to get a true grasp on specific usage trends. What is known is that the segment is rapidly growing.
FDA Regulation
Part of what has allowed the rapid growth of e-cigs and provided a low barrier of entry to the industry has been little to no regulation. The FDA has not specifically regulated e-cigs, but a decision was expected as soon as the end of October 2013. This may be pushed back because of the recent government shut down. Currently there are no restrictions on flavors, age, Internet sales, or content of the e-cigarette. The FDA may also have some trouble regulating some aspects of the e-cig business as the FDA has the power to regulate tobacco-only products, and e-cigs contain no tobacco itself but rather its derivative, nicotine.
Recent E-Cig Regulation in Europe
E-cig manufactures breathed a sigh of relief when the European parliament rejected a plan to unilaterally regulate e-cigs are medicinal products. The U.K. has stated that it plans to license e-cigs as a medicinal product from 2016 onward, and many countries are still debating allowing indoor smoking of e-cigs.
Healthy Alternative?
I work in the healthcare field and I have not found an article yet disproving that e-cigs are a healthier alternative to traditional tobacco cigarettes. The liquid nicotine in a e-cig is carried by propylene glycol (not ethylene glycol, as rumored in anti e-cig smear campaigns). Propylene glycol is a practically odorless and tasteless compound that has been used in asthma inhalers (ironic?) and to carry flavors in food and in drinks. When processed by the body the end product is lactic acid, the same waste product of muscle during exercise.
Critics will say that nicotine still harms the body. Nicotine itself is not a totally benign compound. There is no question, though, that it does not cause the serious lung, heart, and micro-vascular disease that the combustible smoke in a regular cigarette can. As a disclaimer, I have not done any specific research myself, but this is a key component of the FDA's decision and I am not aware of any literature proving otherwise.
Bull Argument for Vapor Corp.
1. This very well could be the beginning of a rapid ascent for the company as the cash on the balance sheet will now allow for aggressive expansion opportunities. In this environment with e-cig usage and awareness rapidly expanding aggressive marketing (if still allowed after FDA ruling), building of sales teams, and distribution networks will allow for increased market share and sales. This should translate into significant gains for the equity investor in VPCO.
2. Although not consistently profitable, a full .01 of EPS could be expected in the next four quarters with the recent developments and industry growth. That being said the current share price translates in to less than a 25 forward P/E. This is a very reasonable valuation.
3. Before this cash raise the company was borrowing money from insiders at exorbitant interest rates. This will free up greater then $400K a year in interest costs. This in turn will make the ability to turn a consistent profit and EPS much easier. This is no small feat for a micro-cap stock.
4. Listing on the Nasdaq will allow the company to become visible to many more investors/funds as it will shed its "untouchable" OTC status. The institutional investors involved in the recent deal will also now have it in their interest to promote the company. This should gain the stock more exposure in the investment community.
5. Although it may not be able to compete with the likes of MO, RAI, LO in terms of size and financial clout. Vapor Corp. will be able to coattail on the time and lobbying that the big players put in when it comes to FDA regulation. What is good for the big guys at this point with the FDA is good for Vapor Corp.
6. Potential future regulation may include restriction on internet sales and flavored e-cigs. Although currently part of their extensive product line the company's revenue is now trending toward brick and mortar sales and traditional tobacco and menthol flavors.
7. LO's recent quarter showed 450% YOY third-quarter revenue growth for Blu but barely dented top line revenue. All of the explosive e-cig growth VPCO will experience will hit the top line directly going forward.
8. Past history tells us that eventually this industry will consolidate down the road. If Vapor Corp. can cement a respectable marketshare they will become a buyout candidate in the future.
9. The soft tip patent as mentioned above remains a wild card but could be extremely lucrative.
10. Vapor Corp. has strong product offerings including multiple disposable/rechargeable e-cigs as well as a personal vaporizer option. No other competitor in the space offers both. This gives Vapor Corp. exposure to the newly emerging customer that "vapes" with their own personal device as well as the dual user.
Bear Argument Against Vapor Corp.
1. At this point, the official specifics of the FDA regulation is unknown and may crimp growth for e-cig companies. Since VPCO is a pure play e-cig company this could affect them substantially. This could include internet sales, flavors, and age restrictions.
2. VPCO is still a micro-cap company, and even now, with a much improved balance sheet, it may still find it hard to compete against the likes of MO, LO, and RAI.
3. Although e-cigs are much healthier alternatives then traditional analog cigarettes they will still have many opponents. Recently attorney generals from 40 states encouraged the FDA to regulate e-cigs like regular analog cigarettes.
4. Smoking continues to have quite a stigma in developed nations so growth will likely have to come from smokers switching as opposed to new smokers.
5. The soft tip patent may not be granted and thus become worthless, although I do not believe it is currently reflected in valuation.
6. From personal experience management/investor relations has not been very accessible, so it is hard to get a good feel for specific company goals and directions with little to no investor communication. Specifics regarding product distribution/individual product revenue etc are not known. This should change with Nasdaq listing.
7. VPCO may get squeezed out by the big players in the future due to significantly smaller size and relative lack of brand recognition.
Conclusion
An investment in Vapor Corp. offers an excellent early innings, pure play opportunity to participate in the explosive future growth of e-cigs. VPCO at its current price is very undervalued when looking at its future growth potential and its many upcoming catalysts. The recent cash raise and upcoming Nasdaq listing will give the company significant exposure and the resources it needs to rapidly expand sales and profits. Two to three years from now it is not unreasonable to believe VPCO will have provided investors with multi-bagger returns, or become a prime takeover candidate for big tobacco. I own shares of VPCO and will buy on any significant dip.

Disclosure: I am long VPCO. I wrote this article myself, and it expresses my own opinions. I am not receiving compensation for it (other than from Seeking Alpha). I have no business relationship with any company whose stock is mentioned in this article.
Disclaimer: Vapor Corp. and all micro-cap stocks contain significant risk and require extensive research before investment. At times, VPCO can be relatively illiquid and this should be considered in regard to position size. Micro-cap stocks can at times come under significant financial stress and can be more susceptible to swings in the economy then larger companies. This article is to be used as a part of the due diligence process and not a pure recommendation to buy the stock.