Editors' Note: This article covers a micro-cap stock. Please be aware of the risks associated with these stocks.
In this article, I'll demonstrate why I believe Pan Global Corporation (OTCPK:PGLO) is a ticking time bomb for small investors. This loss-making penny stock with total assets of $20,000 has risen to a monumental $335 million market cap on the back of a huge Internet-based promotion effort. Using facts and figures below, I'll demonstrate why I believe PGLO could crash even faster than it arose. And this crash could leave thousands of naive investors holding the bag.
History and Business Model
Pan Global is the parent company of Pan Asian Infratech, which operates entirely in India yet is headquartered out of a small office in Carson City, Nev. The company is attempting to become a "green energy" producer, although the company was formed by overtaking a business consulting corporation called Savvy Business Support Incorporated, according to the New York Times. Pan Global is attempting to purchase interest in several hydroelectric power plants.
To give you some insight, while the India market is experiencing significant growth, the fact remains that the market is far from being mature. The truth of the Indian electric market is that it is fraught with problems. According to some reports up to 30% of electricity is stolen, the city of Delhi has been noted to have this problem. Also, the Indian government, which buys large portion of electricity, does so to curry favor with constituents. But such favors have been done at the cost of transmission of electricity. Distribution is a reoccurring problem throughout the entire country. These distribution problems caused the worst blackout in human history in July 2012.
Financial Facts
| | |
| --- | --- |
| Most Recent Price (Nov. 1, 2013) | $0.74/share |
| Shares outstanding | 155 million, plus 300 million preferred |
| Market Cap (Nov. 1, 2013) | $335 Million |
| Earnings (MRQ) | $15,000 |
| Total Cash (MRQ) | $9 K |
| Total Assets (MRQ) | $20 K |
| Total Debt (MRQ) | $394 K |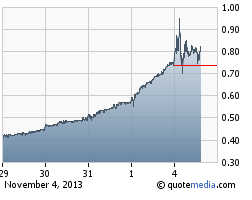 The financials of Pan Global are just shy of a disaster. The company reported $15,000 of income (revenue), yet in the same report the company reported debts of $394,000 -- 26 times more than its revenue. But this is not even the worst financial fact -- with 155 million shares outstanding plus another 300 million preferred shares, the company has diluted itself to the brim. The company reported a grand total of $20,000 in assets, of which $9,000 is cash on hand. Therefore, with 1,000 shares of the outstanding stock, one would have 12 cents worth of assets. Twelve cents of value for $740 of investment based on the most recent closing price -- that's some investment.
As investors we all know that stock values are tied to projected earnings. Currently, the stock is valued at 74 cents per outstanding share, for a current market value of $335 million. Pan Global currently has less than 20 megawatts of power under control. The average price the company will get from the government of India for this electricity is about three rupees per kilowatt hour. At that rate, the company will at best make less than $400,000 per year. That would be if all power was paid for, used, and distributed (issues that are a problem in India). In a perfect world for PGLO with no problems, in 35 years that would be a total income of $14 million -- a cumulative EPS of $0.03 based on 455 million shares. In other words, for the 74 cents one pays today, the stock would make a grand total of $0.03 over the next 35 years.
Publicity and Media Releases
Stocks do get out of balance, but when there is a concerted effort to promote the price an investor needs to find out why. In the case of Pan Global, the corporation Leluna, Inc. (a Google search was inconclusive on the company) is paying a stock promotion company called Amerada Corp $1.1 million to promote PGLO via a web video. That's $1.1 million for a stock that may produce a grand total of $0.03 over 35 years.
In the video, Amerada focuses on two issues: the growth of India as a market and that the company has secured a guaranteed contract to sell power to the government for 35 years (hence the values based on 35 years above). This video is playing on investors' ideas that India is a BRIC stock, and who want in on great growth. The truth, as pointed out above, is that India is still suffering from a great deal of growth issues, which means investors need to be wary of a stock hoping to make value just because it's in a growth market. (Remember the dot-com bubble and the real estate market of the 2000s; even mature markets are subject to problems with regard to expectations.)
Additionally, Pan Global has been promoting itself. In the last 11 days of October, Pan Global released 10 press releases. These release seemed more to point to the size of the hydroelectric market rather than real company news. The market might reach $38 billion in two years, but Pan Global is only going to be a very small portion of that market.
Conclusion
President John Adams once said, "Facts are stubborn things." When it comes to Pan Global, the facts are stubborn. The most recent price of 74 cents is 25 times what the company would earn in a full 35 years of non-problem operations. The stock price is tremendously overinflated. Leluna, Inc., a company for which no ownership information can be found, has paid $1.1 million to promote Pan Global. Obviously, someone or some group has placed plenty of money down to influence this stock, along with Pan Global itself. The question then becomes: If the market in which it operates is such an outstanding opportunity, why does it need to be pushed so much? Is there something fishy happening with Pan Global? The answer has to be yes.
Disclosure: I have no positions in any stocks mentioned, and no plans to initiate any positions within the next 72 hours. I wrote this article myself, and it expresses my own opinions. I am not receiving compensation for it. I have no business relationship with any company whose stock is mentioned in this article.