On Monday, November 4, Avista Corp. (NYSE:AVA) agreed to acquire privately-held Alaska Energy and Resources, the state's oldest regulated electric utility, for $170M. Avista expects the addition of Alaska Energy and Resources to have a slightly negative impact 2014 earnings and much more of a positive impact on 2015 earnings. In the wake of Monday's announcement, I wanted to highlight a number of the reasons why I remain bullish on shares of Avista.
Recent Performance And Trend Behavior
On Monday shares of AVA, which currently possess a market cap of $1.69 billion, a beta of 0.77, a forward P/E ratio of 15.26, and a current dividend yield of 4.33% ($1.22), settled at a price of $28.17/share. Based on their closing price of $28.17/share, shares of AVA are trading 3.49% above their 20-day simple moving average, 5.57% above their 50-day simple moving average, and 5.50% above their 200-day simple moving average. These numbers indicate a short-term, mid-term and long-term uptrend for the stock which generally translates into a moderate buying mode for most near-term traders and longer-term investors.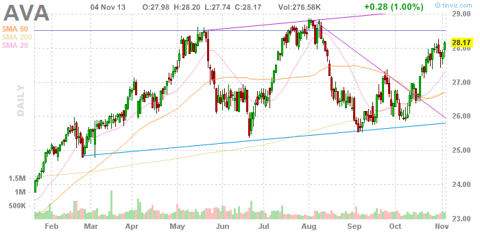 36-Month Dividend Behavior
Since November 30, 2010, the company has actually increased its annual dividend four times in the last 36 months. The company's forward yield of 4.33% ($1.22) makes this particular energy play a highly considerable option, especially for those who may be in the market for a higher-yielding stream of quarterly income. If we go ahead and consider the fact that the company's acquisition of Alaska Energy and Resources will positively impact earnings as early as 2015, I think there's a very good chance the company's annual dividend could increase to as high as $1.34/share by that time.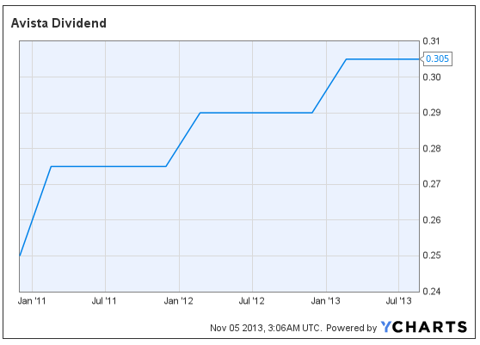 Upcoming Earnings
On Wednesday November 6, Avista Corp will report its earnings for Q3 2013 and analysts are expecting the company to report quarterly net income of $0.15/share and quarterly revenue of $348.06 million. In my opinion, Avista could surpass both earnings and revenue estimates especially since Avista Utilities and Ecova demonstrated considerable strength during the first half of the year.
By taking their strong first half performance into consideration, I believe that both Avista Utilities and Ecova will continue to contribute to the company's over performance and therefore my estimated ranges for both net income ($0.16/share to $0.19/share) and revenue ($355.15 million - $361.75 million) are slightly above street expectations of $0.15/share and $348.06 million for the third quarter.
Risk Factors
According to Avista's most recent 10-K, there are a number of risk factors all investors should consider. These factors include but are not limited to the fact that unfavorable weather could negatively impact the retail sales of electricity and natural gas, the fact that energy commodity prices could negatively impact operating results if a sudden, unexpected drop in pricing were to occur, and lastly any unexpected damages (weather, fire, chemical, etc.) to facilities could slow or even shut down operations until such damages were fixed and operations were allowed to return to normal.
Conclusion
For those of you who may be considering a position in Avista Corp., I'd keep a watchful eye on a number of catalysts over the next 12-24 months as each could play a role in the company's long-term growth. For example, near-term investors should focus on the partnership's recent trend status and long-term investors should pay close attention to any growth related to the company's dividend as well as any potential developments that could come out the company's recent acquisition of Alaska Energy and Resources.
Disclosure: I have no positions in any stocks mentioned, but may initiate a long position in AVA over the next 72 hours. I wrote this article myself, and it expresses my own opinions. I am not receiving compensation for it (other than from Seeking Alpha). I have no business relationship with any company whose stock is mentioned in this article.