Is it too late to turn around RadioShack (NYSE:RSH)? This Zacks Rank #5 (Strong Sell) recently posted a worse-than-expected quarterly loss but it has a new CEO and is testing new concept stores.
RadioShack operates 4,300 stores in the United States and 270 stores in Mexico. It also has about 1,000 dealer and other outlets worldwide.
On July 1, RadioShack opened up the first of its new concept stores on Manhattan's Upper West Side which aimed to highlight popular tech devices from Apple, Samsung and others. These stores have more hands on testing capabilities.
Since the summer, it has opened up numerous new concept stores.
The company is undergoing changes at the hands of new CEO Joseph Magnacca, who came to RadioShack in February 2013 from Walgreen (WAG). He instituted a 100-day plan to turn it around.
In the company's third quarter report, RadioShack listed five pillars for the company's turnaround:
1. reposition the brand;
2. revamp the product assortment;
3. reinvigorate the store experience;
4. operational efficiency; and
5. financial flexibility.
By the end of the year, RadioShack expects to have over 100 concept and brand statement stores in operation. It also intends to re-merchandise inventory in its existing 4,300 stores which it hopes will show improvement in the fourth quarter.
RadioShack is up against the clock.
Big Miss in the Third Quarter
RadioShack has warned that it will take several quarters to turn around the company. On Oct 22, it reported third quarter results and missed the Zacks Consensus by $0.73. Earnings were a loss of $1.09 compared to the Zacks Consensus of a loss of $0.36.
Same store sales fell 8.4%.
With the big quarterly miss, analysts moved to lower 2013 and 2014 estimates.
The 2013 Zacks Consensus Estimate fell to a loss of $2.09 from a loss of $1.23 before the report. Similarly, the 2014 Zacks Consensus fell to a loss of $1.37 from a loss of $0.70 during that time.
For those looking for a silver lining, at least analysts see improvement in earnings in 2014 as the loss isn't expected to be quite as deep.
Shares Still in the Cellar
Shares had fallen to two-year lows in early 2013. They've been volatile since then but have yet to see any kind of meaningful recovery.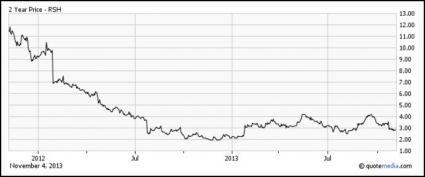 The next couple of quarters are critical for RadioShack.
For investors who aren't willing to take the chance on a turnaround but still want to be in the electronics retailing space, Best Buy (NYSE:BBY) has a Zacks Rank #1 (Strong Buy). It is scheduled to report earnings on Nov 19. Best Buy has beat the Zacks Consensus three quarters in a row.
BEST BUY (BBY): Free Stock Analysis Report
RADIOSHACK CORP (RSH): Free Stock Analysis Report
(email registration required)