A good story about a somewhat old story in Barron's this weekend. The "Cloud" will be something to seriously contend with, the author believes and cites a few companies that may see significant financial benefit from the upcoming mass-adoption.
Too bad that Rackspace (NYSE:RAX) was left out, as they are one of the key players in this space and up 10% on the day, perhaps as a result of this story.
Either way, we still believe that the fundamentals, growth opportunities and the technicals look good. This is a company that has a good plan and is in the sweet spot for a web service that is growing exponentially. Who would have ever thought that we would go back to a dumb-terminal again? Looks like we are moving in that direction…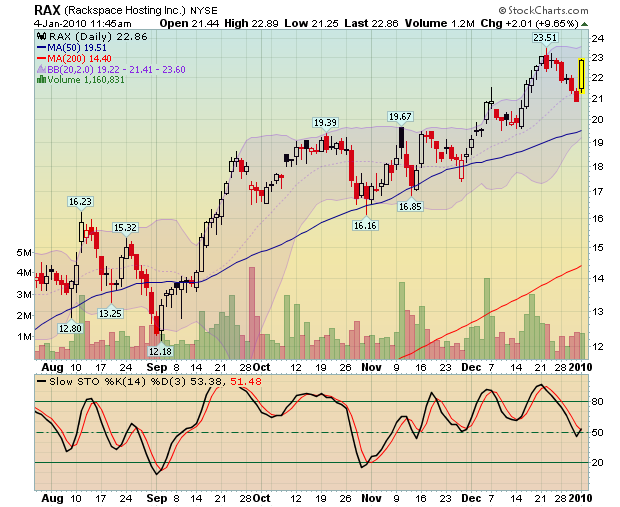 From original article:
...THE MOVE TO THE CLOUD ALSO will produce winners and losers, though it's much too early to handicap who they will be.

Investors, says Readerman, must decide what group within cloud computing they will concentrate on. They might, for example, want to focus on "arms merchants," whose products help build clouds by enabling the consolidation of data centers. This group, which has already benefited from the advent of cloud computing, would include companies such as Riverbed (ticker: RVBD), 3PAR (NYSE:PAR), and VMware (NYSE:VMW). Or they could concentrate on companies that provide partial or complete information-technology infrastructures as a service, such as AT&T (NYSE:T), Amazon.com (NASDAQ:AMZN), Saavis (NASDAQ:SVVS) or Terremark World (NASDAQ:TMRK), says Readerman.

Major tech players like Google (NASDAQ:GOOG), Apple (OTC:APPL) and Microsoft (NASDAQ:MSFT) are all potential beneficiaries — or possibly losers. They're each expected to enter one or more facets of cloud computing to keep pace with customer demand. One example: Apple's recent purchase of Lala Media was said to have been prompted by its desire to let iTunes users purchase and manage their music without having to download software, a form of cloud computing that Lala already uses. There will be lots of other examples among products and services within both the consumer- and business-software sectors.

Barron's recent cover story on the technology outlook ("Lunch Time!" Oct. 26) spotlighted the powerful consolidation going on in enterprise technology among major companies including Cisco Systems (NASDAQ:CSCO), H-P, IBM (NYSE:IBM), Dell (NASDAQ:DELL) and Oracle, a group one executive refers to as "CHIDO."

This merger and acquisition activity is largely in anticipation of cloud computing. As customers begin a huge push to shift the cost and operating responsibility of their computer-data centers and networks off into clouds, full-service providers hope to be the one-stop shops that can provide their clients with software, hardware and networking gear to build and manage their private clouds.

... SOME COMPANIES ALREADY HAVE found success in the clouds. Among them, Salesforce.com is often cited as a pioneer. Instead of owning enterprise software, companies can pay a subscription fee for its CRM, or customer-relationship-management services (commonly referred to as "Software as a Service," or SaaS), over the Internet. It's very appealing to small- and medium-sized outfits that can't afford to buy software, and very disruptive to enterprise-software providers like Oracle (which owns Salesforce's more traditional customer-relationship software rival, Siebel) and German enterprise-software giant SAP (NYSE:SAP).

"We have differentiated ourselves from other software companies," says Salesforce's chief executive, Marc Benioff, who describes rival SAP as "the anti-cloud," because of its reliance on older software practices.

Salesforce's revenue has grown from $310 million to $1.29 billion in the past five years, and the company is expected to report a profit of $80 million this year. Since going public in 2004, its shares have soared 567%.

Newer Web-generation dynamos like Salesforce, as well as accounting and resource-planning provider NetSuite (NYSE:N), have an advantage in pursuing their portions of the cloud. But they will need to fend off more intense competition as time goes on. SAP, for instance, is expected to relaunch its own on-demand CRM service this year.

"The fact that they are early providers doesn't guarantee their success. They don't have a lock on it," Bittman cautions. "I think this is going to be a food fight."

While Salesforce focuses on a narrow, vertical market with its services, other tech companies like Amazon, AT&T and Terremark World want to become third-party providers of "Infrastructure as a Service," or IaaS.

...However they ultimately align, the clouds clearly are gathering. The consolidation of data centers and the outsourcing of information technology will prevail over the long haul. Everyone wants to do more with less. Already, many of today's most successful start-ups, such as SugarCRM, an open-source customer-relationship-management service, are designed specifically to operate on a cloud and therefore have inherent advantages. Among them: open and flexible operating systems based on technologies that incorporate virtualization software.

"The mandate to build a private cloud or to become more cloud-like has reached a fever pitch," says Herrod, who says his company may eventually help customers connect their private clouds to public clouds.

While there are many different paths for the clouds to travel, says Herrod, "building new [proprietary corporate] data centers is just not going to happen." That's why everyone is going to need a cloud story shortly.
Disclosure: TDI Clients are long RAX