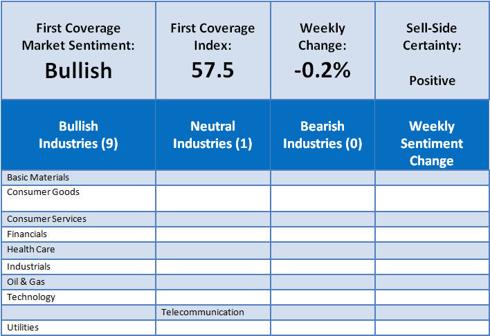 Click to enlarge

Sell-Side Revels in 2009's Easy Money while Staying on Sidelines for First Day of 2010.
For the last four months, we've been in print stating that based on First Coverage's sell-side sentiment, and the self-interest of those that make their living within this industry, this market would end 2009 near the year highs…and we were right. We also said that as the calendar turned to 2010 there would be a dramatic turn in how people felt about the market and, so far, it looks like we're right on that, as well.
It's no secret that the easy money got made by everybody last year, and while we (as an industry) got paid well, we aren't letting our winnings ride, at least not yet. Even as retail investors get excited about an up day to start 2010, we, as institutional professionals, are cautious and waiting for more data.
History has taught us that it's these waiting periods that are vulnerable to substantial shifts in sentiment. As we enter 2010, the upcoming data points, both economic and fundamental, will dictate the next leg of the market. This market rallied so much and for so long, that at some point there had to be a reckoning that examined fundamentals and data points in an attempt to figure out if we have gone too far. The sell-side is clearly stating that Green Shoots, "less bad" and earnings saved by job cuts won't be enough in 2010. For the first time in almost a year, the sell-side is withholding their judgement and cautiously taking money off the table as they wait for upcoming economic and earning numbers to tell us what type of economy we really have here.
On First Day of 2010, the Market Moves Up while Sentiment Moves Down.
The most glaring example of the brand new 2010 schism between reality (i.e., a skittishness amongst the sell-side that's been building for weeks now) and perception (i.e., how the market rocketed out of the gates on the first trading day of the year) can be clearly demonstrated by the below table, which details the changes in First Coverage Sentiment by industry (first column of numbers) lined up against what actually happened in the market yesterday (second column of numbers).
| | | |
| --- | --- | --- |
| Industry | Change/Day | Change/Day |
| Basic Materials | (1.3%) | 3.5% |
| Consumer Goods | (2.7%) | 1.1% |
| Consumer Services | (3.4%) | 0.8% |
| Financials | (2.7%) | 1.7% |
| Health Care | (1.7%) | 1.3% |
| Industrials | 1.0% | 1.8% |
| Oil & Gas | (1.5%) | 3.0% |
| Technology | (0.6%) | 1.6% |
| Telecommunications | (1.5%) | 1.8% |
| Utilities | (1.2%) | 0.4% |
At the same time as 100% of the industries went up today in market performance, 90% of the industries suffered a fairly significant day-over-day sentiment decline. Underneath the swagger and tough exterior of this market rally, there exists a growing group of cautious, conservative sell-side professionals beginning to talk down this market to their buy-side client base. And while it's only one day and only a single data point that does not make a trend, it's clear this new subdued feeling of the sell-side is not being reflected in market performance…at least not yet.
Back to Basics
Broadening out our time period from a single day to a couple of months, some trends regarding which industries the sell-side is suggesting, if you have to be long this market, started percolating over the last quarter of 2009 and have persisted and strengthened over the few weeks since we last wrote about sentiment.
There is a "Back to Basics" feel about the start of 2010 as the sell-side suggests that their clients look towards areas like Industrials, Basic Materials and Oil & Gas. There is an appetite for risk in 2010, but this is a different type of risk appetite than that what was evident in 2009. Last year, it was all about investing in risk. This year the sell-side is positioning their clients' portfolios to be prepared for broader risks to the market that are currently unknown but might arise throughout the first quarter of 2010.
Stocks to Watch
Over the last week, the following stocks had the largest bullish and bearish sentiment shifts amongst the sell-side.
Bullish:

| | | | |
| --- | --- | --- | --- |
| Symbol | Company | Industry | Exchange |
| (NYSE:ARO) | Aeropostale | Consumer Services | NYSE |
| (NYSE:NOC) | Northrop Corp | Industrials | NYSE |
| (NYSE:SWI) | SolarWinds | Technology | NYSE |
| (NASDAQ:QCOM) | Qualcomm | Technology | NASDAQ |
| (NYSE:RIG) | Transocean | Oil & Gas | NYSE |
Bearish:
| | | | |
| --- | --- | --- | --- |
| Symbol | Company | Industry | Exchange |
| (NYSE:TJX) | TJX Cos | Consumer Services | NYSE |
| (NYSE:F) | Ford Motor | Consumer Goods | NYSE |
| (BTU) | Peabody Energy | Basic Materials | NYSE |
| (NYSE:CI) | CIGNA Corp | Health Care | NYSE |
| (NYSE:MGM) | MGM Mirage | Consumer Services | NYSE |
Until next week …
Disclosure: NO POSITIONS