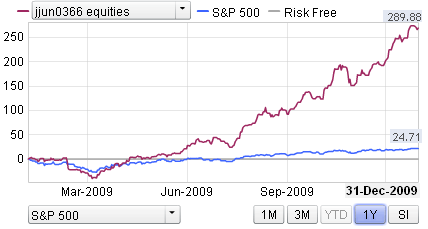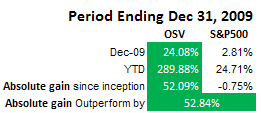 Portfolio Performance
Wow, what a year it was. The Old School Value portfolio ended 2009 with a gain of 289.88%! Compare this to the market 24.71%. In December alone, the portfolio gained 24.08% compared to the market's 2.81%.
The absolute gain since inception is now 52.09% compared to -0.75% for the market.
I'm actually surprised at how much the portfolio has grown over the past year. I was so close to hitting 300% but the weak volume during the last week of December kept things flat. But to produce a return in excess of 100% itself is a dream to me.
2009 Portfolio Movers
So how did this happen?
Well I was very fortunate to have kept buying and contributing during the fall. I doubled down on stocks that I felt were already cheap but were even cheaper when they dropped another 50%. People were calling it junk and all sorts of other names but having confidence in my analysis proved to be the right decision.
Winners:
Gen Growth Prop

(GGWPQ.PK) is my first 20 bagger (2000+%).

ValueVision Media (

VVTV) is the second 1000+% for the year.

Radio One (

ROIAK) ended 2009 at 687% since when I bought it in August.

Salem Communications (

SALM) ended at 460%

Entercom Communications (

ETM) is up 100%
and many other current holdings and sold positions well over 25%.
Losers:
But nobody is perfect and I have had my fair share of losers.
Greed got the better of me in my Emageon (EMAG-OLD) investment. It became the turning point of my investing outlook and completely changed my focus.
Sold

K-Swiss (

KSWS) and

Ceradyne (

CRDN) for loss of less than 10%. Would have broken even easily for KSWS but I need the cash for better opportunities.
So far

Insmed (

INSM) is a loser by the numbers but I'm confident in INSM. Downside is well protected.

Image Entertainment (

DISK) defaulted on their loan and are now down 83%. Yikes. Glad it was less than 2% of my portfolio to begin with.
December Portfolio Trades:
I only made one trade in December: Bought Gravity (NASDAQ:GRVY): Very late to this when I think about when I first came across it. Heard about it from Manual of Ideas and then had a couple of people ask me directly but it finally took a forum member's write up on GRVY for me to view it more carefully.
Looking Ahead to 2010
With my current holdings, I'm sure my portfolio will continue to perform well and grow. Even if the market in 2010 stays neutral, since I focus on beaten down stocks, performance ins't related to the market. For all I know, my performance beta could be 10 and I couldn't be happier. Who wants to be stuck with a beta of 1?
The best time to invest in 10 years has passed, but it still isn't too late with cheap, downside protected companies. You gotta be in it to win it.
Disclosure: I own GGWPQ, VVTV, ROIAK, SALM, ETM, DISK, GRVY at the time of writing.