Public Storage (NYSE:PSA) stock was one of the biggest losers in the S&P 500 Monday after suffering a downgrade from Argus to Hold from Buy. Having not seen the Argus report, we cannot comment on their analysis. However, we will have to respectfully disagree with their conclusion. The stock sold off about 1.6% on a day that most other stocks saw impressive gains. At Ockham, we believe this downgrade created an opportunity to buy the second largest REIT by capitalization at an attractive valuation.
In general, our methodology strives to find stocks that continue to improve fundamentally but are out of favor with the market, thus depressing their valuation. It seems to us that Public Storage is one such company. The self-storage giant has underperformed the broad market indices for the past twelve months as the S&P 500 is up nearly 22% compared to PSA's only 6% gain. The web's largest survey of individual investor's sentiment, the Motley Fool CAPS believes that the stock will continue to underperform going forward, a further suggestion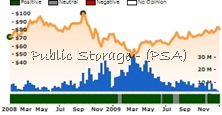 that this stock is unloved. Additionally, Public Storage has easily topped analysts' estimates in each of the last four quarters (by a minimum of 15%), so even the analysts appear to be a little bit too bearish towards PSA.
Even though Public Storage has been out of favor with the market and analysts for quite some time, we think that the stock is fundamentally quite attractive. The company has seen a slight decline in sales as a result of the recession, and it trades at a price-to-sales per share of about 7.9x. This is on the low end of Public Storage's historically normal price-to-sales range of 6.4x to 10.4x. More importantly, we are attracted to the company's ability to generate cash, which seems to have been under appreciated by the market at this point. Over the last ten years, Public Storage has normally traded for a price-to-cash earnings multiple of 32.0x to 51.2x, but the current valuation multiple is only 18.3x.
This is the sort of stock that we love to highlight at Ockham because we believe there is undue pessimism from the market, the price has been held down because of that, and now the stock is Undervalued. Not to mention, PSA has probably the strongest balance sheet of any major REIT with virtually no debt. This financial strength will allow Public Storage management to take full advantage of any opportunities assuming the real estate market recovers, and should make the firm less vulnerable to any further downside.