"Continental Airlines CEO saying in a filing with the Security Exchange Commission that he will forgo his annual salary and the shares have been rallying over the past hour." — Fox Business Network 1/4/2010
On Monday, the first official day of his tenure as CEO of Continental Airlines (NYSE:CAL), Jeffrey Smisek announced that he will take not a penny in compensation (neither salary nor bonuses) until the airline can manage to turn a profit for a full fiscal year. In his letter to employees he said, "…the tone for any business is set from the top." Smisek was promoted from his role as President and COO after his predecessor Lawrence Kellner was lured away by a private equity firm called Emerald Creek Group. The move signals to the market and investors that the top man is willing to personally sacrifice in order to do what is best for the company and its shareholders. The airliner's stock took flight yesterday after the announcement more than 5%, and that performance has continued today as the company announced better than expected results from December.
In December, Continental increased traffic by 6% from a year ago, and capacity increased by 2.1%. Analysts have been expecting a rebound to the industry after a very turbulent couple of years where airlines have contented with everything from extremely high fuel prices to lower consumer and business travel demand. Meanwhile, Continental at least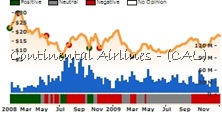 appears to be headed in the right direction as consensus revenue estimates call for an increase of 8.6% in fiscal 2010 which has just begun. The increased revenue in combination with cost cutting the airline has accomplished during the difficult times–the analysts contend–should enable the company to swing to a profit of around $1.36 per share in 2010. Analysts' projections are always subject to change and there is no guarantee of profits but it is certainly a step in the right direction. A return to profitability should be a goal shared by Smisek, CAL employees, and CAL stakeholders.
Although analysts are predicting a profit in fiscal 2010 that does not mean it will be easy. New security threats over the holidays have reminded many flyers of the dangers presented by terrorism. Furthermore, crude oil futures have crept up above $80 per barrel nearing 52-week highs and any further rise would put unwelcome pressure on airlines. Of course, Smisek knows it will be no small task in returning the nation's fourth-largest airliner back into the black as airlines have struggled mightily in recent years for a number of reasons. One estimate pegged the industry's losses at $49 billion since the tragic events of September 11th, 2001. Interestingly, Smisek noted in his statement that Continental only accounts for $1 billion of those losses.
Continental stock is trading about 12% higher on the December traffic results, and we applaud Smisek for the example he has set forth in an industry where the relationship between management and labor is strained to say the least. At this point, Smisek has the company headed in the right direction, but we are maintaining our rating of Overvalued at the current price level. Our methodology generally avoids stocks that are not profitable, and buying a stock counting on profits in the future is a risk we are not advising. As an investor, we think there are many more attractively valued stocks in this market, especially if you missed the run-up today.