Alcatel Lucent (ALU) has recently released its 3rd Quarter Financial Report last October 31. Despite another less -than-market-estimates result; the market has not punished Alcatel Lucent. The stock is still hovering near the $3.80 - $3.95 range, signifying that more investors are holding their Alcatel Lucent stocks instead of selling. The report, beyond the red numbers, actually showed Alcatel Lucent is on the right track to recovery.
For this 3rd quarter, Alcatel Lucent earned gross revenue of 3.67 billion Euros, a 7% improvement over last year. Alcatel also gained a gross profit of 1.19 billion Euros as gross profit, a good 32.6% margin which is also higher than the 27.8% it had in Q3 2012. The company also showed a positive operating income of 116 million Euros this period or 3.2% of total revenue, a great improvement over last 2012 3rd Quarter's minus 3.5% operating loss.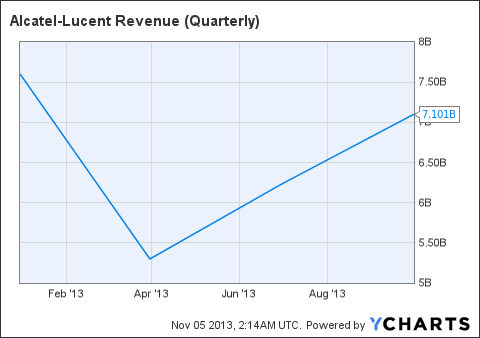 ALU Revenue (Quarterly) data by YCharts
The core networking business unit of Alcatel Lucent also saw a 6.1% year on year increase. The liquidity of the company also improved with a net positive cash flow of 26 million Euros. All these numbers has satisfied investors despite the fact that Alcatel Lucent will again be in the red for fiscal year 2013. The company suffered a net income loss of $2.01 billion last year.
The improved sales performance and continued diversification of Alcatel Lucent this year has propelled its stock price from a low of $0.92 to a 52 week high of $4.02. The stock is still enjoying a robust 177.7% price increase days after the company released its 3rd quarter 2013 income statement. The market is giving the company a passing grade for the successful implementation of Alcatel Lucent's The Shift Plan.
More Money for Broadband Wireless Expansion
Inspired by the positive stock market reaction, Alcatel Lucent announced on November 4 that they are raising funds for much-needed capital for expansion and recovery. The company is planning to raise $2.7 billion to finance its recovery efforts. Alcatel Lucent will issue new shares worth $1.29 and bonds worth $750 million. Management also revealed that they already secured commitment for a new $675 million loan.
As an added incentive, Alcatel Lucent plans to sell new shares for just $2.83 each, a big 27% discount from its current market price. This revelation has driven the share price down but once the new issue shares hit the market, Alcatel Lucent will recover its year high of $4. Value investors and bargain hunters will definitely be subscribing to this new issue of Alcatel Lucent shares. If the year-long optimistic vibe for Alcatel Lucent continues, the new shares might even sell for a higher amount.
The market understands that Alcatel needs this fresh infusion of money to support its flourishing shift towards the wireless broadband market. As of October 31, Alcatel Lucent reported more than 100% increase in its LTE revenues. Glenn Booth, General Manager and Vice-President for LTE division, says his company won more than 15 LTE contracts that they are yet to announce. Majority of which are overlay LTE network deals with big Tier-1 telecom operators.
New Strategic Partner
It should also be taken into account that Qualcomm (NASDAQ:QCOM) is now a strategic partner and small stake owner of Alcatel Lucent. Together, these two companies, plan to manufacture small cell base stations aimed at improving the 3G, WiFi, and 4G wireless reception of corporate and residential customers.
Qualcomm's mobile networking technology expertise is a perfect fit for Alcatel's proven proficiency in developing small cell solutions. This team-up will greatly benefit the French telecom company because of is precarious financial position. It needs to generate more broadband-specific sales to offset the decreasing growth in 2G technology.
A cash-cow company like Qualcomm daring to invest in Alcatel Lucent shows that there's more to the French company than just it being a money-losing entity. Qualcomm trust the geniuses of Alcatel's Bell Labs to continue developing forward-looking technology. With support from cash-rich ARM chip leader Qualcomm, Alcatel Lucent has considerably increased its chance to conquer the LTE and 4G market.
Summary
Alcatel Lucent's plan to raise more capital will enable it to get out of the red. The negative EPS rating of this company may soon be over once the new money is spent to develop more cost-effective ultra broadband wireless products. If you are lucky enough to have the chance to buy this company new shares for $2.83, do it. It may again experience another 100% or more boost in 2014 or 2015.
Disclosure: I have no positions in any stocks mentioned, and no plans to initiate any positions within the next 72 hours. I wrote this article myself, and it expresses my own opinions. I am not receiving compensation for it (other than from Seeking Alpha). I have no business relationship with any company whose stock is mentioned in this article.