Zinc is a byproduct of many poly-metallic deposits, such as Metates in Mexico (Chesapeake (OTCQX:CHPGF)), Sierra Mojada in Mexico (Silver Bull Resources (NYSEMKT:SVBL)) and Corani in Peru (Bear Creek (OTCPK:BCEKF)), which is why I believe these hyper-depressed development stage stocks are deserving attention. Like silver and gold, zinc is yet another example of a banker-and exchange-gamed commodity. Transactions typically involve a simultaneous purchase of metal on the London Metal Exchange for nearby delivery, and a forward sale to take advantage of a market in contango. Societe Generale SA estimates that 60% of the metal may be tied up in financial transactions and unavailable to consumers.
Central banks have been flooding the market with money at near-zero interest rates, which means that the metal can be financed and stored with ease. For example, New Orleans warehouses quarantine as much as 63% of the LME-housed zinc from active physical markets. The relative distance of the storage point from the galvanizing centers in the Midwest ensures that merchant premia for the metal remain even higher than the contango. Premia of late has been ranging between 5.5-7% in Europe (Antwerp) and 10% in the U.S. As long as Glencore and other zinc marketers send European metal to New Orleans, premia will remain high.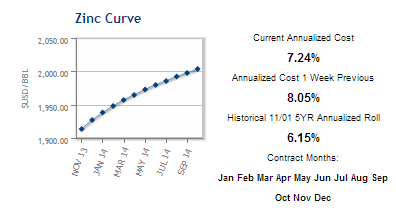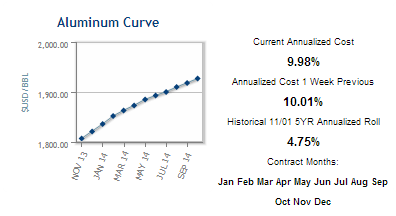 Charts source: Index Universe.com
Warehouse firms, many of which are owned by major banks and traders, are consequently able to pay spot prices to obtain metal, which then stacks up in warehouse stores. The result has been to create long queues and supply chain issues for the end-use customer. The marketers, or middle men, get a hold of most of the mine production and collect a large vig to store it.
Finally, it appears the end customers are fed up with the LME pass-the-buck game. In this story, U.S.-based Novelis, an aluminum customer and wholly owned subsidiary of India's Hindalco Industries (OTC:HNDNF), is seeking "alternatives" to dealing with the LME. I presume that means direct contract purchase with willing miners. The article describes how bad the situation is, and the token measures the LME has taken to solve it. Cancelled warrants refers to metal that has been requested for delivery.
The picture painted is of a market that has lost all of its purpose and fundamental underpinnings, morphing into some sort of inside boys' racket with all the usual suspects. The token delivery rates increasing in these metals reminds one of the slow-motion delivery of gold back to Germany.
In the U.S., the waiting time to remove aluminum is some 16 months, with a queue of 12 months for the other metals. Warehouser Metro, owned by Goldman Sachs (NYSE:GS), has 29 of the 37 registered sheds there. There are currently 1.427 million tones of aluminum stored there, with 999,475 tones under cancelled warrant - booked for removal but now in a bottleneck.

"Meanwhile, in Europe, there is a 13-month queue to remove aluminum from Vlissingen in the Netherlands, although waiting times for other metals are shorter - up to two-and-a-half-months.

"Pacorini, a wholly owned subsidiary of Glencore (OTCPK:GLNCY), has 42 out of the 44 sheds there that can store LME-registered metal. In total, 1.497 million tones is stored there, with some 909,000 tones under cancelled warrant.

"After an independent review in April 2012, the LME's minimum loadout rates doubled and climbed to 3,000 tones per day for any warehouses companies holding more than 900,000 tones of metal in one location. As well, late in 2012, the exchange stipulated that registered warehouses belonging to a company in one location with cancelled warrants of at least 30,000 tones of a dominant metal will be required to deliver out an additional 500 tones per day from that location of non-dominant metals where such deliveries are requested."
So what looks like a glut of LME zinc and aluminum is in actuality a racket to work over customers. In the process, classical economic supply and demand is once again being distorted by a paper market. The economics are similar to what I described about silver in "Silver: A Supply And Demand Tightrope Act."
The follow-on effect is to artificially depress zinc and aluminum prices because of the perception of a large inventory of actual zinc and aluminum. This phony price signal has in turn resulted in mining curtailments. In fact as described in this excellent Reuters article about 11% of global production is in the process of shutting down.
The pending shut down of older zinc mines will collectively eliminate 1.7 million tones of production, or 11 percent of world consumption. MMG's 500,000-tones-per-year Century mine in Australia, the biggest of those set to close, runs out of ore in 2016.Ireland's Lisheen mine, owned by Vedanta Resources (OTCPK:VDNRF) and producing 170,000 tones a year, shuts in 2014. Others including Anglo American (OTCPK:AAUKF) of South Africa's Skorpion mine and Rathdowney Resources' (OTC:RATHF) Pomorzany-Olkusz mine in Poland are also shutting inside three years. "You've got a lot of monster mines that are departing from the trade," said UBS commodities analyst Tom Price.
However, as long as cheap QE rates are available, this "supply" will be used for paper financial transactions. But should interest rates spike, this stock will unwind quickly and leave the market with no mine supply from which to replenish.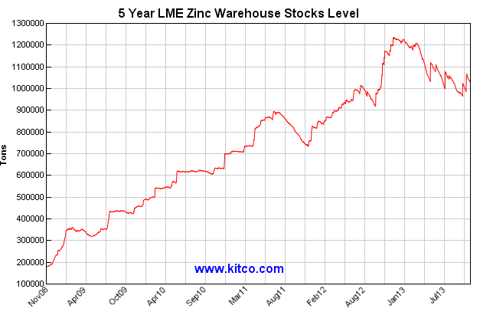 Charts source: Kitco
Disclosure: I am long OTCPK:BCEKF, OTCQX:CHPGF, SVBL. I wrote this article myself, and it expresses my own opinions. I am not receiving compensation for it (other than from Seeking Alpha). I have no business relationship with any company whose stock is mentioned in this article.