When it comes to cigarette giant Philip Morris (NYSE:PM), one cannot argue that the company has a small debt load. In recent years, the amount of debt the company has on the balance sheet has piled up. For Philip Morris, this can be a good thing, if these funds are used wisely. When the company can issue low interest rate debt, it can buy back shares whose dividend rates are higher than the debt rates. That provides cash flow savings. Additionally, the buyback program reduces the share count, improving earnings per share. Shareholders appreciate these capital returns, and Philip Morris has been a value investor's dream since its spinoff a few years ago.
A couple of months ago, I sparked an intense debate when I mentioned the weakening balance sheet of Philip Morris. Despite my efforts to explain my position, some still missed my overall point. I have been arguing that Philip Morris' balance sheet is getting worse, and that point is 100% true. I've also said that this is not a big issue at the moment, but could become one if not handled properly. The company has been using debt to fund the buyback, as cash flow has not been enough to satisfy both dividend payments and the $6 billion a year buyback. I was on the record over the past few months saying that I expected another large debt issuance either late in 2013 or early in 2014. Well, Philip Morris did just that. Today, I'll examine the latest debt issue for the cigarette giant, breaking down the numbers behind it, what it means for the balance sheet, and what the key takeaway is for investors.
The most recent issue:
On Monday evening, it was reported that Philip Morris had raised $2 billion (before expenses) through a new debt issuance. This was a three part bond sale, with the following pieces:
$750 million, due January 2019, coupon 1.875%.
$500 million, due November 2023, coupon 3.600%.
$750 million, due November 2043, coupon 4.875%.
Based on the stated interest rates, the weighted average coupon is approximately 3.43%. The annual interest expenses on these three pieces of debt will be a little under $69 million, or about $17 million per quarter. As with most corporate bond issues, Philip Morris said the funds would be used for general corporate purposes, including working capital, share repurchases, and debt refinancing.
When Philip Morris announced Q3 results, the company reported a 13.27% rise in interest expenses from $211 million to $239 million. Interest expenses will continue to rise at a rate faster than revenues and operating income as the company continues to pile on debt. However, there may be some savings if they do use this money to refinance higher rate debt, but we'll have to wait for that.
Comparing to the early 2013 issue:
To see how the debt situation has changed with Philip Morris, we need to look at a couple key numbers. To do this, I'll compare the above issue (final term sheet here), with a comparable 10/30 year issue from earlier this year (final term sheet here). Obviously, interest rates have risen since the debt sale earlier this year. In the past, I've shown a chart of 30-year yields, but I'll switch it up to the 10-year this time. You'll see why I chose the 10-year shortly. One thing is certain. Philip Morris did choose a decent time for this debt issue, or so it seems at the moment. You can see in the chart below how interest rates have come off their highs, so had Philip Morris done this debt sale two months ago rates would have been a bit higher.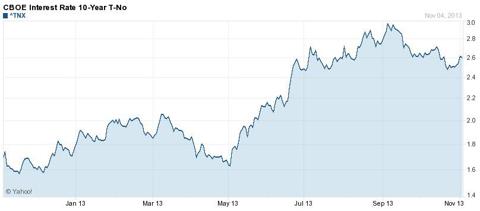 Click to enlarge
(Source: Yahoo! Finance)
So let's look at some of the key numbers behind these debt sales, because that's where things get a little more interesting. Earlier this year, the company issued $600 million of 10-year notes with a coupon of 2.625%. According to the company, the spread to treasury was 95 basis points, meaning the company paid a coupon 0.95% more than the comparable 10-year US Treasury. Given how this company has a large debt load, that's not too surprising. However, that spread was up a bit from the August 2012 issue, where it paid a 90 basis point spread on $750 million in 10-year debt with a 2.500% coupon.
So back to the current (November 2013) issue. The company issued $500 million in 10-year debt, with a spread of 108 basis points. That seemed a little excessive to me, given that it was a smaller debt issue than the last two 10-year issues. The coupon rate was 3.600%, so since the February 2013 issue, Philip Morris' 10-year debt coupon is up by nearly a full percentage point. That's a lot in 8 months, but as you saw in the chart above, interest rates have risen.
However, as bad as the 10-year numbers might have looked, the 30-year numbers were actually better. The 30-year spread was just 118 basis points, compared to the last two offerings which were both at 120 basis points. It seems that there was a little more demand for Philip Morris' 30-year debt than 10-year debt. Of course, interest rates have gone up, so the coupon this time around was 4.875%, as opposed to 4.125% earlier this year and 3.875% in August 2012. Both the August 2012 and November 2013 issues were $750 million, while the February 2013 one was $850 million.
Looking at the balance sheet:
So what does this mean for the balance sheet? Well, here's another look at the balance sheet at the end of Q3, and this is the exact same table from my earnings article above. Dollar values are in millions. The yellow highlight shows the year over year changes for Q3.

Click to enlarge
Philip Morris had more than $23.4 billion in net debt at the end of Q3, which was up from $17.6 billion in the year ago period. If the company's Q4 cash flow is not large enough to pay the quarterly dividend and buy back $1.5 billion in stock (at the current buyback rate), the net debt position will increase. At this point, it is only a matter of time before the net debt position hits $25 billion. The question of course is will cash flow improve enough to stop it from reaching $30 billion or more?
What this all means:
There are a couple of key takeaways here. First, adding debt will obviously increase your interest expenses, unless Philip Morris reduces higher rate debt to offset the increase. The increase in interest will hurt the bottom line by a few pennies per year. Now, that hit can be offset by the buyback, depending on how much of the $2 billion is used for the buyback. It will be hard to actually quantify these numbers, as the company most likely won't explain the use for every single dollar, and it would be unreasonable to expect that it would.
What we can assume is that this will help the company's overall cash flow. Philip Morris' dividend yield was 4.17% as of Tuesday's close, and the average interest rate (before tax savings) for this debt deal was 3.43%. Repurchasing high yielding shares with lower rate debt is a good thing. Of course, it might be better if the company uses the money to repay even higher rate debt, since it does have a fair amount of it.
In terms of the balance sheet, it is likely to get worse before it gets better. Philip Morris will continue to add debt to buy back shares, and you can't blame it for that in this low interest rate environment. However, there will come a point where it won't be logical to do this anymore. If rates go up enough, that's one part of it. Additionally, too much debt will lead to a potential ratings downgrade, and then that spread I made a big deal about will increase for all new debt issues.
I've been telling investors for months that they probably shouldn't expect the $6 billion a year buyback to continue once the current plan ends in 2015. Philip Morris has been increasing the dividend nicely in recent years, and total dividend payments have increased. If I were a Philip Morris investor, I would expect more capital returns from the dividend than buyback going forward. At this point, I see the buyback going to a $4 billion to $5 billion per year rate (at most) once the current plan ends. Since we still have roughly 18 months until that point, there's a lot that can happen that could obviously change that. Investors will need to realize that the buyback could slow down, which might have an impact on your opinion of Philip Morris shares.
Final thoughts:
Philip Morris added another $2 billion in debt this week, which is something I said was coming. The company is adding debt to buy back stock, and right now that is working. The balance sheet will continue to get worse for the next year or so, but it is not a large concern at the moment. Where does this leave Philip Morris' stock? Well, my monthly update was published two days ago, so I encourage you to read that.
Disclosure: I have no positions in any stocks mentioned, and no plans to initiate any positions within the next 72 hours. I wrote this article myself, and it expresses my own opinions. I am not receiving compensation for it (other than from Seeking Alpha). I have no business relationship with any company whose stock is mentioned in this article.
Additional disclosure: Investors are always reminded that before making any investment, you should do your own proper due diligence on any name directly or indirectly mentioned in this article. Investors should also consider seeking advice from a broker or financial adviser before making any investment decisions. Any material in this article should be considered general information, and not relied on as a formal investment recommendation.