Since we last wrote an article about 5 weeks or so ago, we alluded to the fact that in the global scheme of things, most commodities might remain in their down-trend and that the CRB Index was looking quite tenuous. The trend for most commodities, especially oil, grains, cotton and coffee have contributed to yet another slide in the CRB index. Winter weather will be important for the heating oil, natural gas, coffee and grain markets in coming weeks and months.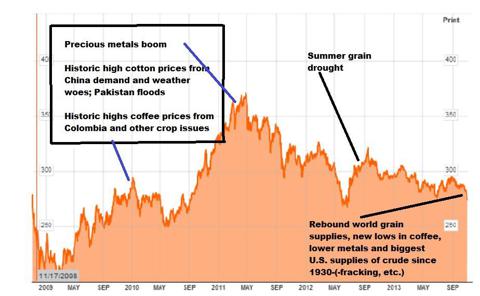 Source of Chart--Thompson-Reuters. Comments on chart, Jim Roemer
Energy Complex
With the fear or war in Syria growing in September, crude prices briefly rose above $110 more than a month ago, only to come crashing down on the reality of easing Middle East Tensions and the highest domestic supplies of oil, since 1930. The heavy long position in the market has been slowly eroded and barring any renewed legitimate tensions in the Middle East, growing domestic supplies of crude, bearish technical indicators and a mostly warm early winter in Europe and the U.S., suggests to me that crude prices may head towards $85 before they reach $100, again.
We have seen both heating oil and RAOB (unleaded gasoline) rise in recent weeks versus crude oil. This is due to normal Fall maintenance procedures of refineries. As refineries shut down, it also weakens demand for crude.
As we head into winter, there are a host of global weather variables that will influence the weather. For now, without stratospheric warming 10-20 miles up in the Atmosphere and given cool signals off the west coast of California, the Arctic Oscillation Index is unusually positive. This means that low pressure and storms will swirl over northern Canada and the Arctic and will prevent any major onslaughts of bitter cold U.S., nor European weather for at least a few weeks. IF we get into mid winter and this trend continues for a normal to warm winter, look for heating oil prices, now 35 cents premium to RBOB, narrow. Weather has less of an effect in the heating oil market than it used to have, due in part to the specifications of the contract being a lower sulfur grade of product. This combined with more and more homes in the eastern U.S. utilizing natural gas for heating, rather than heating oil, makes trading heating oil in winter solely on the weather potentially more challenging. However, if Europe remains mostly warmer than normal, then their imports of heating oil (also referred to as diesel) would be curtailed.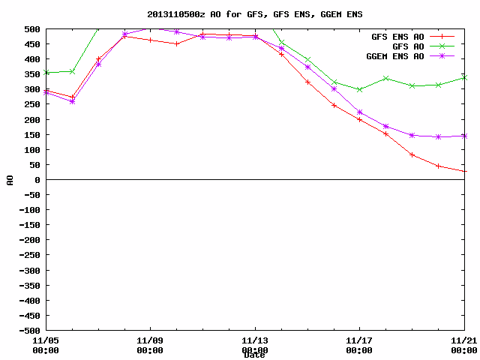 The AO (Arctic Oscillation Index) is presently as one of the highest early November levels, in recent memory. It is forecast to go more neutral in about 2 weeks by all models shown above. However, while still remaining above normal suggests no extreme cold weather in key U.S. or European energy areas, perhaps into early December.
In natural gas (NYSEARCA:UNG), prices have dropped some 10% on the potential warmer than normal November weather. I look for incredible snows and cold in western Canada in about 10 days or so, that will open the door for a very warm second half of November. Look for ski resorts in British Colombia to have a great start to winter with feet of snow later this month. That also does not bode well for the natural gas market, though prices got down to a level on Tuesday where some coal to natural gas switching might be occurring.
GRAINS
Months ago we forecasted the end of the Midwest grain drought and became bearish corn and the ETF (NYSEARCA:CORN), some 30-40% higher than where we are today. Prices have, however, fallen even further than we had hoped as U.S. corn yields are even better than earlier expected, possibly approaching 160 Bushels/acre; well above the USDA. In addition, barring any La Nina type of occurrence this winter, the potential for both a huge South American corn and soybean crop, should mean that the longer term downtrend in prices will continue. A post harvest November or December rally is possible in corn and soybeans is possible, but come late winter, soybeans and the ETF (NYSEARCA:SOYB) probably have another 10% down in prices.
After a brief rally to $7.10 in Dec. wheat a few weeks ago, propelled by frost scares in Argentina and unwarranted hot weather scares in New South Wales, weaker corn prices and what appears to be a decent start to the wheat crop from Nebraska to Texas, ahead of dormancy, has hit this market. Here too any major weather related rally of $1.00 or more is unlikely, anytime soon.
PRECIOUS METALS
One of the strongest seasonal trades of the last 15 years in any market, is the short 1 gold-long 2 platinum spread. While not weather, of course, and I have an anathema in making recommendations in precious metals, I pretty much have been in the bearish camp in gold, the last 2 years. Gold prices have little chance of seeing a major sustained rally of any kind due to technical considerations, market action and less demand from India. A year or so ago, platinum was briefly under gold prices (a rare occurrence) and buying 2 platinum and selling 1 gold contact has already yielded some $13,000/contract of profits. So it may be a little late to expect a major expansion in this spread, at this point.
Seasonal buying in gold often occurs during the 4th quarter, as the U.S., China and India stock up on jewelry ahead of Christmas, but Platinum tends to rise even more. Nevertheless, gold above $1400-$1500, longer term, is still to rich in my opinion. I would recommend selling call options a year out in the ETF (GLD) if we do get a seasonal rally in prices in the next few weeks.
SOFT COMMODITIES
Other than cocoa, which continues to be well supported due to dry summer weather in west Africa and now heavy rains and crop quality problems in west Africa, almost all soft commodities have taken it on the Chin. I mentioned several months ago my concerns about the west African crop and that the ETF (NYSEARCA:NIB) might stage a rally. Prices got very close to our objective of $2800 in cocoa a few weeks ago and recently have been under pressure due to the onset of the main crop harvest in west Africa. However, winter weather and the mini-crop season will be very important to world production and the market.
If strong winter Harmattan (hot-dry winds form the Saraha) Winds develop between December-February in west Africa , then cocoa prices have a chance to rise above $3000 next year, as global demand for dark chocolate increases. If we had an El Nino, I would have more confidence suggesting this.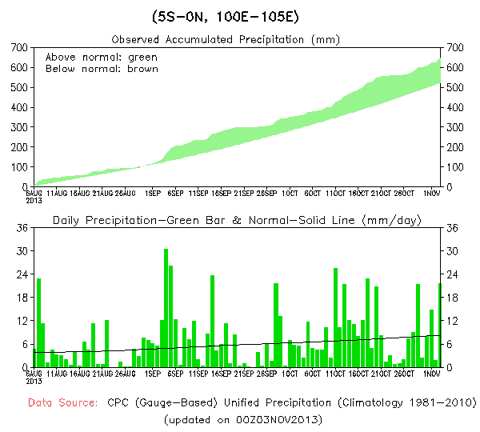 Rainfall (above) in Indonesia has been above normal for nearly 3 months (green). This will possibly hurt the cocoa crop a bit as well as Palm Oil if it continues.
Sugar prices, and the ETF (NYSEARCA:CANE) did have a nice 10% rally a few weeks ago. This was inspired in part to a freak fire at the Brazil export port in Santos, combined with some earlier wet weather fears in Brazil. However, we advised clients to take some profits a couple weeks ago, as prices above 20 cents is not really warranted given ample world supplies.
We remain bearish coffee prices and the ETF (NYSEARCA:JO). It is not surreptitious that early season weather has been stellar in Brazil with much better crops out of Vietnam and Colombia. Seasonally, this market tends to go higher the next couple weeks, but other than a short-covering rally, prices will likely fall below $1.00, later this winter. Yes, there is a heavy short position in coffee presently, but this can also be said with the corn market which continues its downtrend into harvest.
The one market we were wrong about and have a hard time gauging was in cotton. Prices are much lower than we anticipated a month or more ago, due to weak global demand, less build up in stocks from China and ideal harvest weather in the U.S. and China, following some brief weather woes this summer. India's record cotton crop appears not to be adversely affected by fall rainfall.
Finally, the weak hurricane season we predicted 3 months ago, in conjunction with weak global demand for OJ, drought easing rains in Florida last summer and good early season rains in Brazil for their crop, pressured orange juice prices some 20% since the early summer. The big question for this market will be whether or not citrus-greening disease can be eradicated in Florida or not. If so and barring any freeze in Florida later this winter, prices could trend below $1.10 come January or February in OJ futures, depending on the weather forecast then.
Disclosure: I have no positions in any stocks mentioned, and no plans to initiate any positions within the next 72 hours. I wrote this article myself, and it expresses my own opinions. I am not receiving compensation for it (other than from Seeking Alpha). I have no business relationship with any company whose stock is mentioned in this article.