There were many reasons to be optimistic that the market would soon stabilize back in March when I
first wrote
about the U.S. housing market. Since then, new home sales have bottomed, inventories (formally measured) have declined and even the slide in home prices has halted. This did not happen without unprecedented government support -- the Fed's purchase of mortgage-backed securities that drove down mortgage interest rates, the $8,000 homebuyers' tax credit and a near-reckless lending policy by agencies like the FHA.
While costly, this put a floor under the market in 2009 and key indicators turned positive, some strongly positive. As the year came to a close, though, one by one each of these indicators began losing momentum. New home sales started to wane, housing starts cooled off and interest rates started to edge up. Yet data on existing home sales has remained strong. It now looks like this indicator will also pull back in the next month or two. Why? Because the best leading indicator of existing home sales, the Pending Home Sales Index, took a big drop today.
(Click to enlarge)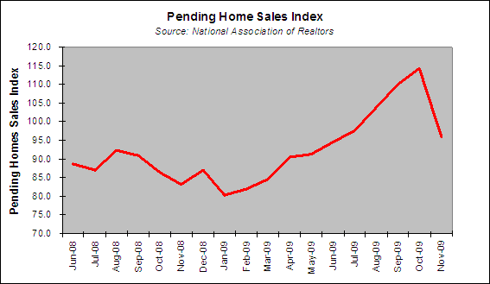 Click to enlarge
Pending Home Sales Index drops 16%.
As I have pointed out in
past articles
, the
Pending Home Sales Index
has correlated closely with movements in the sales of existing homes. Throughout 2009 an increase in the number of the houses under contract in one month had been a precursor to a similar move in sales of existing homes about two months later. A 16% drop in the index for November foreshadows a sharp move down when we see January sales data. It may show up as early as in the December data.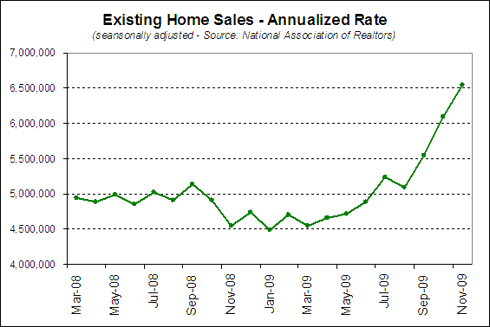 Click to enlarge
For now the existing home sales data is strong.
Sales of existing homes jumped another 7% in November, marking the third straight month of strong gains. This brisk pace, now up to an annualized rate of 6.5 million homes, has helped to clear a half million units of inventory and brought months of supply on the market down to 6.5 months. It is clear from this graph that government support has had the intended result. Two questions remain, though: Are there millions of unsold homes waiting to come on the market this spring? Also, did the tax credit simply bring forward demand, leaving the market in a state of hangover when it ends? The answer to the first question is unclear but the answer to the second one is likely yes.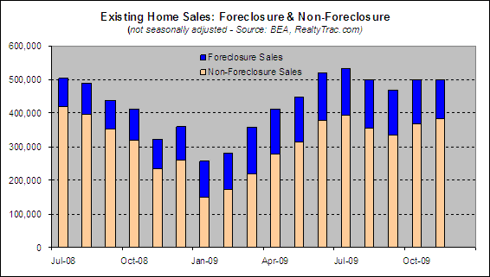 Click to enlarge
Tax credits, not foreclosures, are underpinning the sales strength.
By combining the raw monthly sales data from the U.S. government with foreclosure sales data we can get a sense of what is driving the market. In November, only 23% of the sales were attributable to formal foreclosure sales. That is the lowest percentage in over a year.
In both good years and bad years, sales volumes tend to taper off in the U.S. during the fall season, leading to the need for seasonal adjustments. In 2009, the remaining non-foreclosure sold homes departed from this standard monthly trend, increasing sequentially in October and November.
The combination of tax credits and low interest rates brought new buyers to the market ahead of the original expiration deadline of November 2009. This deadline was extended to April 2010 but lack of momentum reflected in the PHSI above implies there are only so many would-be buyers seeking to capitalize on incentives.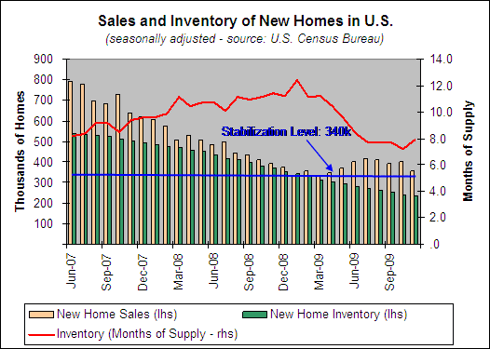 Click to enlarge
New home sales sideways trend may be indicator of rest of market.
With homebuilders strapped for cash and unlikely to get new construction loans from banks, it is not surprising that they continue to sell down their inventories and not build much more. Yet this strategy by itself can stall sales if inventories get too low. During a normal recession (one without a financial crisis) a rebound in residential construction would be fueling economic growth by now. There is scant evidence of such a rebound. High unemployment, uncertainty around future government programs and the looming threat of foreclosures appear to be keeping that at bay.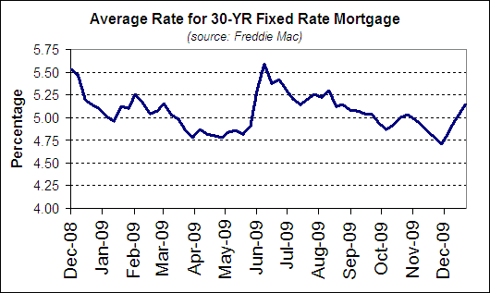 Click to enlarge
Interest rates bounce higher.
It is too soon to tell if mortgage rates are headed up for good but it seems that everyone but the Fed thinks so. Since bottoming out in late November, mortgage rates have been marching higher each week. This happened before (last June) at an even faster pace only to slide back down the rest of the year. The market is clearly expecting higher rates in the next year but only time will tell if it is any more right than it was half a year ago.
There are powerful market forces favoring higher rates, though. The most powerful of these is the Fed's end to its program to purchase mortgage back securities from the market. The Federal Reserve has reiterated its intention to halt this program at the end of March this year. Unlike the homebuyers tax credit that has been extended once and may be extended again, this program is seen as a prelude to explicitly raising short term interest rates. It is unlikely that the Fed can extend this program without market disruption and serious ramifications for the U.S. dollar.
Thus we are left with the likely conclusion that, while the housing market has found a bottom, it is not headed much higher from here. The end of government programs is inevitable, private demand remains tepid and the foreclosure problem has yet to be resolved. The government appears willing to fight against another leg down in housing but the private sector is on its own to drive the market higher.
Disclosure: PMI