Green Mountain Coffee Roasters (NASDAQ:GMCR) has sold-off after hitting its 52-week high of $89 a few months ago. The stock is now holding above $60 and looks like a good value for the long-term. The company is still growing revenue, gross margins, and earnings. Its innovative coffee makers and single-serve K-Cups and Vue packs continue to grow in popularity with consumers. The September 2012 expiration of the K-Cup patents has not significantly hurt the company. I think that the current stock price looks attractive for long-term investors.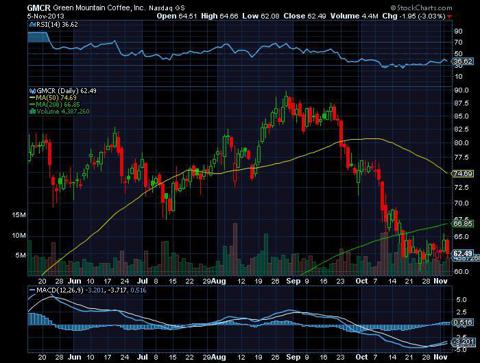 Click to enlarge
Green Mountain has arrangements with multiple brands to produce and sell specialty single-serve packs bearing the names of Dunkin Donuts (NASDAQ:DNKN), Snapple (NYSE:DPS), Caribou Coffee, Starbucks (NASDAQ:SBUX), and more. Customers have plenty of choice with over 225 individual varieties to choose from. Some of these include ice teas, fruit brews, and hot cocoa, in addition to coffee varieties. All of this continues to produce increasing revenue for Green Mountain. Total net sales increased 14% for the first 39 weeks of FY2013 over the same period in 2012. This includes a 20% increase in single-serve packs even after the K-cup patents expired.
Current Valuation
Although the stock is fairly valued, the company's expected growth does justify the current price. The trailing PE of 21.5 and forward PE of 16.5 do not look all that compelling. However, the PEG ratio of 1.29 shows that GMCR is priced well in terms of its expected earnings growth. Its price to book ratio of 3.82 shows a fair valuation, but on the low end. Green Mountain also trades with an EV/EBITDA of 9.8, which is significantly lower than its competitor, Starbucks' EV/EBITDA of 20.5. Starbucks is also much richer in value with a forward PE over 30 and a price to book ratio of 9.8.
Growth Catalysts
Green Mountain's growth will come from continued innovation. This includes machines with new functionality and it also includes adding new brands and new beverages to the current mix. New machines will be designed for a higher quality customer experience. For example, machines with a better fit and finish, improved ergonomics, and improved noise levels. The company recently announced that it will offer 100% Kona and Jamaican Blue Mountain coffee. That is an example of gaining customer interest via new product offerings.
The Keurig BOLT Carafe Brewer is a recent example of one of the company's innovations. This is a commercial grade brewer that brews a 64 oz. pot of coffee in about two minutes. Typical coffee brewers take about four minutes to brew a pot. The system features pre-measured packs that look like large-sized K-cups. The Keurig Rivo, which brews cappuccino and lattes, is another example of Green Mountain's innovation. Continued innovations will spark increased sales for the company's single-serve packs, which comprise over 70% of Green Mountain's sales. Green Mountain has stated in previous conference calls that it is dedicated to continuous innovation to grow the business. The company is working on offering new interactive brewers for the near future.
The company expects to maintain gross margins near 40%. Green Mountain is expected to grow earnings annually at 15% for the next five years. This above average growth should allow the stock to double in about five years. I would consider that a conservative estimate since it wouldn't be unreasonable for the company to outperform those expectations, given its knack for offering consumers what they want.
The Risks
Two patents for Green Mountain's K-Cups have expired in 2012. The company expects that the total of all unlicensed portion packs will represent 5% to 15% of system demand. The company is seeing the lower end of that range this year, with the higher end of the range approaching over the next two to three years. Green Mountain will lose some market share to competitors. Therefore, the company will need to continuously innovate to maintain strong revenue and earnings growth.
Conclusion
Green Mountain has established itself as a reliable and convenient source of coffee in homes and businesses. By continually improving its brewers and product offerings, the company should continue to be successful and achieve above average growth. The recent sell-off in the stock has created a good buying opportunity for the long-term. Given the expected earnings growth and fair valuation, I would expect the stock price to double in the next five years.
Disclosure: I have no positions in any stocks mentioned, and no plans to initiate any positions within the next 72 hours. I wrote this article myself, and it expresses my own opinions. I am not receiving compensation for it (other than from Seeking Alpha). I have no business relationship with any company whose stock is mentioned in this article.