"I can't get no satisfaction
I can't get no satisfaction
Cause I try and I try and I try and I try
I can't get no, I can't get no"
The big news item from Tuesday isn't moving the market but speaks volumes about what's wrong with the economy. It is the latest reading on job satisfaction among Americans.
According to the Conference Board, people have never been this unsatisfied with their J-O-B. There are a number of reasons for this, but one thing is for sure: until employees can sing a different tune, it means more productivity gains but widespread unhappiness. Until people can sing "take this job and shove it," it means that the economy is still mired in the doldrums. (Click to enlarge)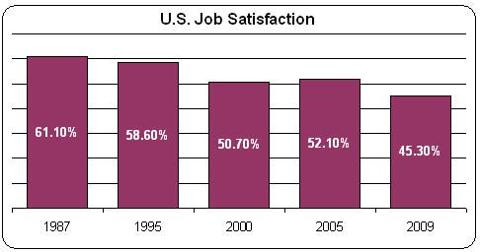 Click to enlargeBy the way, on the topic of satisfaction, I think that 2010 is going to be the year when the cream rises to the top. Last year the same tide lifted all boats, as sometimes the ones with the largest leaks made the biggest rebounds. But this year, fundamentals will matter and companies that produce the goods should enjoy outsized share price gains. Case in point, today Ford (NYSE:F) announced sales that were up 33% in December, a number that beat the consensus and even our own estimate.
Factory orders beat the consensus estimate, coming in up 1.1% versus an estimate of up 0.4%.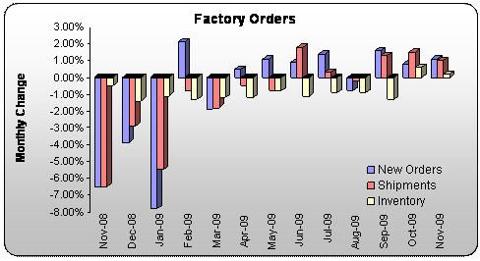 Click to enlargePending home sales were down 16.0% month over month in November.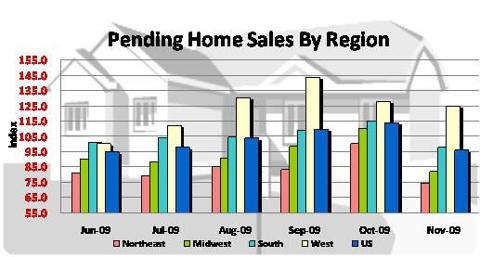 Click to enlarge
Can Retail Stock Run Continue?
Within our institutional research coverage on the retail sector, containing a 60/40 weighting of specialty retailers and discounters, I have found that 83% of the stocks are trading below their historic price to sales multiple. What does this mean? In short, it suggests that the retail stock rally that began in March 2009 could remain intact if the consumer continues to display a willingness to spend, as seen increasingly since the summer. At current valuation levels, the stocks still reflect concern that the consumer will remain in a foxhole for 2010 and 2011. In fact, shares of all the discounters we cover trade below their historic price to sales multiples despite most companies having exposure to robust international unit growth, new domestic unit growth, and a return to positive same-store sales growth here at home. We moved to an overweight call on discount retail months ago.
Other findings:

44% of coverage universe trading below historic EBITDA multiple (I think Street may be overestimating retail's desire to open new stores)
61% of coverage universe trading historic PE multiple

Profiting from the Impending Change in Healthcare Structure
Whatever one's opinion on the soon-to-be-law healthcare reform package, the fact is that there are money-making investment opportunities as a result of the scheme. A subsector well positioned to benefit from an increase in those obtaining access to care are the pharmaceutical benefit managers (otherwise known as "PBMs"). The main players in this drug middleman sector include Express Scripts Inc. (NASDAQ:ESRX) and Medco Health Solutions (NYSE:MHS). An honorable mention goes to the struggling CVS Caremark (NYSE:CVS). PBMs are cash rich companies that stand to become much richer as the healthcare debate shifts to political complaining about the actual law.
Disclosure: None