Shares of Select Comfort Corporation (NASDAQ:SCSS) took it on the chin since our last article, with the stock down some 22% since then. The problem is the company continues to miss earnings estimates. Select Comfort has missed earnings in each of its last four quarters by an average of 19.3%.

Furthermore, the chart illustrates how the stock has gapped down on each consecutive earnings miss over the past few months.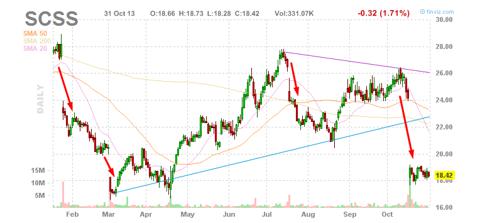 While investors are understandably disappointed in the earnings misses, the long-term thesis for owning Select Comfort remains intact. Now, investors have a chance to get into the stock at even lower prices.
Quick quarter review
A few highlights from Select Comfort's third quarter include (emphasis ours):
Net sales increased 7% Y/Y to $264 million.
Comparable store sales declined 1%, compared to the 6% decline posted in 2Q. While an improvement, it's still a negative number.
EPS came in at $0.36 compared to $0.46 in 3Q12.
The company opened 16 new stores and relocated six mall locations. Select Comfort ended the quarter with 423 stores.
Cash flow from operations dropped $8 million from the prior year to $90 million.
Select Comfort did increase Capex from $36.8 million last year to $57.8 million in 3Q by investing in its stores, technology and product innovation. This is a positive sign and will likely benefit the company in the upcoming quarters.
The company repurchased $10 million in shares in 3Q.
Select Comfort ended the quarter with $164 million in cash and no debt.
Lowered guidance leads to a 25% sell off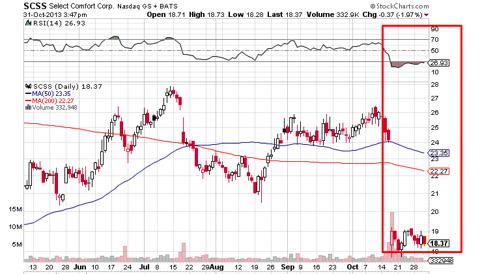 What shocked the market the most is the company's lowered guidance. The full-year outlook was to post EPS of $1.30 to $1.45 previously. Now the company expects EPS for the full year to come in at between $1.14 and $1.22. This is certainly not what the market expected, nor wanted to hear, and explains the 25% drop in shares after the news was released.
One bright spot was the midpoint of guidance forecasts total net sales to grow in the low double-digits. The fact that the company is still forecasted to grow in the double-digits, and not post single-digit growth is a positive. If we get to the days of single digit growth, then it might be time to reconsider the long thesis. Another positive is that year-end store count is likely to be between 435 and 445, compared to 410 at the end of last year. So, growth is in full force.
So the problem becomes the fact that the company is still growing, just not at the rate Mr. Market was expecting. Investors are now forced to ask ourselves, was the outlook so dire that it warrants a 25% haircut in the company's share price?
Unequivocally, the answer is no
We can make the argument that Select Comfort's woes were more related to industry headwinds than anything. Case in point, according to the International Sleep Products Association, Select Comfort increased market share in the months May to August. The company's growth rates in both sales and mattresses exceeded the industry average.
We look at the weakness in Select Comfort's numbers as more macroeconomic and a pullback in consumer spending. Consumer spending should pick up in the latter part of this year and early next year.
Revamped marketing efforts and expansion plans drive home the long thesis
One area that the company has yet to see a meaningful benefit is from its increased marketing spending. In 3Q, Select Comfort ramped up its media spending to drive traffic and awareness. Select Comfort is a leading product innovator and is working to drive that message home with consumers.
Yet, part of the problem is that Select Comfort, like other mattress companies, relied on infomercials to advertise its products. Now the medium has changed and the emphasis is on the omnichannel - TV, Internet and print. Spending on marketing efforts this year will be around $150 million. This compares to only $60 million that the company spent in 2009.
In terms of innovation, it's hard not to get excited about the DualTemp layer product. This new product has helped drive interest in Select Comfort and its Sleep Number brand. CEO Shelly Ibach described the new product on the company's earnings call (emphasis ours):
"With regard to our proprietary product competitive advantage, at the end of July, we launched the new Memory Foam and Innovation Series with advanced DualAir technology. Our research indicated these new products would provide increased comfort benefits for our customer and our metrics are validating this. Consumers also responded positively to the advertising of these new products as indicated by a 34% increase in search volume and a 17% growth in sales during the 3-week launch period. At the end of September, we placed advertising emphasis on our new DualTemp layer, which can be used with any mattress brand. Our innovation message again drove significant traffic to sleepnumber.com, with search volumes increasing by 76%."
In terms of expansion, the company is relocating stores from mall to non-mall locations, which are producing strong results. New stores are delivering a payback of 12 to 18 months. In the first 12 months, new stores are averaging $2 million in sales and outperforming the balance of the chain in year two.
Updating the price target: Upside of only 80%, versus our previous 100%
Our previous valuation put a 13.5x multiple on Select's EBITDA. However, things have changed slightly, and it's clear that Select isn't quite on the same level of Tempur, yet. But is a 10x multiple not justified? Mattress Firm trades at a 10x multiple, and it has an ROE that's half of Select, while also having a 78% debt to equity ratio (compared to Select's $0 debt).
The other issue was the company's prior guidance of $1.5bn in sales for fiscal 2015, which appears to have been wildly optimistic and a bit unrealistic. Analyst expectations for next year '14 sales at $1.07bn and we forecast $1.2bn in sales for '15.
Using $1.2bn sales for 2015, and an operating margin that's between 13% and 13.5%, EBITDA should come in around $160mm. Worth noting is that the company believes it can get its operating margin to 15% over the interim, but we're going to be a bit more conservative. And with a 10x multiple on 2015E EBITDA, the stock has upside to $32 in just over two years.
At $32, that's nearly 80% upside. Yet it's not a huge ask. Just earlier this year, the company was trading over $32, and the stock traded at $27/share back in 2006-2007, a time when it was generating $800mm in sales. It's expected to generate in excess of $1bn next year.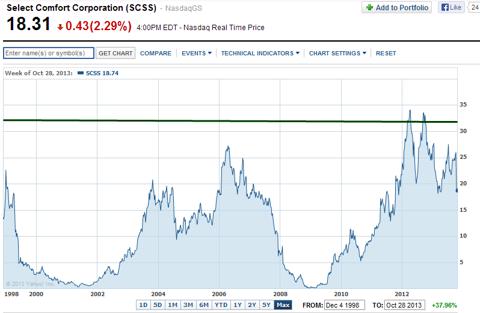 Adding more color to Select's advantageous balance sheet and valuation, the company is even cheaper today in terms of its valuation metrics. Here is what the picture looked like at the end of August: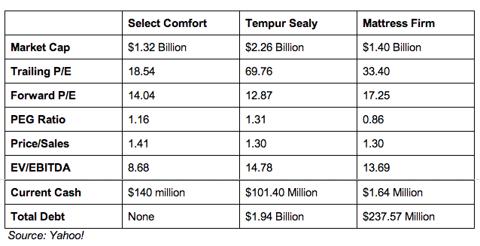 Here is what the picture looks like today:
| | | | |
| --- | --- | --- | --- |
| | Select Comfort | Tempur Sealy | Mattress Firm |
| Market Cap | $1.01 Billion | $2.35 Billion | $1.06 Billion |
| Trailing P/E | 15.59 | 72.27 | 23.01 |
| Forward P/E | 13.03 | 13.52 | 14.43 |
| PEG Ratio | 0.81 | 1.25 | 0.71 |
| Price/Sales | 1.07 | 1.35 | 0.95 |
| EV/EBITDA | 7.01 | 14.95 | 9.91 |
| Current Cash | $164 million | $101.40 Million | $6.37 Million |
| Total Debt | None | $1.94 Billion | $232.66 Million |
Notice over $300 million was shaved off Select Comfort's market cap. The company has an additional $24 million in cash and its multiples are even lower - P/E, EV/EBITDA, P/S, and PEG Ratio.
Bottom line
While Select Comfort continues to disappoint investors, the valuation and growth stories are still very compelling. There have been some concerns about the macroeconomic picture, but the reality is that mattresses eventually need to be replaced. The CFO of Tempur Sealy pretty much summed up the industry back in 2011 at the Raymond James Investment Conference. He said:
"Moving can be an impetus to buy a mattress but it is not a cause. The cause of buying a mattress is the mattress is worn out. Certainly, if you are moving home, it may cause you to think about it and I'm moving to a new house so it's time to get a new mattress. But the reason why you buy a new mattress is because it's worn out. It's not that by building houses or by buying a house you suddenly think I need to buy a mattress."
The reality is that consumers will put off purchasing a new mattress only so long. The industry has undergone consolidation and Select Comfort is considered by many to be the finest mattress money can buy. In our last article, we described Select Comfort as:
"Select Comfort is one of the few vertically-integrated mattress companies in the market. The only other company on the market that is vertically-integrated is Tempur Sealy International (NYSE:TPX). The major difference between the two is that Tempur Sealy offers mattresses at all price points whereas Sleep Number mattresses are more specialized with the ability to adjust individual firmness and support."
While investors can be understandably disappointed with the past earnings reports, the good news is that the company is continuing to grow sales and many of the items that crimped profits are completely controllable. In other words, the company could easily cut back on marketing spending to boost margins, but the company is going after market share. We have to agree with management on this one. Grow the company and margins will come.
Disclosure: I have no positions in any stocks mentioned, and no plans to initiate any positions within the next 72 hours. I wrote this article myself, and it expresses my own opinions. I am not receiving compensation for it (other than from Seeking Alpha). I have no business relationship with any company whose stock is mentioned in this article.