Fracking has unleashed a newfound abundance of natural gas and therefore the U.S. is going through a boom in natural gas production and the trend is expected to accelerate over the next few years. According to the EIA, U.S. natural gas reserves are about 482 trillion cubic feet, but due to new drill technology (including fracking) an abundance of previously untapped natural gas deposits have been unleashed, and estimates of natural gas reserves are being revised up almost yearly.
Natural gas can be exported through a process converting it to liquefied natural gas [LNG]. LNG is natural gas cooled to very low temperatures reducing considerably its volume, making it practical, from a physical and economic perspective, to transport gas over long distances. The two main ways of transporting gas over long distances are pipeline and LNG shipping. In some instances only one or the other is viable, as LNG ships cannot operate on land, and pipelines are prohibitively expensive over long sea distances. A growing emergence in disparity between location of natural gas reserves and the nations that consume natural gas has resulted in a rise in the percentage of natural gas traded between countries, to 31% nowadays from about 16% about two decades ago, a trend that should continue to persist over the next few years.
Therefore, as production continues to increase the U.S. may become soon a net exporter of natural gas. As U.S. natural gas prices are much cheaper compared to the rest of the world, the opportunity to sell natural gas to foreign countries is huge. Previously, I've recommended both Gaslog (NYSE:GLOG) and Golar LNG Limited (NASDAQ:GLNG) as a way to play this theme. Another alternative is through Cheniere Energy Partners (NYSEMKT:CQP), which operates the Sabine Pass LNG terminal.
Cheniere Energy Partners is a publicly traded limited partnership created in 2007 by Cheniere Energy (NYSEMKT:LNG), a Houston-based energy company primarily engaged in LNG-related businesses. The major assets of Cheniere Energy Partners is the Sabine Pass LNG receiving terminal and Creole Trail Pipeline in western Cameron Parish, Louisiana on the Sabine Pass Channel. The Sabine Pass LNG terminal includes existing infrastructure of five LNG storage tanks, two docks and vaporizers. Approximately one-half of the LNG receiving capacity at the Sabine Pass LNG terminal is contracted to two multinational energy companies, Total (NYSE:TOT) and Chevron (NYSE:CVX). Cheniere has also started recently a two-stage expansion project on its Sabine Pass facility that could make it the largest exporter of LNG in the U.S.
Ironically, Cheniere initially built its pipeline and liquefaction plant to import natural gas but now that gas exports have risen considerably, the company is reversing its systems to accommodate the booming foreign demand for LNG. The company is currently developing its proposed liquefaction project at its Sabine Pass terminal, which will transform the terminal into a bi-directional LNG processing facility capable of importing foreign sourced LNG and exporting U.S. natural gas as LNG. The Liquefaction Project is being developed at the Sabine Pass LNG terminal adjacent to the existing regasification facilities. Cheniere plans to construct up to six Trains, which are in different development stages. The company expects its first Train to be producing LNG at the end of 2015. The total cost of this expansion project is expected to be above $10 billion.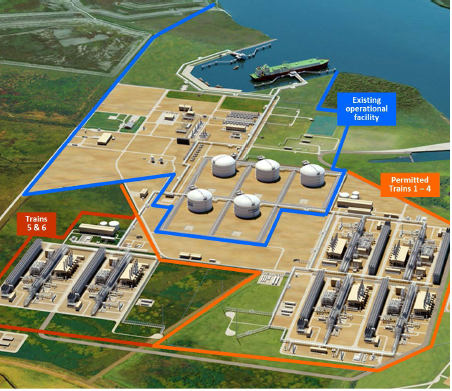 The company was also the first U.S. company to receive permission from the U.S. Department of Energy to export LNG to any country in the world that is not on a U.S. trade sanctions list. Cheniere has taken advantage of this opportunity, and signed recently billion-dollar deals with some of the world's largest LNG importers. It has signed six long-term fixed contracts for its Sabrine Liquefaction Project which are valid for 20 years, enabling the company to have a predictable revenue and cash flow stream over the long-term. Its costumers include the BG Group (OTCQX:BRGYY), Gas Natural Fenosa (OTCPK:GASNY), state-controlled Gail India (OTC:GAILY), Korea Gas Corporation, Total, and Centrica (OTCPK:CPYYY). In aggregate, the fixed fee portion to be paid by these costumers is about $2.9 billion annually, and Cheniere has also the option to purchase and sell excess LNG produced that is not committed to its long-term customers. Taking into account that Cheniere's revenues amounted to only $264 million in 2012, this clearly shows the growth potential offered by the company over the next few years. The company's earnings should also be bolstered from Sabrine liquefaction contracts. Cheniere's estimated contracted EBITDA is expected to be about $3 billion when all Trains will be in operation, compared to only $108 millions in 2012.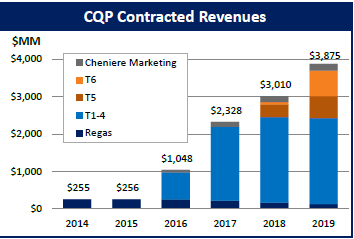 Cheniere's current operations and the new business it will generate from the expansion project are a substantial safeguard to not only to secure the current dividend but also to increase substantially its distributions down the road. Currently, its quarterly distributions stand at $0.425 per unit, or $1.70 annually. At its current unit price, Cheniere Energy Partners offers a very attractive dividend yield of 5.6%. The distributions are also secure by the company's cash distribution policy, which consists on the distribution of all available cash quarterly to unit holders. Over the next few years, Cheniere expects to increase substantially its distributions to about $4 per unit when the expansion project is completed.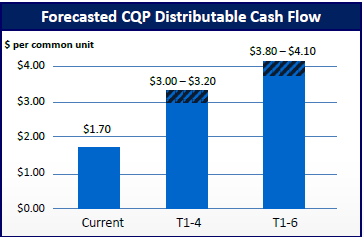 The major negative factor and probably the main risk of investing in Cheniere Energy Partners is its debt levels, as the company as taken a lot of debt to finance its expansion project and now as above $5 billion of debt. However, as Cheniere's earnings should increase dramatically over the next few years the debt load seems manageable.
Conclusion
Cheniere Energy Partners is a very good play on the LNG boom in the U.S., offering solid growth prospects and a high-dividend yield of 5.6%. Although the company's indebtedness is high, its long-term contracts offers very good visibility for Cheniere's revenues and profitability and therefore the debt should not be an issue. Moreover, as new business becomes operational its distributions should increase significantly, leading to a high and growing income stream over the coming years.
Disclosure: I am long GLOG, GLNG. I wrote this article myself, and it expresses my own opinions. I am not receiving compensation for it (other than from Seeking Alpha). I have no business relationship with any company whose stock is mentioned in this article.