Editors' Note: This article covers one or more micro-cap stocks. Please be aware of the risks associated with these stocks.
The market recently crossed over an important line: the historic average price-to-earnings multiple. The S&P 500 has an average P/E of 15.8, while the current market reflects a much higher value at 20. For investors, this has traditionally been seen as a sign of an overbought market, which could lead to a general unease that choppy waters could lie ahead.
The focus on corporate earnings will probably be shrewder, as any unexpected negative news could prove to be a catalyst for bearish investors and could potentially lead to a much anticipated market correction.
The overheated market may leave plenty of skittish investors on the sidelines, but for the intrepid investor one of the places to look for value might be micro-cap stocks.
Small companies with a market cap of under $300 million tend to slip through the cracks and may perform in an uncorrelated manner than their larger counterparts.
There are three main reasons why micro-cap stocks have the potential to outperform:
1. Growth Opportunity: Small companies can be more nimble and faster than larger companies, which allows them to take advantage of more opportunities. Picture a small company that sells in only one state and a competitor that already sells nationwide. The smaller company has 49 more states that can be expanded into, while the larger one has fewer options for growing its national footprint.
2. Undervaluation: Micro-caps are often not on the radar for analyst coverage, which allows savvy investors to take advantage of potentially large discounts to a company's intrinsic value. The lack of coverage can also mean that few institutional buyers will own the stock and so it won't be subjected to selling patterns that may not be based on the company's performance, but rather the overall needs of a fund's portfolio.
3. Acquisition Potential: Small companies are more likely to be acquisition targets for larger companies, especially if they hold very little long-term debt. In many cases, big companies acquire growth by simply buying out their smaller competitors. Generally, these buyouts come at a premium to the current stock price, which can often give investors an immediate bump when the offer is made.
(Click to enlarge. Sourced from Zacks Investment Research.)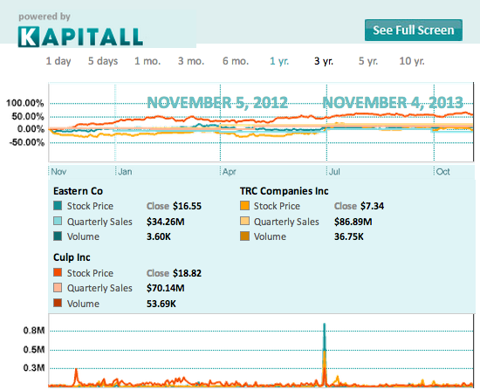 To find stocks like these, we looked for several key statistics: a market cap of less than $300 million, a price-to-earnings ratio less than the market average (in this case, at or under 15), little to no long-term debt, and to keep our methodology focused on companies with solid business models, a price-to-sales ratio of less than 1.
Three stocks showed up: The Eastern Company (NYSEMKT:EML), TRC Companies, Inc. (NYSE:TRR), and Culp, Inc. (NYSE:CFI).
Eastern Co. is a small tools and accessories company that works in three segments: security products, industrial hardware, and metal products. The company trades at 15 times earnings and has a price-to-sales ratio of only 0.72.
Eastern carries relatively low long-term debt of around $5.3 million, while total assets are over $116 million. And unlike most small companies, Eastern offers investors a perk in the form of a dividend yield of over 2%, which can provide some downside protection.
As the U.S. economy picks up, Eastern is in a position to capitalize on the country's growing industrial sector.
Next is TRC Companies, a waste-focused engineering company that's trading at a deep discount - only 6 times earnings. TRC has a price-to-sales ratio of 0.66, while quarterly earnings growth year-over-year is an astounding 315%. Their long-term debt is a negligible $1.3 million, with total assets topping $307 million.
TRC is small and nimble enough to be able to thrive in its niche alongside larger industrial players like General Electric (NYSE:GE) and URS Corp. (NYSE:URS).
And 60% of the TRCs business comes from the oil and gas sector, which should translate into higher earnings thanks to America's current energy revival.
The last stock on our look at micro-caps, Culp, is a furniture and mattress textile manufacturer that may have the most growth potential out of the three stocks here.
Trading at 12.9 times earnings, Culp has a PEG ratio of only 0.56, which is traditionally a clear indicator of a company's growth prospects. The price-to-sales ratio is only 0.85 and Culp has seen EPS growth this year of over 42%. Long-term debt is around $4.9 million, with total assets of over $151 million. And Culp's executives have done a good job managing the company's investments, as evidenced by the 18.9% return on equity.
Tied to the non-cyclical industry of mattresses and bedding, Culp probably has a future of steady growth ahead.
Investing in micro-cap stocks can offer a lot of advantages for investors, but those advantages can come with high risks. The lack of analyst coverage is a double-edged sword in that it can allow investors to take advantage of discounted valuations, but it can also leave all the fundamental legwork up to the individual investor to figure out.
Finally, smaller companies typically have lower volumes and therefore less liquidity. This can make the buy-ask spreads higher than normal and might make it difficult to develop a large position quickly.
Disclosure: I have no positions in any stocks mentioned, and no plans to initiate any positions within the next 72 hours.
Business relationship disclosure: Kapitall is a team of analysts. This article was written by Daniel Cross, one of our writers. We did not receive compensation for this article (other than from Seeking Alpha), and we have no business relationship with any company whose stock is mentioned in this article.