Should BlackBerry (NASDAQ:BBRY) investors cheer or jeer the collapse of buyout talks by Fairfax Financial Holdings? Most BlackBerry shareholders have a cost basis far above current levels, and well above the $9 price that was negotiated with Fairfax. From their point of view it scarcely matters whether BlackBerry is sold for $9 for $0: BlackBerry may as well try and shoot for the moon.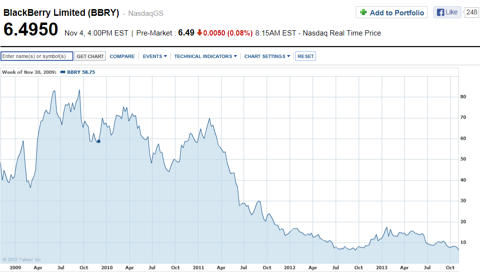 SA author, Achilles Research has expressed this view in an article on BlackBerry. He claims that it's a good thing the Fairfax deal collapsed and reckons BlackBerry should be valued at $16 a share. He bases this on estimates of how much BlackBerry's patent portfolio, enterprise business and cash are worth. He also notes that back in 2008, Bank of America (NYSE:BAC) was beaten down but rallied after getting an equity investment from Warren Buffett. If you had bought at $6 then as he did, you'd have more than doubled your money. Will history repeat itself with BlackBerry?
One difference between BlackBerry now and Bank of America then, is several suitors have now looked at BlackBerry books and decided to pass. They've obviously concluded that BlackBerry doesn't make sense as a going concern.
Another difference is that all Bank of America needed in 2008 was confidence; something that Warren Buffett's investment in Bank of America was designed to instill. All investors had to do after that was wait until the economy revived.
For BlackBerry, the situation is completely different and much more perilous. It will have to out-compete other smartphone companies to regain market share - surely an almost impossible task. Consequently, I think there is zero chance of BlackBerry ever becoming a serious smartphone player ever again. Its market share losses will continue their relentless decline. This will also likely mean that cash burn will rise even more than the current elevated levels, either requiring more layoffs and less investment in any putative turnaround, or more dilution down the road.
How best to value BlackBerry then? I think the only value left is BlackBerry's breakup value. I also don't think it isn't safe to assign any value to BlackBerry's chat, service and security businesses. Why? The fate of these business lines is too intertwined with the hemorrhaging sales of BlackBerry handsets for them to be standalone business units. Indeed the concern now is that BlackBerry will lose its remaining government and enterprise customers, perhaps to Microsoft, who is also deeply entrenched into the enterprise.
So the remaining value is BlackBerry's patent portfolio, cash, plus real estate, minus liabilities and commitments. BlackBerry's cash is now more than offset by the $1 billion in convertible debentures from the Fairfax led consortium and $2.9 billion in purchase obligations. So that just leaves the patents and headquarters. Valuing these isn't easy, and trying to use Nokia (NYSE:NOK) or Motorola as an example isn't too helpful either since these companies had different - and in the case of Nokia, better patent portfolios. Moreover, BlackBerry will be selling these in a fire sale far worse than Nokia or Motorola's situation. Estimates for the value of BlackBerry's patents are around the $2 billion mark; throw in an additional $.5 billion for BlackBerry's headquarters. That gives a $2.5 billion valuation.
However, hedge funds and other activists will only be interested in buying into BlackBerry at a discount to breakup value. They would want to get in a price at least 25 -30% below breakup value so they have enough upside to cover the risk that BlackBerry's finances will continue to deteriorate before they can convince BlackBerry's board to agree to a break up sale, or at least accumulate enough shares to force a sale.
So this implies the share price will continue to fall until it drops to the $3.50 - $4 level, at which point it would become a very speculative buy.
Disclosure: I have no positions in any stocks mentioned, and no plans to initiate any positions within the next 72 hours. I wrote this article myself, and it expresses my own opinions. I am not receiving compensation for it (other than from Seeking Alpha). I have no business relationship with any company whose stock is mentioned in this article.