Introduction
Technology is finally enabling bio-based security features on mobile devices that will overcome one of the final obstacles to truly mobile digital commerce. One company, NXT-ID (NASDAQ:NXTD), has emerged as a newly public company with a set of technologies and an open platform that can be used across all these applications. Based on our analysis the next few quarters of adoption will drive a near-term intrinsic value of over $10/share and a much higher figure for 2014. This report goes into more detail concerning the technology, the market, and the company.
Device-level sensors, biometrics and embedded processing have arrived. With these advanced technologies, the wallet can be made more versatile, secure and powerful with modern technology built into it. This same approach will be found in a broad range of products from firearms to autos, which will only fire and run if the authorized owner is securely identified and in command. The IT companies have provided more security (multi-factor, out-of-band authentication) but these don't work well because they are neither simple nor obvious. It's now pretty easy to know that "you are you" given enough of the right sensor and biometric information combined with the right data and some local processing.
In the future, it is likely that we are not going to carry around little pieces of colored plastic to make payments; furthermore, we are not going to rely on simple alphanumeric passwords to access our devices and conduct transactions. Lest everyone think the smartphone will save the day, it has a few chronic weaknesses. Power is the most basic one. Consumers expect their keys and wallet to work all the time. Smartphones are not secure or private in the slightest, nor are they likely to become so for quite some time.
NXT-ID is building advanced biometric technology to enable secure transactions, identity management, and access control in an intuitive, cost-effective and easy-to-use manner. The company recently completed a public offering. The capital will be used to continue the development of their biometric security products.
NXT-ID's Mobile-Bio technology platform is the foundation for three new product offerings designed primarily to mitigate security risk of mobile devices. These products include a modular facial recognition system called Mobile-Bio FaceMatch,TM a separate, physical biometric secured electronic wallet called The Wocket,TM as well as a portable biometric device called Mobile-Bio Sensor,TM which allows an individual access through multiple devices to a protected database or server.
This segment has been active in terms of acquisitions. The first generation biometric security company (L-1 Identity Solutions) was acquired by security giant Safran for $1.6B in 2010. L-1 was predominantly enterprise focused and didn't address mobile or online commerce. Apple (NASDAQ:AAPL) bought mobile security firm AuthenTec for a reported $356M, predominantly for their fingerprint sensor technology.
Our initial IV case below supports a stock value of $10.90/share if the company can execute on their plans.
The Opportunity
The convergence of mobile and security technology is creating a host of new investment opportunities. Convergence is currently being driven by several factors. One key factor is the soaring functionality of mobile devices. This rising functionality is associated with the proliferation of smartphones in the market, which today exceed one billion users worldwide and counting.
Today's smartphones allow people to use their mobile devices in a variety of ways that extend far beyond making calls and texting, including banking, shopping, social media, playing music, taking pictures, and recording video, among many other things. In short, mobile commerce (m-commerce, for short) is growing today, with nearly one-third of mobile users having made a purchase with their phones.
The rising functionality of mobile devices and m-commerce is generating a greater demand for security that extends beyond conventional technology. Security has always been an important issue over the Internet and on the web. However, the dynamics are shifting amid an ever-rising incidence of online breaches.
"Passwords have failed. It's time to try something new." -Mat Honan, Senior Writer, WIRED December 2012
Our research informs us there is a large opportunity for emerging technology companies in the market for biometric secure access control as consumers, enterprise, and government agencies around the world seek greater security. Biometric technology has the potential to meet that demand. NXT-ID was incorporated early last year with a mission to develop innovative, next generation biometric technology for secure access control. Below, we take a closer look at the company, its technology, market opportunity, competition/industry structure, and we assess its intrinsic value.
Company Overview
NXT-ID is an emerging technology company led by CEO Gino Pereira and CTO David Tunnell, the company has three distinct lines of business: law enforcement, m-commerce, and biometric access control application.
NXT-ID recently completed a public offering and listed on the OTC QB. The capital will be used to launch several biometrics security products.
The executive team has experience managing emerging technology companies and running publicly traded companies. CEO Gino Pereira has over 30 years of executive, operational and financial experience with technology companies in the United States, Europe and the Far East. CTO David Tunnell is an expert in biometrics and is the inventor of a variety of miniature technologies for remote distributed sensors, with over two decades of experience in developing high-technology solutions for the U.S. government. He leads the company's talented and experienced software team, which is based in Florida.
NXT-ID's Board of Directors includes Major General David R. Gust, USA, Ret. General Gust retired from the United States Army in 2000 after completing a career of 34 years of service. His General Officer assignments included the Program Executive Officer, Communications Systems (PEO-Comm Systems), Program Executive Officer, Intelligence, Electronic Warfare and Sensors (PEO-IEW&S) and at Army Materiel Command, as Deputy Chief of Staff for Research, Development and Acquisition (DCSRDA).
NXT-ID is creating a new approach in information security. At the heart is a real-time, dynamic, multi-factor biometric authorization that is user friendly and extremely difficult to hack, thus providing greater security beyond conventional security systems. This system combines multiple attributes that are unique to each user (e.g., face, voice, fingerprint, retina) with multiple attributes that are unique to other identifiable features, such as devices and accounts, to form an optimal security solution.
This solution uses a real-time engine and dynamic security process for each log-in session or transaction so that the user experience is dynamically enhanced, versus the conventional static experience of typing in the same password. Introducing this new paradigm, NXT-ID hopes to shatter the conventional User/Password structure that currently exists by developing what they are appropriately calling "The un-Password" - where information security begins to rival Fort Knox, whether at home, on the road, or at the office.
NXT-ID's expertise in biometrics, along with its growing patent portfolio of cutting edge technology, gives the company a solid foundation to build on.
Products & Technology
The product roadmap is ambitious with several new security products scheduled for release in the months ahead, all of which leverage the company's Mobile-Bio™ platform. NXT-ID is using its Mobile-Bio platform to commercialize a range of next generation security products targeted at a range of applications. These products include:
1. Mobile-Bio FaceMatchTM - 2D, 3D and pseudo-3D methods to perform facial recognition. The non-Mobile version of FaceMatch is currently on the market and being used by various law enforcement agencies to provide identity authentication.
2. The WocketTM - a new class of biometrically secure mobile devices designed to replace the traditional wallet.
3. Mobile-Bio SensorTM - a simple, web-enabled, biometric-enabled external device that is used for local authentication and remote authentication with the BioCloud and/or remote servers.
4. VoiceMatchTM - a unique biometric-enabled method to add multi-factor biometric identifiers (both speech and speaker recognition) to Dynamic Pairing Codes using a simple low-power embedded processor on an external device (e.g., BioSensor), such as a Wocket, that then connects to other end-points using NXT-ID's Dynamic Pairing Codes.
5. Mobile BioCloudTM - a cloud-based end-point (authentication service) to authenticate any "end-point" along a communication path, including external biosensors such as the Wocket and/or other PCs or servers along the path.
Taken together, these products target a broad market opportunity space that includes m-commerce, enterprise, law enforcement, defense and Homeland Security. A lot of research and development work has already been completed and related costs incurred, thus creating a favorable dynamic for commercialization in the months ahead. In the next two sections of the report, we take a closer look NXT-ID's biometrics security technology and assess the company's overall market opportunity.
Market Opportunity
The market opportunity will expand across multiple segments, given that the company's products target consumers, enterprise and government agencies in the U.S. and overseas. We can assess the overall opportunity for NXT-ID by analyzing the market for each its of three products.
NXT-ID's Wocket product is the next generation of secure wallets designed to function anywhere credit cards are accepted. There are close to 200 million credit card holders in the U.S. alone and tens of millions more overseas. The average credit card holder today has 3.5 cards. Credit cards are associated with more than $2.5 trillion in transactions a year and are accepted at more than 24 million locations in more than 200 countries and territories.
Fraud is a key concern of credit card users. There is growing demand for solutions that prevent or substantially curtail the incidence of credit card fraud. The Wocket has been designed to offer consumers an affordable, mobile, biometrically secured device that has security features and functionality exceeding anything on the marketplace today. In addition, NXT-ID is planning on offering users an inexpensive monthly insurance plan for frequent credit card users that seek even greater peace of mind.
NXT-ID strategy is to partner with banks and other financial services companies and make The Wocket available in the U.S. and, eventually, overseas. The company has also discussed the potential of partnering with EZ Pass, which are popular devices that ease traffic congestion on toll roads and speed along travel. EZ Pass transponders are in an estimated 22 million vehicles today, accounting for 2.5 billion transactions annually. The Wocket will also be designed to carry grocery cards, gas cards and other retail store cards that have become widespread, thus expanding its functionality to users beyond credit cards.
We estimate that NXT-ID can capture 6 million users in the U.S. for its Wocket product. Based on the estimated selling price of The Wocket at $99.99 per unit, and including the optional insurance program and other ancillary services we peg the U.S. market opportunity for NXT-ID'S Wocket is estimated to be in the range of $780M to $930M.
As physical security converges with IT security, we will likely see the use of smartphones as access control devices (as opposed to physical cards or punching in numbers on a key pad). This will only serve to heighten the need for additional security over mobile devices and to drive demand for products such as NXT-ID's Fingerprint Sensor.
There is a significant market opportunity for NXT-ID with its suite of Mobile-Bio biometric security products. This opportunity is reflected in the financial modeling and valuation work discussed below. Before presenting that analysis, we will take a look at the company's competitive landscape and industry dynamics.
Competition and Industry Dynamics
NXT-ID's Mobile-Bio suite of biometric solutions is designed to enhance mobile security and provide next generation security for law enforcement and defense applications. The company's suite of security products offers distinct advantages in the marketplace. NXT-ID sees a role for products that fill an interoperability gap left by traditional biometric solutions. Many competing products on the market today are physically integrated and thus not flexible or versatile for widespread use in the mobile segment. NXT-ID plans to develop and foster market niches targeted at consumers and small business while continuing to serve the law enforcement and defense markets.
Google been developing their own Google Wallet and has worked to create an ecosystem supporting it. Visa and Mastercard have their own m-Wallet venture called "V.me." Another competing ecosystem includes communications giants AT&T, T-Mobile (NASDAQ:TMUS), and Verizon, who have partnered to create a virtual wallet and payment system called "ISIS." ISIS is an open platform that extends to all merchants, banks and carriers. The application eliminates the need to carry cash, credit cards and debit cards, reward cards, coupons, tickets and transit passes.
The m-commerce ecosystem continues to develop and expand around the world, with many key players announcing plans for mobile payments, including AT&T (NYSE:T), Sprint (NYSE:S), Verizon (NYSE:VZ), T- Mobile, Google (NASDAQ:GOOG), Visa (NYSE:V), MasterCard (NYSE:MA), American Express (NYSE:AXP), Discover, Bank of America, Barclays, and others.
With ISIS, the smartphone becomes a wallet. The ISIS app is PIN protected. Personal data is stored on a special chip in the user's phone. If a phone is lost or stolen, users can call or go online to freeze payment of cards loaded onto the application, just as one would do if a physical card were lost or stolen. If the phone is recovered, the application can be activated in a similar manner.
Another emerging player is Square, a company backed and led by Twitter co-founder Jack Dorsey. Square has device that plugs into smartphones that enables mobile transactions. The company is currently processing payments at a $5 billion annualized rate. Other companies vying for penetration in the m-Wallet segment are PayPal, PayPass Wallet, Lemon Wallet and LevelUp.
Based on various surveys we have seen, there is likely to be growing acceptance of the m-Wallet technology in the months and years ahead. That said, security will be a key element driving market adoption. It is incumbent upon companies to offer customers secure mobile transaction capability as well as ease of use and convenience. At this juncture, the market for m-Wallets is wide open and NXT-ID will have an opportunity for vie for a share of the market.
Outside of the m-Wallet segment, there are a few independent suppliers of biometric products in the market competing against NXT-ID. One of the largest today is L1 Identity Solutions. L1 is a vertically integrated biometric solutions provider with a large established base of business. The company has well established marketing channels with government agencies. Another established supplier is Cognitec, a German-based facial recognition company with worldwide distribution capabilities.
Related Transactions
From 2005 to 2008 there was a big roll-up of biometric security technologies and companies which culminated in one company, L-1 Identity Solutions, owning the whole lot of them. As the figure below shows, the prodigious series of acquisitions included 3D facial recognition, fingerprint technology, iris recognition, secure documents and a range of supporting services and IP around those areas. In September of 2010 L-1 Identity Solutions was acquired by security market giant Safran for $1.6 billion. The unit now does business under the MorphoTrust USA brand.
In July of 2012 Apple bought mobile security firm AuthenTec for a reported $356M mostly for their fingerprint sensor technology. This fact is fairly clear from filing documents of the transaction and further supported by the fact that they subsequently divested the AuthenTec embedded security business to Inside Secure [EPA: INSD] for $48M.
At the end of 2010 ASSA ABLOY acquired biometric card maker LaserCard for $80M (a 42% premium to their public market price at the time.) At the time of the acquisition LaserCard was earning about $3.5M on $50M in sales. This puts the transaction value at 22x operating earnings and 1.6x sales. In the years leading up to the deal LaserCard had a spotty record of growth with intermittent profitability.
Although this list of related transactions is not exhaustive it's illustrative of the strategic value ascribed to mobile security and biometrics. Even in cases where management teams haven't been able to deliver consistent growth and margin expansion they have created asset value that rarely goes wanting in the M&A marketplace.
Intrinsic Valuation
Valuation is always tricky for emerging technology companies. However, we can still apply our IV methodology to these situations if we first derive our revenue model from known market size and dynamics, future adoption rates and market share. The background behind our model is below but in summary our base case IV estimate is $10.90 for 2014. The model itself is included as an appendix.
There are some demonstrated metrics around the adoption of new services so we can use those to estimate how large the ultimate market will be. The opening rule of thumb is the "30/10/10" rule, which means that 30% of the target user base will download and try the service, 10% of those will become regular users and 10% of those will be "power" users who use the product or service multiple times a day.
Using our basic math we can expect 60M users to try an e-wallet service if they were all made aware of it and given an opportunity try it. Of those, 6M would become active paying users and nearly one million of those would become intense users who would be included to buy additional related services. Our model assumes a $99 price point for an initial target market size of $530M on the purchase side of the business with an additional 15% per year for supplemental services, maintenance and support. The high end user category is worth an additional $150M plus a similar 15%. All together this provides an initial market opportunity of $680M plus another $100M to $250M in ancillary service and maintenance fees.
The next two questions are 1) how fast will people adopt the e-wallet, and 2) what share of this e-wallet market will NXT-ID get. For us these two are actually tied together because the nature of the NXT-ID solution has a direct impact on adoption. Convenience and reliability are two of the hallmarks of what enables a new service to take root with consumers. The Wocket has the advantage of working with the existing credit/debit card infrastructure and not requiring a smartphone for support.
On the consumer side, one of the best proxies for adoption rate at the individual consumer level is LifeLock (NYSE: LOCK), which provides consumer identity and fraud protection. LifeLock has over 2.3M members but has built that base over time by adding 200,000 or so (net) members per year. The ramp at LifeLock has been much steadier so far than one might expect. The customer acquisition period really started 10 years ago in 2002. The 200,000 annual added membership figure is no inflection point. That said, LifeLock spent $123M in 2012.
We've put a stake in the ground on Wocket sales as shown in our model. We've based our initial figures on resources the company will have post-offering and further assume that one significant partner is added in 2014. Assuming that the product ships on time and meets expectations, the first year sales are a function of market reach. Initially, the company has limited resources to dedicate to marketing but early sales will go a long way to help attract much larger partners. If the company adds additional partners then our numbers would be revised upward. Key figures in the near-term are sales of 150,000 units in 2013 and 600,000 units in 2014.
Conclusion
Like many technologists our reflex on mobile payments is to jump to the conclusion that the smartphone is the answer. Now we know that it isn't, not now and not for years. Consumers love mobile devices but they are acutely aware and deathly afraid of intrusions that compromise their data, privacy and - most of all - their money.
Investors should also consider the fact that smartphones have major hard-to-solve power issues and most of the payment infrastructure in the world will be looking for a credit card or "virtual credit card" like those produced by the NXT-ID Wocket.
As an emerging company we are well aware of the long road that NXT-ID and their investors must follow. However, they have a superior vision into this segment of the market and a meaningful base of IP and late-stage product development to use in driving revenue and earnings.
The next year will be a careful building year for NXT-ID and their investors. Our IV makes it clear that there is tremendous upside for investors if the company comes close to delivering on their plans.
Themes like mobile, security and commerce are coming together and becoming top-of-mind for many investors, and this should help NXT-ID gain attention from investors as they grow.
Appendix: Intrinsic Valuation Model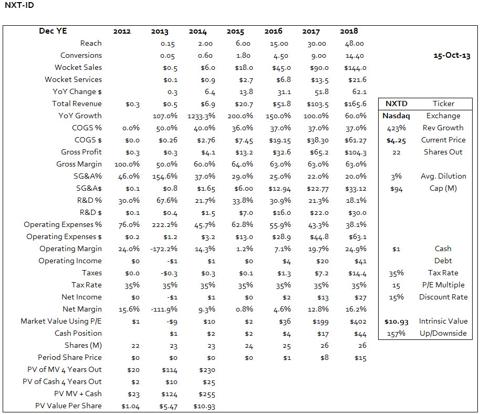 Appendix: Peer Group of Related Companies
(click to enlarge) Includes Intersections (NASDAQ:INTX), NQ Mobile (NYSE:NQ), ImageWare (OTCQB:IWSY), Sky-mobi (NASDAQ:MOBI), and Symantec (NASDAQ:SYMC).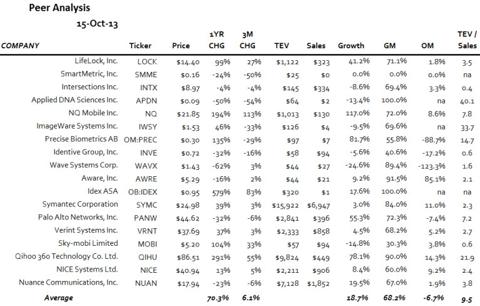 Disclosure: I have no positions in any stocks mentioned, and no plans to initiate any positions within the next 72 hours. I wrote this article myself, and it expresses my own opinions. I am not receiving compensation for it (other than from Seeking Alpha). I have no business relationship with any company whose stock is mentioned in this article.