Synergy Pharmaceuticals (NASDAQ:SGYP) ("Synergy" or "the Company") is a biotechnology company whose leading developmental drug is being developed for the treatment of chronic idiopathic constipation (CIC) and irritable bowel syndrome with constipation (IBS-C). Synergy's leading drug, plecanatide, is a guanylate cyclase-C (GC-C) agonist that mimics the function of the natural human peptide hormone in the intestines (read more about GC-C's potential in human therapeutics here or here). CIC and IBS-C are chronic gastrointestinal disorders that affect as many as 35 million and 13 million adult Americans, respectively, according to the Company. There have historically been few effective treatment options for these conditions.
In late December of 2012, Ironwood Pharmaceuticals (NASDAQ:IRWD) ("Ironwood"), Synergy's main competitor, began selling its similar FDA-approved GC-C agonist drug under the name Linzess. Ironwood owns 50% of the economics of the drug and splits the other 50% with Forest Labs (NYSE:FRX). In its most recent quarterly report, Ironwood reported 178,000 Linzess prescriptions were filled in the quarter, resulting in more than 40% growth in total prescriptions compared to the previous quarter, and more than 539,000 Linzess prescriptions have been filled since the launch in December 2012. Linzess is currently selling around 15,000 prescriptions per week, which is fairly strong for its first year introduction phase into the market.
How has the stock traded over the past year?
In January of 2013, Synergy announced that its phase IIb study of plecanatide for the treatment of CIC was well tolerated and met the primary and key secondary endpoints of the study. The stock made a tremendous run around the time of the release from $4.00 to over $6.50 in the first few days of January.
The stock bounced around the next few months, eventually heading north of $7.00 in mid-April before the company announced a stock offering at $5.50 a share that raised net proceeds of $85 million. Synergy spent about $38M in 2012 and could spend as much as $60M in 2013 developing plecanatide and SP-333 (Synergy's second developmental drug). As of June 2013, Synergy still had $84 million in cash, so the Company has more than enough cash to finish 2013 and could make it most of the way through 2014 as well.
What one notices about trading in this stock has been the continued increase in short interest throughout the year with falling volumes. The stock price has collapsed since the April stock offering and is now trading at an Enterprise Value of $260 million, roughly the same as it was leading up to its positive phase IIb trail results for plecanatide in the treatment of CIC. This low valuation and reversion to the pre-phase IIb study Enterprise Value is the direct result of millions of shares being sold short. As the chart below shows, there were just over 3 million shares short (4% of float) leading up to the January trial results. Short interest justifiably increased as the stock price increased toward $7.00, but what has happened since April should scare anyone still shorting shares of Synergy. Average Daily Volumes ("ADV") peaked at 2.2 million shares in April and have steadily fallen toward 450 thousand shares over the past three months. In that time, short interest has climbed to over 8 million shares (9% of float). Shorts seem to have this stock range bound between $4 and $5, but the current short interest amounts to roughly 18 days to cover on a stock with multiple pending catalysts coming in 2014.

Plecanatide phase II trials for IBS-C will reach enrollment completion in late 2013 (it was halfway there in July) and data is then expected to be released in Q1 of 2014. SP-333, Synergy's second-generation GC-C agonist used to treat patients with opioid-induced constipation (OIC) and ulcerative colitis (UC), is currently enrolling patients for a phase II trial that will be completed in early 2014 with results to follow shortly thereafter. Lastly, plecanatide phase III trials for CIC should be started by the end of 2013 with data released toward the middle of 2014. This would set Synergy up to file an NDA in early 2015.
What can be expected from the plecanatide phase II trials for IBS-C and from the phase III trials for CIC?
The trial for plecanatide in patients with CIC was designed to evaluate whether plecanatide could increase the number of complete spontaneous bowel movements (CSBMs), as well as benefit other bowel measures associated with the constipated state. The study evaluated 3 doses of plecanatide (0.3, 1.0, 3.0 mg) plus a placebo arm. The greatest improvement in CSBM was observed at the 3 mg plecanatide dose. The most common adverse events reported in the trial were diarrhea (9.7% at 3 mg plecanatide vs. 1.3% placebo) and abdominal pain (5.1% at 3 mg plecanatide vs. 4.7% placebo). Notably, study withdrawal due to diarrhea was infrequent (3% at 3 mg plecanatide vs. 0.4% for placebo).
The Synergy results compare to Ironwood's Linzess trials where the most common adverse events that occurred in Linzess-treated patients were diarrhea (19.7% Linzess vs. 2.5% placebo) and abdominal pain (4.5% Linzess vs. 4.0% placebo). Overall rates of discontinuation due to diarrhea were higher in Linzess trials (4.5% Linzess vs. .2% placebo).
The CIC results are very promising for Synergy since adverse events related to diarrhea appear to occur 50% less in the phase IIb plecanatide trials for patients with CIC versus the Linzess trials and abdominal pain appears to be in line between the two. What the upcoming phase II trial of plecanatide in patients with IBS-C will need to demonstrate is that plecanatide has greater efficacy through lower incidences of diarrhea and that abdominal pain in patients remains at least in line with Linzess, if not better.
How should Synergy be valued relative to other drugs that compete in the same markets?
Synergy is hoping the trial results from the IBS-C phase II study reinforce its previous CIC phase II study and prove that plecanatide is not just a me too drug but that its higher efficacy makes it a best-in-class late entrant. But how does one place a value on a second to market drug? For this, I turn to a June 2013 study published by Ulrik Schulze and Michael Ringel of The Boston Consulting Group. In their study, "What matters most in commercial success: first-in-class or best-in-class?," the pair looked at the value captured by drugs competing in the same market based on a) what drug was first to market, b) what drug was best-in-class in the market, and c) the time lag between entrants into the market. The study included 53 drugs and provides a decent look at what the future of Synergy could be.
From the report:
"Launch speed versus therapeutic value: The data indicated that it is slightly better to be first than to be best. The twelve-box matrix in FIG. 1 shows the value captured by the drugs we studied as a function of launch order and therapeutic advantage. We normalized the commercial success (as measured by present value of sales) of drugs that are both first in class and best in class at 100. The rest of the drugs were assigned a proportional value compared to this best-case scenario. As the matrix shows, the drugs in our sample that achieved best-in-class status but were launched second captured 88% of the value, on average, created by those that were both best-in-class and first-in-class."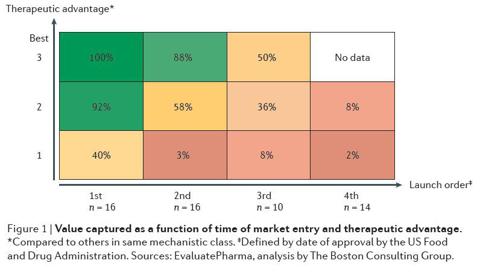 "How fast do fast-followers need to be? The window for successful 'fast followers' is narrow. The nine-box matrix in FIG. 2 shows the value captured by follow-on entrants as a function of the timing of late entry and therapeutic advantage. In this case, we have normalized the matrix by defining as 100 a best-in-class follower that is launched within 2 years of a first agent. This matrix shows just how precipitously value falls if second entry is not fast."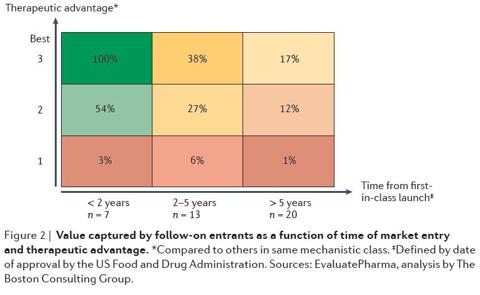 The current market cap of Ironwood is $1.2 billion, but since the company only owns 50% of the economics for Linzess, the market value of Linzess can be estimated at $2.3 billion. The average price target for Ironwood is currently $13.50, so the market value of Linzess could be as high as $3.3 billion based on analysts' estimates. Using these values for Linzess and applying them to the Boston Consulting Group tables above, I have estimated what I believe to be a range of fair values for Synergy. I am showing the values based on best-in-class and second best-in-class and based on an undiscounted basis and under the assumption that Synergy is 3 years behind Ironwood (Linzess sales starting this year vs. estimate of 2016 for Synergy) and discounted back at 10% a year. Also, I have not used the < 2 Years Behind column in my price targets but have included them for information purposes only.
Best-in-Class: If the next trial results of plecanatide data show greater efficacy over Linzess, then my average discounted price target for Synergy is $15. This could be even higher based on positive SP-333 results.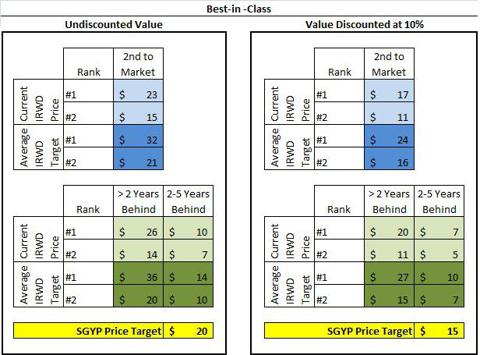 Second Best-in-Class: If the next trial results of plecanatide data show in line or worse efficacy over Linzess, then my average discounted price target for Synergy is $10. This could be even higher based on positive SP-333 results.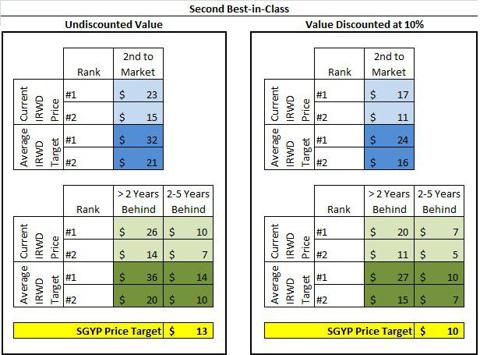 What should you conclude?
In either case, Synergy looks like it should be valued significantly higher than the $4.00 where it currently stands. The phase IIb CIC trial results for plecanatide should stand as an indication that the upcoming IBS-C trial results will be favorable and should be a bellwether for how the stock will react once the results are released. Add to the catalyst the massive short position that has been accumulating in Synergy's shares and watch out for this stock to gain +150% in Q1 2014.
Disclosure: I am long SGYP. I wrote this article myself, and it expresses my own opinions. I am not receiving compensation for it (other than from Seeking Alpha). I have no business relationship with any company whose stock is mentioned in this article.