This is the third quarter 2009 edition of our hedge fund portfolio tracking series. If you're unfamiliar with tracking hedge fund movements or SEC filings, check out our series preface on hedge fund 13F filings.

For the first time in our series we'll be tracking Matt Iorio's White Elm Capital. Previously, Iorio had spent six years at Stephen Mandel's Lone Pine Capital. Prior to that, Iorio graduated from the University of Virginia (McIntire School of Commerce) in 1993 and then went on to receive his MBA from Dartmouth's Tuck School of Business. After leaving Mandel's fund, he started his own hedge fund and we are tracking him due to his contributions to Lone Pine's success in the past. White Elm uses a long/short strategy with the goal of outperforming the market indices with less risk. The hedge fund employs a fundamental, bottom-up investment process focused on company specific research, very similar to the process employed at Lone Pine (Stephen Mandel) and before that at Tiger Management (Julian Robertson).

Upon launching with $250 million last year, Iorio was said to be aiming for 'slow and steady' growth rather than ballooning his assets under management (AUM) as he targets fewer investors. And, there are many benefits to this approach as it has been well documented that smaller firms often outperform their larger counterparts. As funds grow and reach $1 billion and higher, their scope of potential investments often narrows since they have to put a lot of money to work. Smaller funds can be more nimble and can move in and out of whatever they please. Since White Elm is a newer fund, this is only its fourth 13F filing and we'll examine its portfolio holdings from the third quarter of 2009.

Below are White Elm's long equity, note, and options holdings as of September 30th, 2009 as filed with the SEC. We don't cover every single portfolio maneuver, as we instead focus on all the big moves. All holdings are common stock unless otherwise denoted.


Some New Positions
Brand new positions that White Elm initiated last quarter:
Fifth Third Bancorp (FITB)
Vistaprint (VPRT)
SBA Communications (SBAC)
Denbury Resources (DNR)
Umpqua Holdings (UMPQ)
Harley Davidson (HOG) Puts
Martin Marietta (MLM)
Longtop Financial (LFT)
Pitney Bowes (PBI) Puts
ETrade Financial (ETFC)
Dolby Laboratories (DLB)
Green Mountain Coffee Roasters (GMCR)
XL Capital (XL)


Some Increased Positions
Positions White Elm already owned but added shares to:
American Public Education (APEI): Increased position by 570.5%
American Express (AXP): Increased by 349.2%
Atwood Oceanics (ATW): Increased by 87.2%
JPMorgan Chase (JPM): Increased by 66.4%
Apple (AAPL): Increased by 64.7%
Pinnacle Entertainment (PNK): Increased by 54.4%
Monsanto (MON): Increased by 39.5%
SEI Investments (SEIC): Increased by 24.1%


Some Reduced Positions
Stakes White Elm sold shares in but still own:
Eastman Kodak (EK) Puts: Reduced position by 80.5%
Priceline (PCLN): Reduced by 70.7%
Google (GOOG): Reduced by 66.1%
Brink Home Security (CFL): Reduced by 41.7%
Collective Brands (PSS): Reduced by 30.1%
RenaissanceRe (RNR): Reduced by 25.3%
Visa (V): Reduced by 22.4%


Removed Positions
Positions White Elm sold out of completely:
Qualcomm (QCOM)
Lorillard (LO)
MetroPCS (PCS)
Transocean (RIG)
State Street (STT)
Riskmetrics (RMG)
Progressive (PGR)
Principal Financial (PFG)


Top 15 Holdings by percentage of assets reported on 13F filing
White Elm Capital started brand new positions in Fifth Third Bancorp and Vistaprint. We want to single out White Elm's VPRT stake because Matt Iorio's former employer Lone Pine Capital also has a large Vistaprint stake. White Elm also added significantly to its existing positions in American Public Education and American Express. Like many other hedge funds, Apple is one of White Elm's largest holdings.
The cellular tower theme is prominent amongst Tiger Cub hedge funds and White Elm has selected Crown Castle as its play. Many other funds own competitor American Tower (AMT) so it's interesting to see more funds owning CCI. Sticking with the 'positions owned by Tiger Cubs' theme, we also see that Iorio's hedge fund owns the payment processors of Mastercard and Visa as well.
Interestingly enough, we could also be getting a glimpse at some of White Elm's short positions as it has isolated put options on the following names: Harley Davidson (HOG), Garmin (GRMN), Pitney Bowes, and Eastman Kodak (EK). Since White Elm doesn't own long stock in any of these names, it could be using put options as a proxy to short these companies.
Lastly, White Elm sold completely out of what were some previously large positions for the fund, including Qualcomm, Lorillard, and MetroPCS. White Elm's sale of Qualcomm is notable since this company is one of the most popular stocks held by hedge funds.
Below you'll find graphical representations of the recent shifts in White Elm Capital's portfolio courtesy of Drew Robertson at Financial Research Station: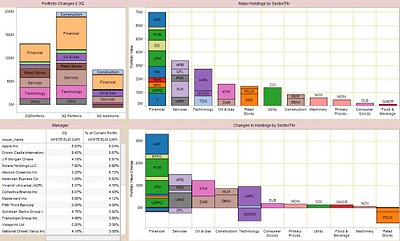 (Click to enlarge)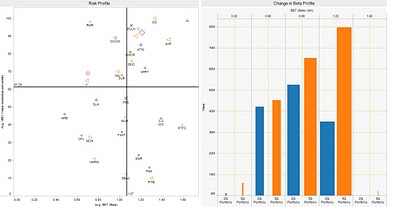 (Click to enlarge)
Iorio's hedge fund was adding to its holdings in the financial sectors and basic materials. White Elm decreased its technology and consumer goods positions. Assets from the collective holdings reported to the SEC via 13F filing were $227 million this quarter compared to $202 million last quarter. Please keep in mind that when we state "percentage of portfolio," we are referring to the percentage of assets reported on the 13F filing. Since these filings only report longs (and not shorts or cash positions), the percentages are skewed. Also, please again note that these positions were as of September 30th so two months have elapsed and White Elm has undoubtedly shifted around its portfolio since then.

This is just one of the 40+ prominent funds that we'll be covering in our Q3 2009 hedge fund portfolio series. We've already covered Seth Klarman's Baupost Group Bill Ackman's Pershing Square, Stephen Mandel's Lone Pine Capital, Dan Loeb's Third Point LLC, David Einhorn's Greenlight Capital, John Paulson's firm Paulson & Co, Lee Ainslie's Maverick Capital, Andreas Halvorsen's Viking Global, Chase Coleman's Tiger Global, Brett Barakett's Tremblant Capital, John Griffin's Blue Ridge Capital and Shumway Capital Partners (Chris Shumway), Thomas Steyer's Farallon Capital, and David Stemerman's Conatus Capital. Check back daily as we'll be covering new hedge fund portfolios.