In September 2012, with the S&P 500 Index (NYSEARCA:SPY) bouncing around its pre-crisis high of 1565, I authored The S&P 500 Today Versus The 2007 Peak, which painted a relatively bullish picture of the market despite the still uncertain market backdrop at that time. With the broad stock market gauge hitting new all-time nominal highs last week, it is important to re-examine the data in that previous article, given the nearly 200 point rally and calibrate value in the broad market bellwether. Examining today's valuation versus the pre-crisis peak through differences in reported earnings, financial statement trends, index composition, and wealth and employment levels that are driving monetary policy should be instructive for Seeking Alpha readers as they ponder the way forward for the U.S. stock market.
Earnings
When the index was at its 2007 apex, trailing twelve month earnings were $89.35 per share, producing a P/E ratio of 17.52x. With trailing earnings today at $105.42 per share, the market is trading at an earnings multiple of 16.72x. If the S&P 500 were trading at the same earnings multiple today as at its 2007 peak, the index would be at 1847, roughly 5% higher than the current record level. When I authored this article in September 2012, extrapolating the previous peak market multiple to earnings at that point translated to an 18% market discount with the same arithmetic. I rebooted the article again in July 2013, and this relative valuation pointed to a market that was trading at an 8% discount. Obviously, the year-to-date market rally (total return of 23.6%) has outpaced earnings growth, increasing the market multiple.
Some might be quick to point out that too high of a multiple was placed on the market at its 2007 peak, especially given that in hindsight we know that the market was overvalued, given the looming risks. At a 17.5 P/E multiple, the market multiple at its 2007 peak was just a turn higher than the long-run average multiple of 16.5x. Of course, investors do not buy stocks for trailing earnings, markets are inherently forward looking. Is today's earnings multiple at just slightly above the long-run average fair or not? That is what this article will try to discern for readers.
Economy
Economic growth in late 2007 was decelerating, and the Treasury yield curve was inverted, a yield curve positioning that has historically been a harbinger of economic recessions. While the Federal Reserve had begun its first cuts of the Fed Funds rate one month prior to the S&P 500 making its high, it had only been reduced to 4.75%. With the 10-year at 4.67%, the market was pricing in additional cuts as growth was expected to slow. Markets were shaken by the collapse of two Bear Stearns hedge funds in June of that year, marking the unofficial start of the subprime crisis. The risk premium applied to asset valuations would prove to be too low as the crisis expanded into a deep financial and housing sector driven recession.
Today, economic uncertainty remains high as financial markets brave a historic withdrawal of extraordinary monetary accommodation in the United States. Still with tapering delayed in September and likely further forestalled by the fiscal drag from the government shutdown, we remain several quarters (potentially two years) away from our first increase in the Fed Funds rate. Halfway around the world, a decelerating China, which has driven global growth over the trailing decade and maintains a heavy hand in global commodity markets must also navigate its evolution from an export-driven economy to one in part driven by an emerging middle class. Across the Yellow and East China Seas, Japan is embarking on its own unique quantitative easing as the aging economy struggles to shrug off two decades of lethargy. Asset markets have met these efforts with great acclaim thus far, but the Japanese economy still balances perilously atop record government debt levels and faces unprecedented demographic challenges. In the emerging world, the specter of higher interest rates in the developed world in the summer months rotated "hot money" from emerging economies back to the developed world, exposing economies with poor external balance sheets and roiling currency markets. While the focal point for global risk markets has pivoted from Europe recently, political upheaval that thwarts future austerity could always return crisis to the continent as Europe struggles to collectively grow its economy and overcome structural challenges. Throw in the omnipresent geopolitical risk which has most recently flared in Syria, Turkey, Brazil, and Egypt, and there are plenty of global factors to occupy an investor's mind. Whether risk premia are sufficient this time around given this level of uncertainty will be borne out over coming periods.
While global economic uncertainty abounds, household wealth in the United States (graphed below) has recently returned to its all-time highs, fueled by gains in the stock market and rising real estate values. The key to future economic gains domestically will be whether personal consumption, buoyed by these wealth gains and encompassing 70% of economic activity, can offset necessary retreats in government spending.
Household Wealth Trailing Ten Years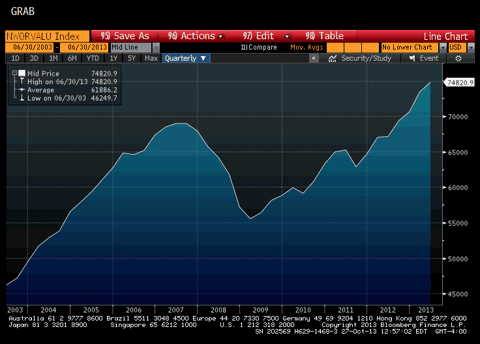 Source: Federal Reserve, Bloomberg
Moderating unemployment (graphed below) will further aid consumption. The unemployment rate at 7.2% is still above the natural rate of unemployment, but is now at its lowest level since the dark days of the fourth quarter of 2008. While the economic expansion remains anemic, it does not appear that we are approaching an inflection point where we will see a contraction. While the market was reaching its all-time high in October 2007, the economic recession, as dated by the National Bureau of Economic Research, would begin just two months later.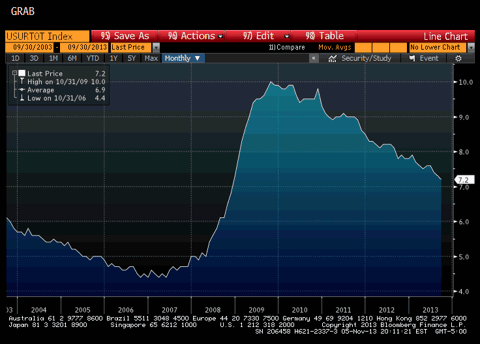 Source: Bloomberg, Bureau of Labor and Statistics
Constituents
While the past six years have seen a dramatic reshaping of the economic landscape, the market index has transformed as well. In the table below, investors can get a feel for how the top constituents of the S&P 500 have evolved since the market peak. At a P/E ratio of just 15.87x, the ten companies in the S&P 500 with the largest market capitalization are trading at a 19% discount to the earnings multiple of the top ten constituents at the pre-crisis market peak. The top ten constituents below comprise nearly 20% of the S&P 500. If the 18% discount to the average price-to-earnings multiple of the top ten constituents in October 2007 compressed to its former level without any price change on the other 490 constituents of the S&P 500, this index would advance by another 65 points.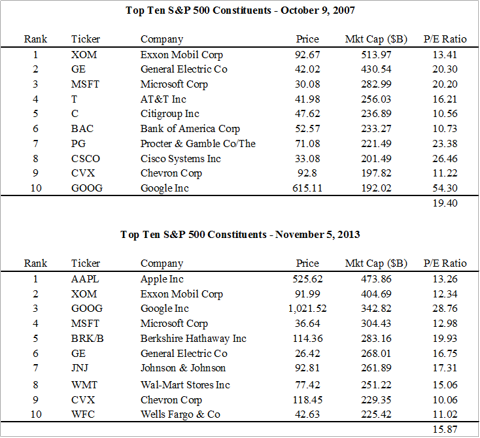 Financial Statement Analysis
The S&P 500 and its top constituents are not only trading at a lower earnings multiple; the index looks favorable relative to its peak based on a number of other financial metrics. The index is trading at lower multiples of book value, sales, and EBITDA in addition to earnings. The index also now provides investors with a higher dividend yield. The index constituents have better liquidity and are operating with much less debt than prior to the crisis.
I believe that this last subsection on leverage and liquidity might be the most important. If we were to be faced with the same type of systemic shock as we saw in 2008, companies would weather the storm much better both because of the improved health of their respective balance sheets and also the regulator mandated higher capital buffers in our financial system. If there is less downside today as compared to the previous peak, shouldn't there be a reduction in the market discount rate?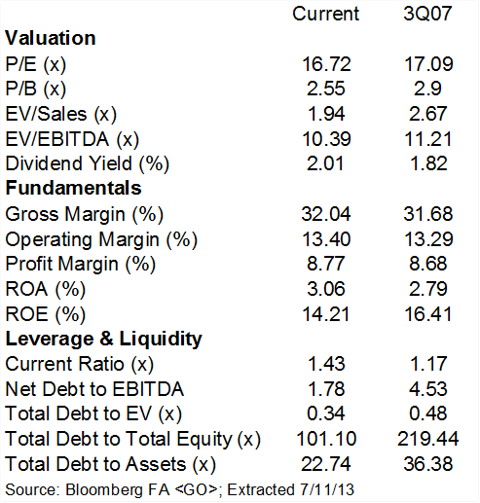 Speaking of market discount rates, below is a graph of the earnings yield (trailing twelve month earnings/price) of the S&P 500 (blue) graphed against the 10-year Treasury yield (red) over the trailing fifty years. While this article compares earnings multiples in the current market versus the 2007 peak, they almost must be framed against the "risk-free" rate. In this longer time series, the recent increase in Treasury yields is but a blip, and the earnings yield of the stock market, which is still slightly higher than its long-run average even near current nominal market peak, remains at a historically high premium to Treasury yields.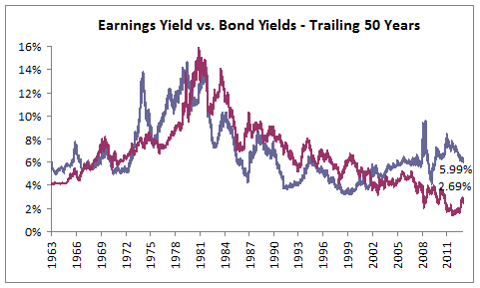 The market risk premium - the stock market earnings yield less the 10-yr Treasury yield, stands at 3.30% today. This metric was just 1.04% at the 2007 market peak as graphed below.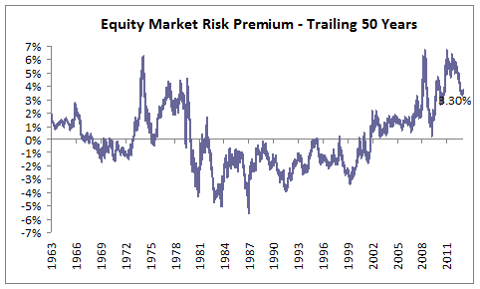 Some readers will certainly contend that this relative comparison does not necessarily mean that stocks are cheap, but rather bonds are historically rich. I agree with the latter assessment even given the year-to-date bond market selloff, but the relative comparison matters to me as I decide where to allocate dollars in today's market environment. Despite the increase in bond yields over the past two months, real returns in fixed income will remain low if not negative, which to me continues to favor equities in this environment.
Even while the current equity market risk premium of 3.3% is down sharply from the 6.29% level in November 2010 as equity multiples have expanded and interest rates have risen, this figure is still higher than any pre-crisis print since 1980.
Summary
The risk premium available in equity markets provides adequate compensation to investors for the multitude of global risk factors mentioned earlier in the article. However, as I wrote in 10 Investment Themes for Mid-2013, the easy money in this cycle has been made and gains in the equity markets will not come as easily as the first time I wrote this article in September 2012. The equity risk premium has compressed in part due to an increase in the market discount rate from rising yields. Fixed income, which has traditionally been the haven for money when equity markets are nearing their peak, offers historically low forward returns as interest rates normalize. Taking money completely out of the market and into cash offers negative real returns when adjusting the near zero nominal rates for inflation. While domestic stocks are less attractive today near the all-time high and amidst slowing earnings growth, they still look modestly more attractive than other domestic asset classes although there are relatively more attractive valuations available abroad and in underperforming emerging markets.
With domestic equity markets near all-time highs and domestic bond markets just coming off all-time high prices as well, investors should evaluate their respective risk tolerance, portfolio liquidity needs, and asset allocation mix against the specter of low future returns in many asset classes as the Federal Reserve withdraws monetary accommodation. We are not at the cyclic peak in the stock market yet, and still roughly 13% below the inflation-adjusted peak, but gains will moderate as we extend further from the cyclic trough. Investors should consider beginning to rotate money to higher quality parts of the stock market less sensitive to a potential correction. If yields in fixed income markets continue to sell off, investors who wish to protect their downside should look to monetize their domestic equity gains and rotate into a combination of short duration fixed income and more attractively valued international equity markets. In my third quarter fixed income review, I also highlighted the dislocation in tax exempt municipal bonds and muni closed end bond funds, which offer yields above 7% and can be bought at a discount to underlying net asset value. While international equity markets typically come with more risk than the domestic equity market over long-time intervals, a combination of this asset class with negatively correlated fixed income as a counterbalance could lead to a return profile preferable to the domestic equity market over forward periods.
Please comment below on your own thoughts about the domestic equity market valuation near its new all-time high.
Disclosure: I am long SPY. I wrote this article myself, and it expresses my own opinions. I am not receiving compensation for it (other than from Seeking Alpha). I have no business relationship with any company whose stock is mentioned in this article.