Investing in REITs is like making a cake. You need all of the ingredients to make a great investment. For me, the recipe goes something like this - take one part stable and consistent dividend, two parts cash flow growth, two part dividends, and a lot of "margin of safety". Mix it all together and you have a great investment.
Earnings season gives us investors an opportunity to evaluate the first two parts of the equation - a company's cash flow and its growth potential. However, investors need to be alert to identify trading activity that allows for a good company to become a great investment by purchasing with a "margin of safety".
One sector that has consistently demonstrated all of these components is healthcare real estate. I've mentioned a few interesting names in this space before, including Ventas (NYSE:VTR), Omega Healthcare (NYSE:OHI), and Medical Properties Trust (NYSE:MPW). However, one of my favorite "pure plays" is Healthcare Trust of America (NYSE:HTA), a REIT focused almost exclusively on the medical office sector.
HTA Has all of the Right Ingredients
On Monday night, HTA released its third quarter earnings. The company's operating fundamentals were solid, with its same store operations growing 3.2% and occupancy ticking up to 91.4%. Tenant retention was over 80% and the company mentioned an active leasing pipeline, which remained strong. These consistent cash flows and investment grade balance sheet (S&P BBB-) give me considerable comfort in the strength and durability of the company's dividend. Cross the first ingredient off the list.
My second ingredient, expected future growth, also makes the cut. I already mentioned HTA's strong portfolio operating growth. It also grew significantly through acquisitions, acquiring almost $150 million of high quality medical office buildings (or MOBs) in the latest quarter. For the year, its external growth is almost 10% of assets. On top of this, the company has one of the strongest balance sheets in the REIT industry, with a tremendous ability to grow earnings and increase its payout without having to raise significant new equity or put itself at undue risk from a credit perspective. As these fundamentals kick in, I fully expect the company's earnings (and eventually its dividend) to grow over time.
Finally, the company announced (with its earnings) that it had decided to accelerate the conversion of its last and final group of its non-traded shares. This conversion will occur after the markets close on Thursday, November 7th and will enable approximately 57 million shares (roughly 25% of its market cap) to begin trading on the NYSE. Many of these shares have been held by investors for a number of years, so the potential for some additional selling is high (the share price was down around 4% at market close).
HTA's trading experienced some minor volatility the last time it had some shares unlocked. In June, HTA shares traded lower for a day or two before rebounding to previous levels. Intelligent investors should be on the lookout for any similar opportunities that might come about here. This REIT is a strong company that I expect to see grow. The opportunity to buy shares with a "margin of safety" later this week turns HTA from a good company into a great investment. All of these ingredients make up for a solid REIT with plenty of icing on the cake -
Oh yes, It's easy to lick the icing off the spoon when I'm getting a quality REIT that pays me a 5.25% dividend yield. That's what I call "sleeping well at night".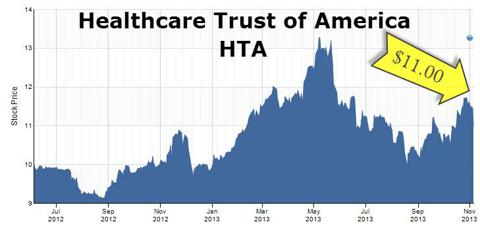 Click to enlarge
Check out my monthly newsletter, The Intelligent REIT Investor where this month I have a feature on Health Care REITs.
Source: SNL Financial.
Disclaimer: This article is intended to provide information to interested parties. As I have no knowledge of individual investor circumstances, goals, and/or portfolio concentration or diversification, readers are expected to complete their own due diligence before purchasing any stocks mentioned or recommended.
Disclosure: I am long O, ARCP, VTR, HTA, STAG, ROIC, UMH, DLR, CBL, GPT, CSG. I wrote this article myself, and it expresses my own opinions. I am not receiving compensation for it (other than from Seeking Alpha). I have no business relationship with any company whose stock is mentioned in this article.