Endeavour Silver (NYSE:EXK) is a primary silver mining company with three operating assets in Mexico. Results for the third quarter of the year were released today. In this article, we would like to provide some context and commentary with regards to this latest financial report.
Just over a year ago, the company bought the El Cubo mine from AuRico Gold (NYSE:AUQ) and was promptly punished by the market for picking up this apparently beaten up asset. One year later, this mine is starting to show strong signs of life. The plant at this mine has been refurbished and mining costs have been cut. Production well above name plate at the nearby Bolanitos mine has also contributed to a developing turn-around story.
During the last quarter the company has set a new production record. A good discussion of these operational results can be found in this article and the diagram below taken from the MD&A for the past quarter illustrates them further. Suffice to say, that the reported production numbers came in high enough for the company to raise the production guidance for 2013 to 10M silver-equivalent ounces (up from 7.3-7.8M) while cash cost guidance at $9-$10/ounce was maintained.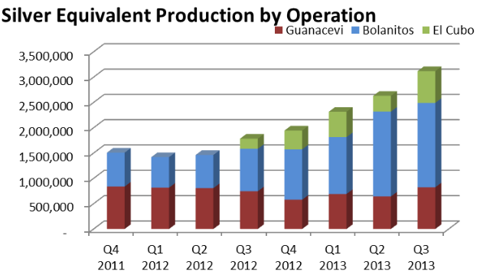 Click to enlarge
(Click to enlarge)
Financial results for the quarter were reported today and judging from a share price increase of 2% at the time of writing on a mostly red day in the silver mining space investor expectations have been met. Here are some salient points:
Net earnings per share increased to $0.12 per share from zero in the second quarter.
The average realized silver price fell 21% to $22.60/oz over the past year; and the realized gold price fell by 14% to $1,409/oz while the cost of production rose by 7% to $104 per tonne.
Despite falling metal prices revenue increased by 31% to $67.8M compared to one year ago due to the greatly increased production.
Cash costs were reported at $5.14/oz, and All-in Sustaining Costs of $12.14/oz could be achieved, a notable reduction of -43% compared to the third 2012 quarter.
The Balance Sheet
Most capital expenditures at the El Cubo mine have been incurred and the company is now in a position again to build cash reserves. Endeavour Silver has drawn $39M on its revolving credit facility but has no long-term debt. Working capital currently stands at a comparatively low $26.8M. The current ratio computes to 1.42 (up from 1.23 at the end of the second quarter, but down from 12.5 at the start of 2012) indicating that the company has sufficient short-term funds. Quite obviously, funding the El Cubo turn-around has taken its toll on the company's balance sheet.
Costs
Costs have been reduced significantly thanks to the cost-cutting program introduced earlier in the year which will be the key to rebuild the company's cash position in the given price environment in coming quarters. G&A expenses have come down to $2.5M from $3.8M quarter-on-quarter, exploration costs were reduced to $1.8M in the September quarter compared to $5M in the June quarter.
One-time effects such as severance costs have been accounted for in the past two quarters, while the cost benefits will carry over into coming periods prolonging the trend of reduced costs.
Most importantly, cash cost guidance could be maintained despite the drop in gold price and the associated reduction in gold credits. The stated All-In Sustaining Costs indicate ample room to move should prices drop even further.
Operating cash flow was recorded at $31.8M for the third quarter, a visible improvement from the $26.1M in the previous quarter - a cash flow increase achieved at lower metal prices. It will be interesting to see if the company will be able to maintain this level of free cash flow without the rented La Torres plant at its disposal to treat excess ore from Bolanitos as has been the case until very recently.
Outlook
The completion of capital works at the El Cubo mine has left the company with a depleted cash position, which requires bolstering in coming quarters. It will be very important to maintain free cash flow from operations while carefully controlling costs. In the past quarter Endeavour Silver has shown that this is quite possible with its three operating assets.
Overall, it appears that the company has turned a corner with regards to re-vamping the El Cubo mine into a profitable asset. The reserve statement to be published towards the end of the year will provide further indication if this assessment is correct.
The Mexican Senate has passed legislation, which is designed to increase the company's tax burden starting January 2014. Specifically, the corporate tax has been increased from 28% to 30% and a new Mining Duty and Environmental Tax totaling 8% on taxable revenue has been introduced. Endeavour Silver advises that it is still assessing the situation, but expects material effects on earnings and cash flows.
Disclosure: I am long EXK. I wrote this article myself, and it expresses my own opinions. I am not receiving compensation for it (other than from Seeking Alpha). I have no business relationship with any company whose stock is mentioned in this article.