Introduction:
I think that bubbles are hidden in the Nasdaq 100. You may want to read why in my previous article. The proof of a bubble is a divergence between the price and fundamental metrics. This article is a quick evaluation of AMAT (Applied Materials Inc.) from this point of view. My thesis is that AMAT seems overvalued in the Nasdaq 100 universe. However, I don't recommend to short this stock now.
Methodology:
I will use various metrics. They are formulas with fundamental factors and weights. The score is between 0 (the worst) and 100 (the best).
Here are the metrics:
| | |
| --- | --- |
| Metrics Name | Description |
| Basic Growth | Balanced blend of growth ratios |
| Basic Value | Balanced blend of valuation ratios |
| Basic Quality | Blend of financial ratios, margins, returns on capital |
| Buffet | Inspired by Warren Buffet |
| Graham | // Benjamin Graham |
| Greenblatt | // Joel Greenblatt |
| Lynch | // Peter Lynch |
| ONeil | // William ONeil |
| Piotroski | // Joseph Piotroski |
| Zweig | // Martin Zweig |
The metrics inspired by famous investors are an interpretation of publications. No claim is made that it models accurately their strategies.
The next table reports the scores of AMAT. You can read them as fundamental relative strength indicators in the Nasdaq 100 Universe.
| | |
| --- | --- |
| Metrics | AMAT Scores |
| Basic Growth | 4.04 |
| Basic Value | 48.48 |
| Basic Quality | 17.17 |
| Buffet | 2.02 |
| Graham | 5.05 |
| Greenblatt | 12.12 |
| Lynch | 61.62 |
| ONeil | 6.06 |
| Piotroski | 62.63 |
| Zweig | 55.56 |
Average Score: 27.48 / 100
The next three charts show the evolution of the basic scores for two years (in green), compared with the price (in red).
Basic Growth: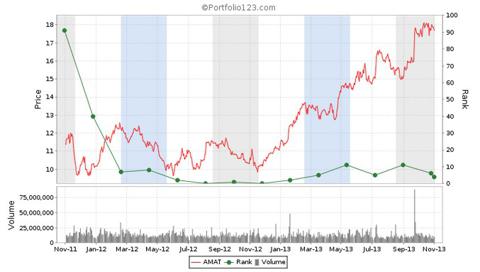 Basic Value: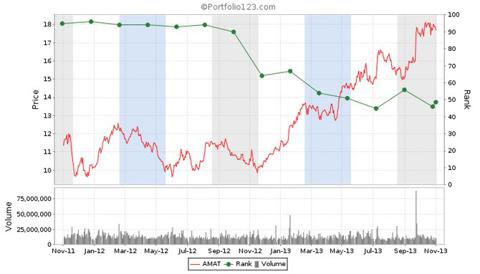 Basic Quality: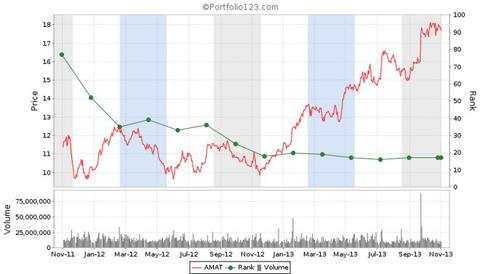 All scores are relative to the Nasdaq 100 universe. The last chart shows the share price (in red) compared with the Nasdaq 100 Index (in blue):

Is AMAT in a bubble? I let readers make their own opinions from the facts:
- AMAT has outperformed the Nasdaq 100 and QQQ by about 30% last twelve months.
- The three basic fundamental scores have gone down for two years.
- Using ten fundamental metrics, the average relative score of AMAT in the Nasdaq 100 is far under the mean: 27.48 / 100.
Conclusion:
Fundamental metrics suggest that this stock is overvalued by the market. I wouldn't buy AMAT now. If I had a long position, I would sell it on rallies in the next two months. I do not recommend to short AMAT. Indeed, it has a strong momentum, and can go higher in a possible end-of-year rally.
The next articles of this series will evaluate other stocks using the same process. Click on "Follow" if you don't want to miss them.
Important note: The metrics used here are standard ranks of Portfolio123. Formulas may be subject to intellectual property rights and cannot be published here. If you want to see them, verify calculations, or use them with other stocks, click here for more info. Charts are courtesy of Portfolio123.
Disclosure: I have no positions in any stocks mentioned, and no plans to initiate any positions within the next 72 hours. I wrote this article myself, and it expresses my own opinions. I am not receiving compensation for it (other than from Seeking Alpha). I have no business relationship with any company whose stock is mentioned in this article.