American International Group (NYSE:AIG) is one of the largest insurance companies operating worldwide. Despite its large size, the company has been fighting its way out under the difficult market conditions, characterized by factors such as historically low interest rates, instability in the global markets due to the negotiations over the U.S. debt ceiling, the U.S. Government shutdown and slow growth in the U.S. economy.
Is AIG's investment portfolio vulnerable to changing Fed policy?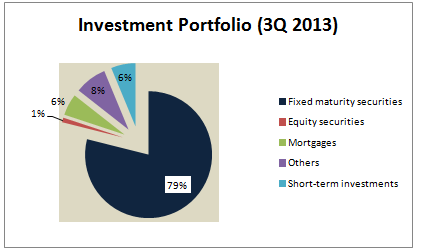 Source: AIG SEC Filings
Insurance companies invest a substantial amount of their assets in the bond market. Their role in the corporate bond sector is especially prominent. One may attribute insurers' heavy investments in bonds to regulatory reasons which place limits on the investment in high risk market of equities.
Analyzing the company's fixed maturity securities' investments, I noticed that the investment in corporate debt dominates this section with a 51% share. Also, the company has primarily invested in high duration investment grade bonds mainly with maturities in between 5 to 10 years or higher than 10 years. This makes the company highly vulnerable to the interest rate movements. Where it may benefit in a declining interest rate environment, the company also stands to lose significantly in a rising interest rate scenario. Therefore, a recent uptick in interest rates in the US fixed income market adversely affected the company where it experienced a drop in investment returns to 3,573 million in the third quarter of fiscal year 2013 from 4,650 in the corresponding quarter last year.
Apparently, the company is facing a high risk of loss when the Fed announces to finally taper its asset buying program. This would mean that few dollars would now be injected in the US economy and thus, restrict money supply. Ultimately, this will trigger a hike in the interest rates. This may be good news for the new bond investments that the company will make as they will be available at a discounted price and offer a higher return.
Although almost 79% of the company's investment portfolio is dedicated to fixed income investments which will see their fair value plunge like anything once the tapering is announced, the company's interest rate risk is partially hedged by its equal duration liabilities which may also decline in value in the event of interest rate hike. Over the next five years, the company has higher insurance and investment contract liabilities to pay which will result in a net favorable impact in the event of slow-down in asset purchase by Fed. However, higher duration (> 5 years) investments in fixed income securities are greater than the contract liabilities of similar duration which exposes the company to some risk. However, the net interest rate risk exposure is quite low when liabilities are taken into account.
Investment yield
Overall, the company has also experienced a decline in its investment yields as investment purchases have been made at yields lower than the weighted average yield of the existing portfolio. During prolonged periods of low or declining interest rates, the company had to invest new net flows and reinvest the cash flows from investment sales, interest and principal payments of the portfolio in lower yielding securities.
Background risks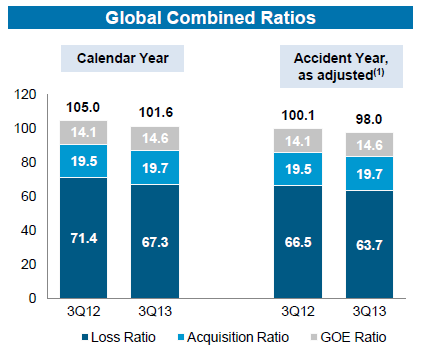 Source: AIG Investor Presentation
Background risks of insurance companies stem from their underwriting business. The company's underwriting activity can be gauged by analyzing its combined ratio. It is a measure of profitability used by an insurance company to indicate how well it is executing its daily operations. A ratio below 100% indicates that the company is making underwriting profit while a ratio above 100% means that it is paying out more money in claims that it is receiving from premiums.
In case of American International Group, the company has moved into the safety zone by bringing down its adjusted combined ratio to 98% in the third quarter this year compared to 100.1% in the corresponding quarter last year, mainly due to lower policyholder benefits and claims incurred.
Valuation Insight
For an insurance company, book value is a strong measure of most of its balance sheet, which consists of bonds, stocks, mortgages and other securities that can be relied on for their value given an active market exists for them. The heuristic for insurance companies is that they are worth buying at a P/B level of 1 and are on the pricey side at a P/B level of 2 or higher.
The company has a P/B of 0.7 as compared to the industry average of 1. Considering the fact that the company has turned its income positive from the underwriting operations, the stock should not trade at a discount to its peers. Going forward, I expect a strong operating performance and a P/B multiple expansion for AIG, which makes it an attractive investment option.
Disclosure: I have no positions in any stocks mentioned, and no plans to initiate any positions within the next 72 hours. I wrote this article myself, and it expresses my own opinions. I am not receiving compensation for it (other than from Seeking Alpha). I have no business relationship with any company whose stock is mentioned in this article.