I am growing more and more bullish on large energy concern Devon Energy (NYSE:DVN). It has been one of the worst performers in its sector this year. However, it has been making some shareholder friendly moves recently. In addition, it is picking up positive analyst commentary and also starting to deliver better quarterly results including its last earnings report today.
I think it has the same potential as energy brethren Hess (NYSE:HES) which was a laggard in 2012 but soared in 2013 as it refocused its energy to become a stronger operator and unlocked shareholder value. The company is growing the amount of oil that makes up overall production and recently announced a spin-off of its midstream assets into a Master Limited Partnership (MLP) which I covered in a recent article.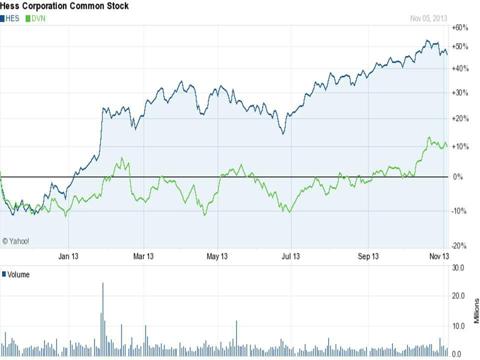 The company posted earnings of $1.29 a share, 8 cents a share above estimates.
Revenue came in at $2.72B, within 1% of consensus.
Importantly, oil production rose 16% Y/Y in the quarter. The company is now getting 60% of revenues from oil, a significant increase over where it was a few years ago.
Recent Analyst Commentary:
Canaccord Genuity lifted its price target to $86 a share from $77 previously last week. It has a "Buy" rating on the stock noting "we believe DVN's merger of its midstream operation with Crosstex Energy, an existing publicly traded MLP/GP, generates many positives."
Jefferies raised its price target to $74 a share from $71 the week before for similar reasons. It also has a "Buy" rating on the shares.
That same day Guggenheim, which also has a "Buy" rating on DVN, raised its price target to $78 from $76 previously.
Company Overview:
Devon Energy is one of the largest independent oil and gas exploration and production companies in the U.S. Devon's operations are focused primarily on 14 million net acres in the U.S. and Canada. It has sold billions worth of assets outside these areas over the past several years to focus more on growing production from these North American land based assets.
Four additional reasons DVN can go higher from ~$63 a share:
Analysts are behind in catching up with Devon's earnings power as its strategic initiatives are successfully executed. DVN has now easily beat bottom line estimates for five straight quarters now.
Consensus earnings estimates have been raised ~40 cents a share over the past three months for FY2014. These estimates could be raised further after this quarterly report.
The company is tracking to revenue growth in the low mid-teens for FY2013. Analysts believe this rate of sales growth will continue in FY2014.
DVN is priced at just over 11.5x forward earnings, a discount to its five-year average (13.3). The stock is also selling at just over 5x operating cash flow and yields 1.4% as well.
Disclosure: I am long DVN. I wrote this article myself, and it expresses my own opinions. I am not receiving compensation for it (other than from Seeking Alpha). I have no business relationship with any company whose stock is mentioned in this article.