The automotive sector is cyclical and usually car makers don't have a high shareholder remuneration because during economic downturns car makers' earnings can swing widely, turning rapidly from profits to losses. However, Bayerische Motoren Werke (BAMXY), usually referred as BMW, currently offers an attractive dividend yield above 3%, which is above-average within the majority of global car makers. Compared to its closest peers, only Daimler (OTCPK:DDAIF) offers a higher dividend yield. BMW is able to pay an above average yield within the automotive sector due to its profile as a premium automobile manufacturer. BMW is less sensitive to economic cycles due to its premium brand status which targets high-income customers who can naturally maintain more easily their spending habits throughout economic cycles. BMW has a market capitalization of $66 billion, and is traded in the U.S. in the over-the-counter market.
BMW is a premium automobile manufacturer based in Germany, founded in 1918. Its core business is the conception, manufacturing and sale of automobiles. BMW operates under three business segments: auto, motorcycles and financial services. The financial services unit business is based on the principle of financing as a package for selling cars, not affecting the sales price but facilitates the cross-sale of other services and boosts customer brand loyalty. The company operates under the brands BMW, Mini and Rolls-Royce, owning three of the strongest premium brands in the automobile industry. It has more than 100,000 employees around the world. The auto business is the largest one, representing around 80% of BMW's sales, financial services about 18%, and motorcycles 2%. In 2012, BMW produced more than 1.8 million vehicles, an increase of more than 10% from the previous year. Over the past decade, BMW has almost doubled its deliveries to customers, despite the setback occurred in 2008 and 2009.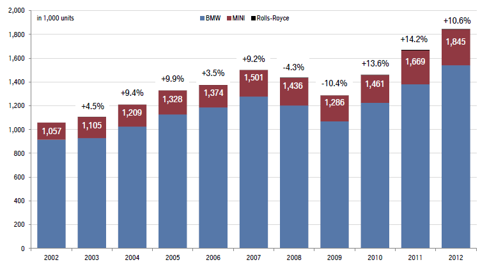 China in 2012 became BMW's largest single market, surpassing Germany which was the largest market for several years. China was responsible for almost 19% of BMW's revenues during the past year, a remarkable increase from only 7% in 2009. China was therefore the main source of BMW's strong revenues and earnings growth during the past few years. As the company enjoys higher margins in China than elsewhere, this led to a significant boost for the company's profitability. The U.S. is BMW's second-largest market, with a 17.5% weight in revenues. Germany was only its third-largest market in 2012 accounting for 16% of BMW's revenues. BMW's exposure to Southern European markets is relatively small, which is clearly a positive factor given the weak consumer demand registered over the past couple of years in these countries.
Regarding its financial performance, despite the persisting eurozone debt crisis and volatile economic conditions on several of the company's major markets, BMW was able to deliver impressive revenue growth since 2009, reaching double-digit growth rates over the past three years. In 2012, its revenues increased by 11.3% to more than $100 billion, setting a new all-time record. This good performance was mainly due to strong revenue growth in China (+24.6% year-on-year) and the U.S. (+16.8% yoy). On the other hand, in Germany revenues decreased by 5.2%, negatively impacted by weak consumer confidence due to the eurozone debt crisis. This strong growth is also justified by a young model range, which at the end of 2012 was only about 1-year old on average.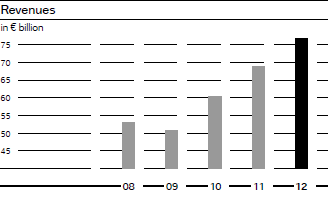 Its profitability also increased considerably over the past few years, reaching about $11.2 billion in operating profit during the last year. Its operating profit margin improved from only 0.6% in 2009 to 10.9% in 2012, above its target of 8% to 10% set back in 2007.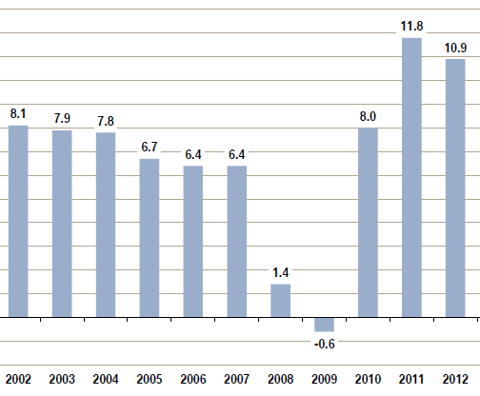 During the fist nine months of 2013, BMW continued to post good operational figures with deliveries up by 7.5% to almost 1.5 million vehicles. However, the European car market has been very weak in 2013 leading to slightly lower revenues compared to 2012. Its operating profit declined by 5.7%, resulting on a lower margin but still above 10.5% which is among the highest in the automotive industry.
Going forward, BMW's growth strategy remains focused on emerging markets which have higher growth prospects than developed markets. Namely, China should continue to boost BMW's revenues and earnings due to rising per capita income and a growing upper middle class. According to the company, China's premium segment has the highest expected CAGR worldwide at 9.9%, from 2012 to 2020. As China is already BMW's largest single market, the company seems very well positioned to benefit from this growing automotive market over the coming years. BMW is also investing considerably on new technologies, including hybrid and electric vehicles. In 2012, it spent about 5.1% of its sales on research and development, a ratio that should remain between 5% to 5.5% during the next few years. This is also a positive factor as the company should be able to offer new products, such as its BMWi electric models, attracting additional customers and providing further diversification.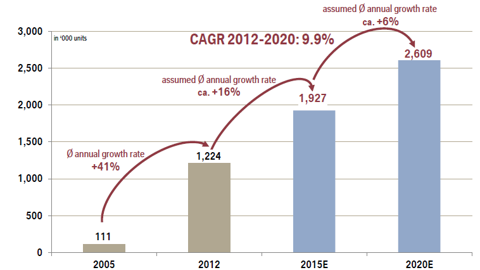 Regarding its dividend, BMW has a very good history for a cyclical company. Even during the global financial crisis of 2008-09, the company posted a profit and paid dividends. Its last annual dividend was €2.50 ($3.38) per share, an increase of 8.2% from the previous year. Like many European companies, BMW only does one payment per year. Its dividend payout ratio in 2012 was only 32%, which BMW intends to maintain in the 30-40% range over the next few years.
BMW's cash flow generation is very good, which also supports its dividend policy. In 2012, its operating cash flow was about $12.4 billion, which was more than enough to finance both its capital expenditures of $7 billion and dividend payments of $2.2 billion. Therefore, BMW's free cash flow after dividend was above $3 billion, which clearly shows that its dividend is sustainable and could be much higher. Moreover, BMW's balance sheet is remarkably strong given that it has a net cash position of almost $17 billion in the automobile division (excluding financial services related debt), being another factor supporting its dividend sustainability for the long-term.
Conclusion
Although the automotive sector is usually cyclical and dividends are therefore volatile, BMW appears to be attractive for income investors due to its sustainable dividend supported by China's growth, good cash flow generation and a very strong balance sheet. Although the dividend yield is not among the highest within the stock market, its quality is clearly among the best which wasn't expected for a automotive company like BMW. Moreover, if Europe's economy finally recovers it will give an extra boost to its earnings which much likely will result in higher dividends over the next few years.
Disclosure: I have no positions in any stocks mentioned, and no plans to initiate any positions within the next 72 hours. I wrote this article myself, and it expresses my own opinions. I am not receiving compensation for it (other than from Seeking Alpha). I have no business relationship with any company whose stock is mentioned in this article.