Cummins Inc. (NYSE:CMI) recently announced its new ISX12-G engine, a 12-liter natural gas engine that delivers 400 horsepower and 1450 ft-lb of torque. It can run on either compressed ("CNG") or liquid ("LNG") natural gas and meets all 2013 U.S. Environmental Protection Agency (EPA) and California Air Resource Board emission standards. It also meets 2014 EPA and U.S. Department of Transportation fuel economy and greenhouse gases regulations. This is the engine the long-haul trucking sector has waited for and it is an absolute game changer. The engine is a strong catalyst for Cummins and should power the stock 25% higher over the next 12 months.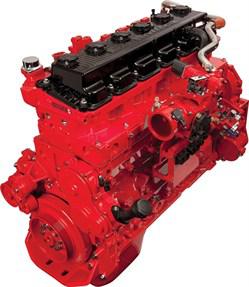 Kenworth has already delivered its first truck based on the new ISX12-G engine.
In the past, some long-haul fleet managers were reluctant to begin using natural gas engines because of the need for a large and powerful engine. The new Cummins 12-liter engine solves this problem while delivering reduced fuel costs and emissions and enabling an ROI in as little as a year and a half.
There is already evidence the engine's quick acceptance is flowing through the supply chain. In the Q3 Seeking Alpha conference call transcript, Chart Industries (NASDAQ:GTLS) Chairman and CEO Sam Thomas had this to say:
This quarter also marks the introduction of the new 12-liter, 400-horsepower natural gas engine from Cummins Westport. We believe the engine is well-suited for LNG applications. Our LNG fuel system order rate in the third quarter indicates that the market is in agreement. As soon as this engine was put into production in August, we saw our order rates surge for truck LNG tanks. It's remarkable these orders were in fact higher in this one quarter than they were in all of 2012.
Clearly the new Cummins engine, which was developed with technology from partner Westport Innovations (NASDAQ:WPRT), is a game changer for the long haul trucking fleet. Other beneficiaries will include Clean Energy Fuels (NASDAQ:CLNE) and General Electric (NYSE:GE).
I have written often about how the US should adopt a strategic long-term comprehensive energy policy, centered on natural gas transportation, to solve the economic, environmental and national security issues as a result of a decades long addiction to foreign oil imports. However, unlike the EU, China, Brazil and Russia, the US has not moved on this issue. As a result, Clean Energy Fuels has struggled in its near solo effort to build out "America's Natural Gas Highway":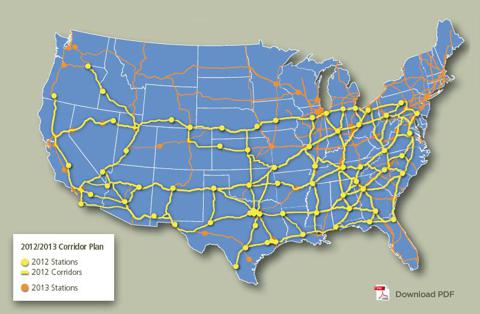 Indeed, while Q2 revenues were up +26% for CLNE, total natural gas gallons delivered for the second quarter of 2013 totaled just 52.6 million gallons, up only 8% from 48.6 million gallons delivered in the same period a year ago. This is certainly not the growth we expected. However, the fast acceptance of this new powerful engine from Cummins-Westport is going to translate very rapidly into natural gas gallons delivered by Clean Energy. The company's LNG refueling stations are strategically positioned on the nation's interstate highway system to support the long-haul trucking sector and has a dominant position in the LNG refueling market.
The new strategic alliance with General Electric, through GE Capital's Transportation Finance unit, is going to make it much easier for trucking fleets to reduce the financial impact of transitioning to natural gas. The goal of the alliance is to work with fleet operators to achieve a one-year payback on the incremental cost of adopting natural gas heavy-duty trucks by financing through GE Capital. General Electric is doing this not to grow its finance unit, but because it is deploying its technology to build out the natural gas refueling infrastructure through previously announced agreements with Clean Energy.
While Cummins Inc. announced Q3 results on October 29th that were shy of analysts estimates, it should be noted the stock has bounced back nicely from the earnings related sell-off, in part on word of the excellent acceptance of the new big and powerful engine: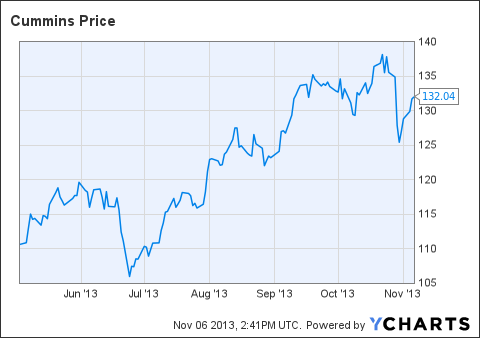 Indeed, Barron's recently published a piece in which it predicts CMI will rise by 20% over the next 12 months.
Summary And Conclusion
All indications point to the new Cummins-Westport ISX12-G natural gas engine will be a game changer and will jump start the long-haul trucking sector's adoption of natural gas. This is one reason why I recently added CLNE to my 2013 Natural Gas Transportation Portfolio. The new engine will also be a boon to Chart Industries, which makes the LNG storage tanks, and to General Electric, which is assisting CLNE in building out the natural gas refueling infrastructure on America's Natural Gas Highway.
The new engine is a strong catalyst for CMI. Investors should consider taking a position in the stock to enjoy the ride. CMI has a P/E=17.5 and pays a $2.50 dividend (1.9%). Cummins Inc. could deliver a total return of 25% over the next 12 months.
Disclosure: I have no positions in any stocks mentioned, but may initiate a long position in GTLS over the next 72 hours. I wrote this article myself, and it expresses my own opinions. I am not receiving compensation for it (other than from Seeking Alpha). I have no business relationship with any company whose stock is mentioned in this article.
Additional disclosure: I am an engineer, not a CFA. The information and data presented in this article was obtained from company documents and/or sources believed to be reliable, but has not been independently verified. Therefore, the author cannot guarantee its accuracy. Please do your own research and contact a qualified investment advisor. I am not responsible for investment decisions you make. Thanks for reading and good luck!