What would you guess to be the single most important competitive advantage of any army in the world? The answer is: "Faster Communication!"
Harris Corporation (NYSE:HRS) is an international communications and information technology company serving government and commercial markets in more than 125 countries. Headquartered in Melbourne, Florida, the company has approximately $5 billion in annual revenue and about 14,000 employees -- including 6,000 engineers and scientists. Harris is dedicated to developing best-in-class communication products, systems and services.
Did you know?
Hopefully the above points have convinced you the strategic importance of this company not only to the government but to the commercial markets also. Its commercial clients come from the construction, energy, health care, maritime, oil, transportation, and utilities industries.
On October 29, 2013, Harris Corporation reported revenue of $1.19 billion for the first quarter of fiscal 2014 (since previous fiscal year ended in June, 2013 - see investor presentation here). The net income from continuing operations was $128 million, or $1.18 per diluted share, as compared to $129 million, or $1.14 per diluted share, last year (higher per share income on lesser revenue is due to share repurchases). The company generated free cash flow (net cash provided by operating activities less capital expenditures) of $139 million in the first quarter compared with $77 million in the prior year.
The stock has had a good run-up in the past year as it is up about 30%. But I think that there is still more room for growth due to the reasons that I shall discuss in detail in this article. Most importantly, investors need to understand that recent performance results are achieved during a time when headwinds are the greatest for the military contractors. With sequestration in place, government is trying to pinch every penny and almost all military programs are affected. As these contractors feel the pain, many have responded by cutting jobs and drastically reducing R&D budgets. However, this does not include Harris, which is actively engaged in R&D and has also increased its dividend in the most recent quarter.
Below is an excerpt from the company's President and Chief Executive Officer, William M. Brown, during the earnings call with analysts on Oct 29, 2013.
"And we focused our R&D spend on the most strategic and highest-return projects. This strategy is beginning to bear fruit, and I thought I'd point out a few specific examples that provide some insight into our future competitiveness. By investing R&D resources in a 2-channel tactical radio system, we were successful in winning the Army's highly-contested $141 million Mid-Tier Networking Vehicular Radio Procurement, called MNVR."
Mr. Williams further commented on today's economic environment as follows:
"First quarter operating performance provided a positive start to our fiscal year. Previous restructuring actions together with our continuing progress on operational excellence allowed us to post solid results in the quarter, despite the tough government spending environment."
Earnings Guidance
Harris reiterated its fiscal 2014 guidance for income from continuing operations in a range of $4.65 to $4.85 per diluted share and for the revenue declining 1 to 3 percent compared with the prior year. During the quarter, Harris increased its dividend 13.5 percent, used $100 million in cash to repurchase common stock, and approved a new $1 billion share repurchase authorization.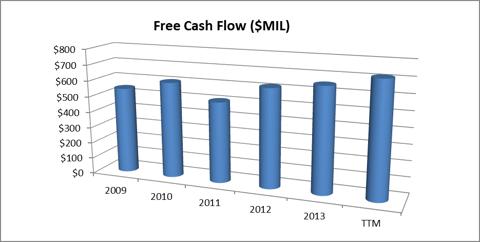 Free Cash Flows during the last 5 years
Harris operates in three business segments:
RF Communications
Integrated Network Solutions
Government Communications Systems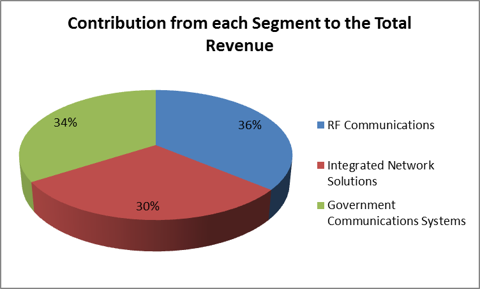 Here is a brief overview of each segment and quarterly results along with some highlights of recent contract wins, which is all thumbs up for the firm in today's challenging business environment. As I will discuss in detail, the company's pipeline is filled with orders from the U.S. and foreign governments, which has actually resulted in a backlog for the next few years.
RF Communications
RF Communications segment is a global supplier of secure tactical radio communications and embedded high-grade encryption solutions for military, government and commercial customers. This segment is a provider of secure communications systems and equipment for public safety, utility and transportation organizations.
Revenue in the first quarter for the RF Communications segment decreased 4.9% to $423 million compared with $445 million in the prior year. Tactical Communications revenue was $305 million, decreasing 1%, and Public Safety revenue was $118 million, decreasing 14%. This segment's operating income was $135 million compared with $134 million in the prior year. Operating margin was 32.0% compared with 30.2% in the prior year.
New contracts / backlog in this segment:
Integrated Network Solutions:
This segment provides government, energy, maritime and healthcare customers with integrated communications and information technology and services, including mission-critical end-to-end IT services, managed satellite and terrestrial communications solutions and standards-based healthcare interoperability solutions.
Revenue in the first quarter for the Integrated Network Solutions segment decreased 2.6% to $376 million compared with $386 million in the prior year. This is due to lower revenue from the U.S. government customers in both IT Services and CapRock Communications. Segment operating income was $30 million compared with $33 million in the prior year.
New contracts / backlog in this segment:
Government Communications Systems
This segment conducts advanced research and develops, produces, integrates and supports advanced communications and information systems that solve the mission-critical challenges of the firm's civilian, intelligence and defense government customers worldwide, primarily the U.S. Government.
Revenue in the first quarter for the Government Communications Systems segment was $412 million, down 9 percent compared with $455 million in the prior year. Segment operating income was $64 million compared with $66 million in the prior year. Operating margin in the first quarter was 15.5 percent and resulted from strong program performance. The downturn in revenue in this segment is partially offset by higher revenue from classified customers and from other civil agency customers, including the FAA.
New contracts / backlog in this segment:
Top Competitors
In the RF Communications segment, principal competitors include European Aeronautic Defense and Space Company N.V. (OTCPK:EADSF), General Dynamics (NYSE:GD), ITT Exelis (NYSE:XLS), Raytheon Company (NYSE:RTN).
In the Government Communications Systems segment, principal competitors include BAE Systems (OTCPK:BAESY), The Boeing Company (NYSE:BA), General Dynamics, L-3 Communications (NYSE:LLL), Lockheed Martin (NYSE:LMT), Northrop Grumman (NYSE:NOC), ITT Exelis, Raytheon Company, and Rockwell Collins (NYSE:COL). Consolidation among U.S. defense and aerospace companies has resulted in a reduction in the number of principal prime contractors. Harris Corporation frequently partners or is involved in subcontracting and teaming relationships with companies that are, from time to time, competitors on other programs.
In the Integrated Network Solutions segment, principal competitors include Computer Sciences Corporation (NYSE:CACI), General Dynamics , Lockheed Martin, Northrop Grumman, Raytheon Company , and Science Applications International Corporation (NYSE:SAIC).
| | | | | |
| --- | --- | --- | --- | --- |
| Key Metric | Harris | CACI | General Dynamics | L-3 Comm. |
| | | | | |
| Market Cap | 6.57B | 1.66B | 30B | 8.90B |
| Free Cash Flow, ttm | 717M | 193M | 1.8B | 923M |
| Forward P/E | 12.85 | 12.56 | 12.07 | 12.25 |
| ROE (%), ttm | 26.47 | 12.84 | -1.99 | 13.76 |
| Profit Margin (%), ttm | 6.44 | 4.12 | -0.86 | 6.14 |
| Dividend Yield (%), forward | 2.7 | N/A | 2.6 | 2.2 |
ttm = trailing twelve months
Comparison of few key metrics with competition
Please see revenue growth YoY (year over year) chart below. It is clear that HRS had tremendous revenue growth during the boom years of early 2000s. The revenue doubled from 2004 to 2009 representing an annual compounded rate of about 14.72%. After 2009, the revenue has remained stagnant around $5 billion with a slight spike in 2011. Harris is relatively a small player among the stalwarts in this space such as Lockheed Martin, Raytheon and Northrop Grumman. However, it is indeed a niche player which can adapt quickly and move into areas other than communication to win more businesses.

Valuation:
Harris is currently trading at a forward P/E ratio of 12.94 as of this writing. Please see the comparison of some key figures of Harris Corp. with that of S&P 500 and the industry:
| | | | | |
| --- | --- | --- | --- | --- |
| | HRS | Industry Avg | S & P 500 | HRS - 5 yr avg. |
| Price / Earnings | 14.7 | 32.1 | 17.1 | 13 |
| Price / Book | 4 | 2.4 | 2.5 | 2.5 |
| Price / Sales | 1.3 | 1.9 | 1.6 | 1 |
| Price / Cash Flow | 7.7 | 18.4 | 10.7 | 6.4 |
| Dividend Yield | 2.5 | 1.9 | 2.1 | 2.3 |
Please notice that industry P/E ratio is 32.1, which is much higher than the current P/E ratio of Harris. So with EPS guidance between $4.65 and $4.85 and considering different P/E ratios, we come up with the following potential values for the company. (Current stock price of Harris as of this writing is $61.87)
| | | | |
| --- | --- | --- | --- |
| EPS ($) | $4.65 | $4.75 | $4.85 |
| | | | |
| P/E = 14 | $65.10 | $66.50 | $67.90 |
| P/E = 18 | $83.70 | $85.50 | $87.30 |
| P/E = 25 | $116.25 | $118.75 | $121.00 |
| P/E = 30 | $139.50 | $142.50 | $145.50 |
It is clear that at current market price, investors are expecting a mediocre performance from this company going forward. However, it should be noted that Harris is most impacted in today's current economic environment and any uptick in government spending will only serve as good news for the company.
FCF Analysis:
Since free cash flow analysis is the holy grail of value investing, we will run free cash analysis. Below are the key assumptions:
Assume earnings growth for the first 10 years (year over year)
Assume a number for perpetual growth after the first 10 years
Free Cash Flow metric is used (also called owner's earnings). Please see our method of calculating owner's earnings.
Owner Earnings =
Reported Earnings (also known as Net Income)
+ Depreciation, Depletion, and Amortization
+ Other Non-cash Charges
- Maintenance Capital Expenditures
- Increase / (Decrease) in Working Capital
Inflation component = 1% (year over year)
Applying different discount rates, we come up with the following scenarios:
Bear Scenario: (Year over year earnings growth of 3 % per year for the 1st 10 years and 2% perpetual)
| | |
| --- | --- |
| Discount Rate (%) | Price/share ($) |
| | |
| 8 | 72.57 |
| 9 | 60.12 |
| 10 | 50.79 |
Intermediate Scenario: (Year over year earnings growth of 5 % per year for the 1st 10 years and 2% perpetual)
| | |
| --- | --- |
| Discount Rate (%) | Price/share ($) |
| | |
| 8 | 86.87 |
| 9 | 71.90 |
| 10 | 60.71 |
Bullish Scenario: (Year over year earnings growth of 6 % per year for the 1st 10 years and 3% perpetual)
| | |
| --- | --- |
| Discount Rate (%) | Price/share ($) |
| | |
| 8 | 108.86 |
| 9 | 87.68 |
| 10 | 72.59 |
Harris Advantage:
Whether U.S. military is developing a new ground vehicle, a new fighter jet or a new war-ship, Harris would be the company of choice for its communication systems in every development. For example, when Lockheed Martin won a contract to build F-35 fighter jet, it chose Harris for its communication gear within the fighter jet.
Though we don't have any wars looming over the horizon, DoD still needs to invest in modernizing its infrastructure. Only 25% of systems have been updated in the last 10 years and there is much room to grow. Harris is both directly and indirectly positioned to benefit since communication systems are a must have in any system. Having true and tested product line installed across a broad spectrum of military equipment, Harris has carved a solid competitive advantage. Most importantly, U.S. military would be hesitant to replace proven communication systems for something less expensive in order to save a few bucks. I believe this is the reason why company's earnings have not taken a nosedive in recent past in spite of budget cuts. Due to this proven track record with U.S. armed forces, foreign governments also routinely award contacts to Harris and these orders have helped the company to stabilize its revenues.
Conclusion:
Harris Corp. is well positioned to face near term headwinds due to government's sequestration as the company generates enough cash to support its business growth including R&D and to pay dividends. Furthermore, the company has a healthy backlog of orders to carry it through for the next few years. I see a substantial upside for this company and from current valuations; it seems evident that patient investors will be well rewarded. With DoD (Department of Defense) getting ready for a second round of sequestration, Harris is expecting only 1-3% revenue decline across all of its business segments, which is exceptional in my opinion.
Since United States is still committed to keeping its number one position as the best and the mightiest army in the world, the U.S. government will continue to spend on its military programs and the pace would only increase as the Congress overcomes its budget woes. As a proof that military spending is not going to completely diminish, President Obama has proposed 57% discretionary spending on military for fiscal 2014.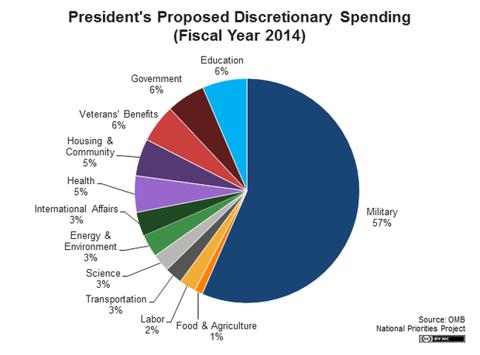 Since its communication systems are at the heart and soul of modern warfare, Harris is sure to prosper as government continues to spend on military programs and the company maintains its competitive edge.
Disclosure: I have no positions in any stocks mentioned, and no plans to initiate any positions within the next 72 hours. I wrote this article myself, and it expresses my own opinions. I am not receiving compensation for it (other than from Seeking Alpha). I have no business relationship with any company whose stock is mentioned in this article.