Tuesday morning the UK Telegraph reported that Pimco, the world's largest manager of bond funds, will not buy British debt this year. They are fearful the Brits may be able to efficiently market enough gilts to fund their current deficit. Pimco hinted they may reduce their current inventory, selling some of their gilts. Is it possible that Bill Gross, President of Pimco, in the spirit of that old classic western movie, "The Magnificent Seven" will recruit George Soros and some other financial vigilantes to clean up the mess made by Gordon Brown and Finance Minister Alistair Darling? A Pimco spokesman was quoted in the Telegraph:
Paul McCulley, a managing director at Pimco, said: "We are currently cutting back in the US and UK because... supply and demand dynamics are likely to be negatively affected as borrowing rises and central bank buying declines."

The yield on the benchmark 10-year gilt has leapt from below 3pc to above 4pc in the past year amid concerns about the Government's capacity to bring its budget back under control, and worries about the coming end of quantitative easing (QE), under which the Bank has been buying massive numbers of gilts.
It will be interest to see if the Bank of England, meeting today, will have any comments regarding current conditions.

Sovereign debt worries are not confined merely to Greece.

In the US, the focus has been on the Federal deficit and their need to issue about $2T of debt this year. The Government has never been bashful about running up deficits, but the states do not enjoy this privilege. California, with an anticipated 21B budgetary short fall has a major problem. Reflecting concerns about California debt, the current yield of California bonds is 5.615, or 1.14% above the national average.

It looks like Republican Governor Schwarzenegger has come to realize that only Washington can provide the funds necessary to prevent California's bankruptcy, so he has been making nice with President Obama. In the spirit of that old Austrian proverb that 'flattery will get you every where', he graded Obama's first year in office as an A+.

The British pound has been one of the short favorites of the big specs according the the CFTC reports of futures positions.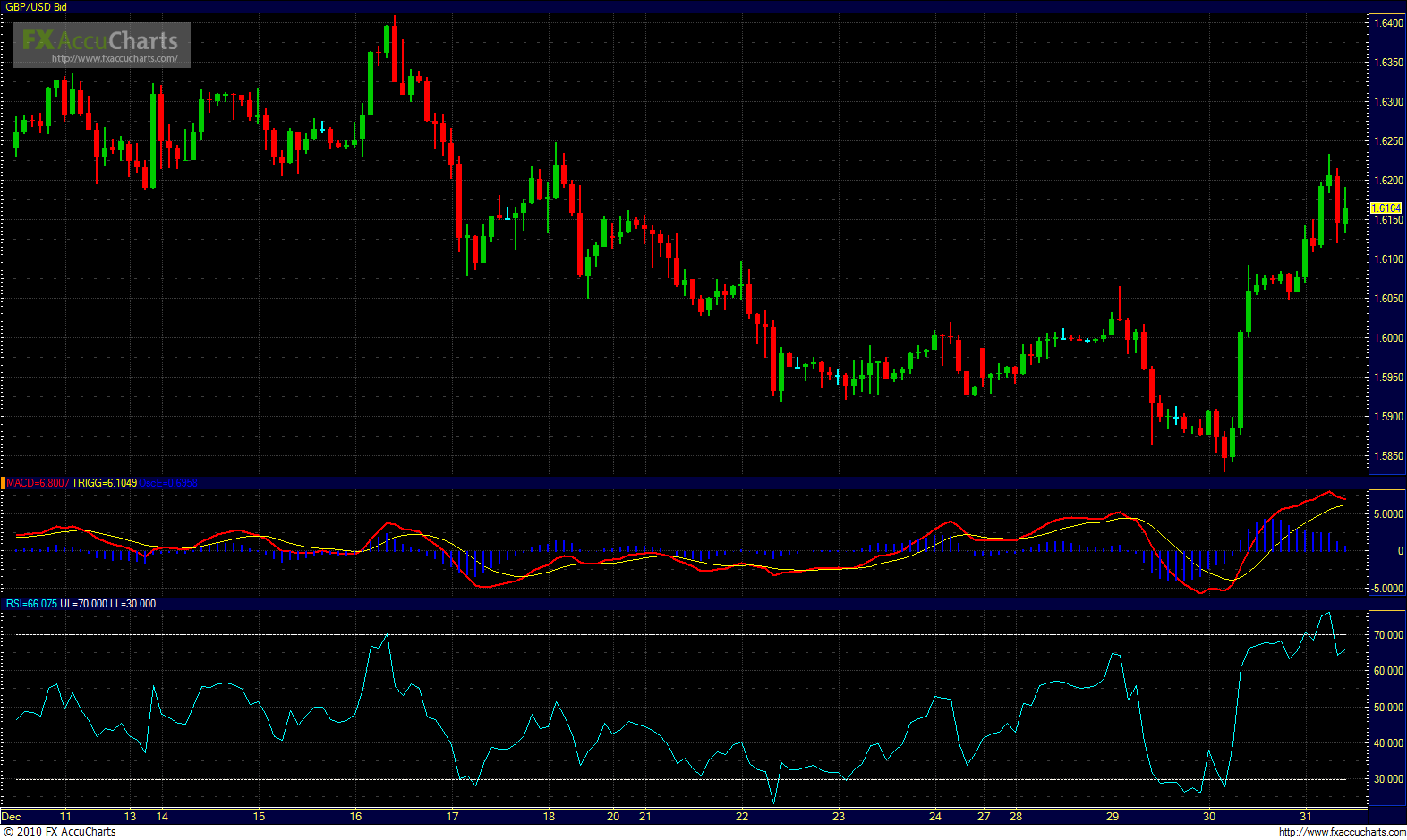 In the report that showed futures position through Dec. 29, 2009, the large specs had increased their short positions to a net of 30,000 contracts. The small spec was also an active participant on the short side of the market. The end of the year rally in the pound may have been some aggressive short covering. Monday the market acted like the rally had run its course, and support would first be tested at 1.60. Should that level fail to hold, revisiting the 1.5850 level seems to be the next target. Will Bill Gross and friends lend a helping hand?
Disclosure: No equity positions