In the last few weeks of 2009 I took some meaty positions in three Direxion Daily 3X Bull Leveraged ETFs whose symbols are FAS, TNA, and EDC. I'll let you look up these ETFs and you can read the profile of what they are and how they seek to replicate, net of expenses, 300% of the daily performance of the Index they are correlated to.
When you are right about this type of risk-oriented, highly-leveraged investment you are richly rewarded (and you are painfully punished if you are wrong). The charts, oscillators and technical indicators we follow helped us to stock up and win beginning after the "Dubai-Crisis-Panic" on the Friday after Thanksgiving.
Our next plan is to sell these as the major stock indices hit some nice high-points over the weeks ahead and then we are planning to put that money to work in their "polar-opposite counterparts"---also Direxion Daily 3X ETFs but this time on the "bear" side. Their symbols are FAZ, TZA and EDZ.
Of course we are going to do this because we think there's a big, nasty, under-played correction looming on the horizon, and we have some good company that agrees with us.
Remember, don't ever buy a leveraged ETF, bull or bear, until you do careful analysis and "due diligence" and understand the risks associated with them.
Sprott Says S&P 500 Index Will Plunge Below March Low (Thanks to Bloomberg.com and Matt Walcoff for sharing)

The Standard & Poor's 500 Index will collapse below its March lows as an expected rebound in economic growth fails to materialize, according to hedge fund manager Eric Sprott. [Sprott made these comments at the end of Dec. 2009].

The Toronto-based money manager, whose Sprott Hedge Fund returned about 496 percent in the past nine years as the S&P 500 lost 32 percent in Canadian dollar terms, said the index's 66 percent rally since March 9 reflects investors misinterpreting economic data. He's predicting the gauge will fall 40 percent to below 676.53, the 12-year low reached on March 9.

"We're in a bear market that will last 15 or 20 years, and we've had nine of them," Sprott, chief executive officer of Sprott Asset Management LP, which oversees C$4.3 billion ($4.09 billion), said in an interview Dec. 18.
Keith Fitz-Gerald, the Chief Investment Strategist for The Money Map Report wrote the following to me today that I also thought was quite an insight:
I received a few questions over Christmas & New Year's break asking what I thought about U.S. stock markets that seem to be top heavy at the moment. And specifically, whether or not we should try to time the market on the assumption that it would be better to sell now and jump in again later at much lower prices.

While this sounds great in theory, trying to time the market is a terribly unprofitable undertaking. So we go to great lengths to manage risk appropriately rather than trying to second guess it. In some cases this involves something as simple as our proprietary 50-40-10 portfolio structure, while in others it involves the use of protective stops that both hedge our risk and still allow us all the upside in the world.
I could explain in great flowery language why this is the case, but I think the following picture is truly worth a thousand words:
In the chart below, our friends at Bespoke Research have calculated the cumulative return of a $1 investment in the DJIA since 1950 (ex dividends). In the chart, they also calculated how much that dollar would be worth if an investor had missed out on the best five days of each year, missed out on the five worst days of each year, or if they missed out on the five best and worst days.
Obviously, all three scenarios would be nearly impossible to accomplish. With the possibility of turning $55.35 up to $75,481 we can understand why people would be compelled to try. But the chart also highlights the enormous pitfalls of incorrect timing. If you invested $1 in the DJIA in 1950 and missed out on the five best days of each year, your $1 investment would now be worth 4 cents, which represents a decline of 96%.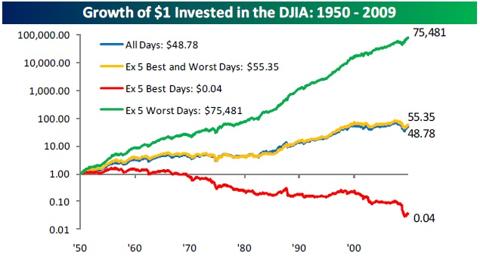 As you can see, it is clearly more important to manage risk than it is to try and time the markets. And that's exactly why we do our best to stay in them whenever possible.
The first five days of any new trading year can be entirely unpredictable. So don't get distracted by many of the sensationalist headlines that you'll hear from reporters attempting to draw inferences about the rest of 2010.
It's far more profitable to simply concentrate on the money and specifically where and why it's moving. Just like we do every day at the Money Map.
Fitz-Gerald recommends that people start placing some investment dollars in an inverse (shorting) fund as the indices move higher and higher. Some sort of strategy, like a certain dollar amount every few weeks for the next couple of months, will allow investors to actually make money if the markets start plunging.
What About Precious Metals---Silver and Gold
Yes, I put the word "Silver" first because over the next year it seems to me that silver has more upside potential than gold. Ed Steer over at Casey Research wrote to me today and confirmed a rumor that I've also been hearing, and that is the outrageous manipulation of both silver and gold by certain financial powers might be coming to an end!
"Ted Butler has drawn his line in the sand and said that 2010 is the year that the silver price management scheme will be terminated... and one would assume that that applies to gold as well. In his last commentary of the year... dated 30 December 2009... and headlined "A Remarkable Year and Decade"... Ted Butler goes "all in" with the following statement: "In 2008 there was one new and important revelation -- the identity of the big COMEX silver and gold short.

"The identification of JPMorgan (NYSE:JPM) [as that entity] is important for a number of reasons. It confirms just how big the silver short problem is. JPMorgan is at the top of the food chain. There is no one else left to pass the short hot potato to, save the US Government itself [which, on a defacto basis, is probably the real short holder anyway]. To me, this is the best news possible, as it means this is the end of the line for the silver manipulation. This silver short position and manipulation stops here, with JPMorgan and/or the US Government. It gets transferred to no one else.

"It may mean the end of the COMEX as we know it, but it definitely means that the silver manipulation will soon end. Let me stick my neck out here and be more precise -- the silver manipulation, because we know so much more about it, will end in 2010. Make sure you are positioned for that by being as heavily invested in silver as possible."
Below you'll find a nice chart of SLV over the past year that speaks for itself:
Disclosure: I'm long FAS, TNA, EDC and SLV.