For the year ending December 31, 2009, Apple (NASDAQ:AAPL) led all stocks with an impressive 58 pt sentiment rating. Google (NASDAQ:GOOG) came in second with a very positive 47 pt rating, while Activision (NASDAQ:ATVI) came in third with a 39 pt rating on the Piqqem sentiment index. Absolute sentiment is a good measure of the overall quality of a stock.
This is the second year in a row that Apple led all stocks in sentiment as they were also number one in 2008. It will be interesting to see if they can repeat again in 2010. Oracle (NASDAQ:ORCL) made an impressive jump moving from number 21 in 2008 to the sixth spot in 2009, while Amazon (NASDAQ:AMZN) saw its positioned surge from the 24 position in 2008 to a respectable number 9 ranking in 2009.
Top Ten Stock in 2009 Piqqem Sentiment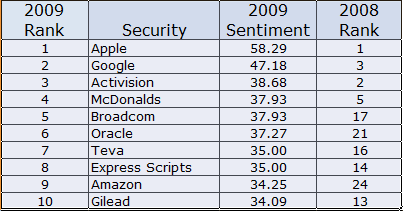 For this analysis, we will use sentiment generated by the web application, Piqqem. Piqqem captures, processes, and displays sentiment results by allowing its users to vote on the price direction of a stock and then applies its own propriety factors to calculate sentiment for a security. In their model, a scale of -100 to 100 is used with -100 representing the lowest level of sentiment and 100 representing the highest level of sentiment.