Companies like Amazon (NASDAQ:AMZN) and Sears (NASDAQ:SHLD) sell a lot of products during the Christmas season. This is a given. But no one usually considers who else profits from increased consumer spending (and overspending). Credit card companies such as MasterCard (NYSE:MA), Visa (NYSE:V), and American Express (NYSE:AXP) not only see a higher usage of their cards, but they receive an assessment fee from the retailer every time someone uses their card to make a purchase. This is part of a transaction fee that retailers must pay for every purchase, and it's usually already priced into the product.
Club FED
Credit cards will continue to see heavy usage after the holiday season with the help of low interest rates, which allow Americans to borrow more. Last week, the FED decided not to taper quantitative easing (contributing $85 billion per month to American banks while keeping interest rates low) in order to compensate for the effects of the government shutdown - that means financials, including the credit market, should be as strong as ever. FED spokesman have stated the delay could last until March 2014, more than enough time for MasterCard to give your portfolio a boost from consumer overspending and low borrowing rates.
MA is promising
Out of all the credit card stocks, I'm most excited about MasterCard. The company already reported a 14 percent profit increase for the quarter, handily beating analyst estimates. Analysts mainly attribute it to Europe's strong economic recovery, since MasterCard has significant exposure in the European market. It reported larger than expected profits in America as well. Because of exposure to a European recovery, MasterCard has a stronger quarter ahead of it than Visa, whose exposure is limited and did not fare as well in their quarterly report.
Risks to mitigate
I see two possible macroeconomic risks when buying MA: the FED could change its mind and increases interest rates, or the European recovery could grind to a halt. For the FED to change its mind, unemployment would have to drop significantly and inflation would have to increase to its 2% target. Currently, inflation figures are hovering between 1.5 and 1.7%, and have been for months. The unemployment report on October 30th was the worst in 6 months, so there is not much danger of the FED reversing its credit-friendly policy in the near future.
As for the European recovery, the dollar's continued devaluation bolsters the Euro's buying power and MasterCard's bottom line, so keep an eye on the EURUSD currency pair. MasterCard generated 28%of its revenue from Europe this quarter, while Visa only generated 2% in Europe, so the currency rate most likely gave MA a boost. MasterCard claims to have a strong presence in Northern and Eartern Europe, where the economies are more robust and people tend to spend more, which could mitigate the effect of a fluctuating EURUSD exchange rate.
Fundamentally sound
Here's how MasterCard and Visa stack up fundamentally: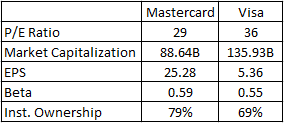 MasterCard's smaller P/E of 29 is favorable to Visa's 36, and their higher percentage of institutional ownership demonstrates that big names trust the company to a greater degree. The difference in the stocks' beta is relatively negligible. In spite of MA's higher stock price, the company's smaller market capitalization gives it the edge to grow more quickly than its competitor, as smaller caps historically outpace larger caps in terms of growth rate. MasterCard handily beat earnings this quarter, creating a higher EPS and a rise in price targets, while Visa's earnings were so-so and targets reacted accordingly.
Buy parameters
Citigroup's estimates put MA's target price at $835, and on November 5th it closed at $736.38, so the target is a 12% increase from its current price. If you take a look at MasterCard's chart, it looks like the equity curve on a black-box trading system, even through the interest rate uncertainties of the summer of 2013.
Yahoo Finance 5-year MA Chart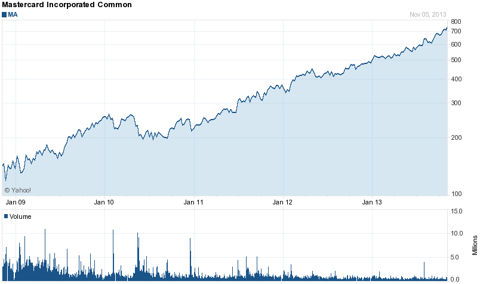 MasterCard is a promising play this quarter if you want to leverage seasonal purchases and the lowest borrowing rates in the history of borrowing rates. I recommend buying the stock on a pullback to the 21-day Exponential Moving Average if you're an aggressive investor, or at the bottom of its Bollinger Bands if you're more cautious. After that you could play it two ways:
1. If it's a medium-term trade, hold it until the earnings report date and sell on the good news.
2. If you are looking to invest in the company longer-term, I would hold until it reaches Citigroup's current price target of $835 or until March 2014, when the FED is likely to seriously reconsider its interest rate policy, and reevaluate your position according to their decision. Pay close attention to the interest and currency rates - you can find the FED's announcement schedule here, and on Thursday you can monitor the European Central Bank's interest rate decision, which affects the EURUSD.
Disclosure: I have no positions in any stocks mentioned, and no plans to initiate any positions within the next 72 hours. I wrote this article myself, and it expresses my own opinions. I am not receiving compensation for it. I have no business relationship with any company whose stock is mentioned in this article.