We've seen the recent hike in interest rates put a moderate dent in the upward trajectory of performance at Lennar (NYSE:LEN) and KB Home (NYSE:KBH) in their respective third quarters. This was also the case in PulteGroup's (NYSE:PHM) and M/I Homes' (NYSE:MHO) third quarter performance, which we will outline in this piece. However, recent trends in the average 30-year fixed rate, which hit a four-month low, may make fourth-quarter performance a bit better for the group than originally anticipated. Still, we're not putting new money to work in the industry at this time on the basis of valuation.
PulteGroup
PulteGroup reported decent third-quarter results that showed strong revenue, growth, home selling-price expansion, and solid margin performance. There were year-over-year price increases across all 3 of its brands: Centex (up 5%), Pulte Homes (up 8%), Del Webb (up 10%). The steady adjusted gross margin performance has also been nice. The measure has increased every quarter since the third quarter of last year and now sits at 25.5%.
Adjusted third-quarter earnings per share was $0.45 compared with prior-year earnings of $0.30 per share, after excluding a very large deferred tax asset valuation allowance reversal. Though the firm's backlog advanced 8% on a year-over-year basis to $2.4 billion, net new orders of 3,781 homes fell 17% from the same period a year ago. Still, management was quite optimistic about the continuation of the housing recovery despite the order hiccup:
"While consumers have recently slowed home purchases due to higher home prices, a rapid rise in mortgage rates, and political and economic uncertainty, we believe the slowdown will ultimately prove to be short lived within a sustained, multi-year housing recovery."
PulteGroup has come a long way since the depths of the housing crisis. Its quarter-end cash balance now sits at $1.4 billion, and the company continues to retire debt. The firm's debt-to-cap ratio was moderately above 30% at the end of the third quarter from nearly 60% at the end of the year-ago period. Though we're not rushing to add shares of PulteGroup to the portfolio of our Best Ideas Newsletter, we like the firm's exposure to all major customer segments - Centex (entry-level buyers), Pulte (move-up buyers) and Del Webb (active adults) - the company's broad market presence in top metro markets and its focus on ROIC via margin performance and overhead leverage.
M/I Homes
M/I Homes reported third-quarter results Thursday. Total revenue leapt 31.8% in the period, and pre-tax net income surged 63% to $13.8 million. As with PulteGroup, net income of $125.3 million benefited greatly from the reversal of the majority of its deferred tax asset valuation allowance. The company's internal metrics were also impressive on a year-over-year basis: new contracts increased 15%, homes delivered advanced 26%, while backlog units and value jumped 36% and 46%, respectively.
M/I Homes is a "top 10" builder in 8 of 13 markets and has recently expanded into the oil-rich Texas markets: Houston, San Antonio, Austin, and Dallas. We appreciate the company's lower-risk land strategy, but we also note that its market capitalization (a measure of financial size) is $528 million, 13 times smaller than PulteGroup's, for example. We're not rushing to establish a position in shares at this time.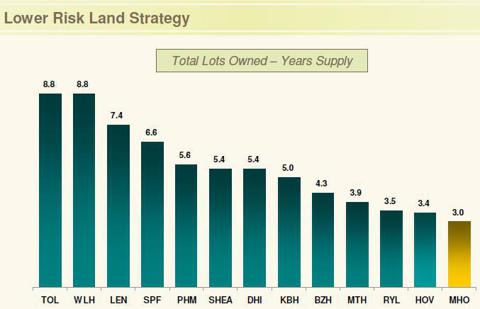 Image Source: M/I Homes
Valuentum's Take
The housing recovery is still in full swing, and we think the trend toward lower interest rates in the fourth quarter will continue to provide a stable backdrop for the homebuilding industry. Housing prices continue to be on the rise, and homebuilder backlogs remain healthy. All-in, we're big fans of the fundamental improvement in housing that we recognized as early as in January 2012, and we've largely reaped the rewards of the economic healing that it has caused. Valuations aren't extremely compelling across the group, so we remain on the sidelines.
Disclosure: I have no positions in any stocks mentioned, and no plans to initiate any positions within the next 72 hours. I wrote this article myself, and it expresses my own opinions. I am not receiving compensation for it (other than from Seeking Alpha). I have no business relationship with any company whose stock is mentioned in this article.