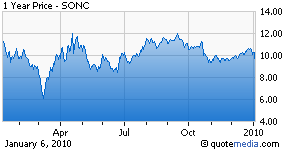 Yesterday, Sonic (NASDAQ:
SONC
) reported both a profit miss, down 13% or $.02 EPS versus prior year, and further decreased same store sales. System same store sales were down 6.5%, with company stores down 9.1%. SONC is now projecting full year EPS of $.71, versus the earlier consensus view of $.78. Interestingly, increased 2010 discounting is expected to offset commodity cost decreases. No surprise, but the analysts and the markets are reacting negatively.
Running a restaurant chain is pretty difficult these days. Sonic discussed its attempts to balance customer price and perceived value. They worked a lot on the price side in 2009, implementing an afternoon "happy hour" promotion, with new and discounted soft drinks, as well as rolling out a one-dollar value menu.
From yesterday's
earnings call transcript
, and Sonic's comments, we can calculate that company stores traffic was down 2.1%, and average check was down 7.0%. But Sonic took a cumulative price increase of about 2.5%, meaning then that the product mix element of average check was down a significant 9.5%.
Sonic said its value menu mix was only 6-7% in total, which is actually less than many of its peers. (McDonald's (NYSE:
MCD
) is 10-11%, for instance). So, perhaps then the Happy Hour focus worked too well to change daypart sales mix, combined of course with lower combo item sales and side item sales, which has affected many operators. Sonic always had a heritage as a "snack place" and seemingly the company reinforced that. The problem is, there is always more penny profit on a full average check of $6 versus a drink of $1.59.
We didn't see discussion that Sonic would attempt to deliver dual marketing messages supporting both low price value and broader menu items. By comparison, Jack in the Box (NASDAQ:
JACK
) last quarter concluded they must deliver dual messages at a time so as to not erode either traffic or average check.
Beyond this, we are glad Sonic and others are working franchise development incentives (reduced initial fees and abated royalties). Franchise unit development goals will be a real challenge in this credit-constrained environment. However, the problem really is lack of credit. Couldn't QSR concepts use their cash reserves or free cash flow ($100M reserves at SONC, for instance) to jump-start a supplementary loan pool?


Disclosure: No stock positions