The bull market continues to power every higher. People are celebrating some huge gains in a few short years. Others, who have bet against the market or tried to play volatility have lost their shirts. As such, iPath, which offers a variety of ETNs, announced October 25, 2013 that it is going to conduct a reverse share split on the iPath S&P 500 Short Term VIX Futures ETN (NYSEARCA:VXX). Shares currently are around $12.50, and according to the prospectus, any time the value falls below $25.00, management reserves the right to consider reverse splits. The VXX along with products such as the ProShares Ultra VIX Short Term Futures ETF (NYSEARCA:UVXY) and the Velocity Shares Daily 2X VIX Short-Term ETN (NASDAQ:TVIX) are popular products used to gain exposure to volatility, as measured by the CBOE VIX, which is not directly investable. These volatility products have been hammered in recent years as this 5 year bull market continues to power ahead. There have only been brief moments of high volatility in the last few years, and as such, the values of these volatility ETNs have imploded. It has been so poor that the leveraged volatility fund UVXY has undergone three reverse splits to keep it going. Now the most popular of these products to gain exposure to VIX futures, the VXX is facing its second adjustment in just over a year.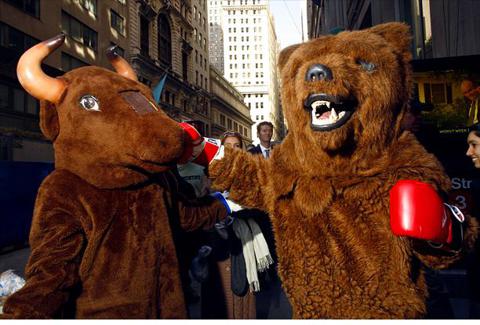 Click to enlarge
What Does it Mean for Shareholders?
No other VIX products, such as UVXY or TVIX will be affected by this split. The VXX reverse split will be conducted at a ratio of one new share for every four held. The reverse split will apply to shareholders of record as of the close of the markets on November 7, 2013. The fund will trade at its post split price on the markets beginning Friday November 8, 2013. The ticker symbol for the fund will not change. The fund will be issued a new CUSIP number. The reverse split will increase the price per share of the fund with a proportionate decrease in the number of shares outstanding. In a 1 for 4 reverse split, every four pre-split shares held by a shareholder will result in the receipt of one post-split share, which will be priced four times higher than the value pre-split share. (If you hold 100 shares of VXX priced at $10.00 each, then after the reverse split you will hold 25 shares valued at $40.00 each.) Thus, the reverse split does not change the value of a shareholder's investment. Further, the ticker symbol for the fund will remain the same. The fund will be issued a new CUSIP number, which identifies the product on exchanges.
There are two more considerations to think about during this split. What happens with fractional shares, and what happens to owners of options contracts.
Fractional Shares From Reverse Splits
For those shareholders who hold quantities of shares that are not a whole number with an exact multiple of the reverse split ratio, the reverse split will result in the creation of a fractional share. This will affect any shareholder who does not hold a number of shares that is a multiple of four. After the reverse split occurs fractional shares will be redeemed for cash and sent to your broker of record. The major issue associated with such a move is that it forces shareholders to realize either very small gains or losses, which could result in an annoying but still taxable event for those shareholders, in addition to having a potential loss on investment if prices are below where they were purchased. Given that volatility is near a five-year low, a loss is quite possible. One way to mitigate this is to purchase more shares to round out your VXX holdings to a multiple of four, or to sell an appropriate number of shares to round out the holdings.
What Will Happen With Options Contracts On VXX
This is an important consideration. For those traders who may be holding options on VXX, this split will affect your contract, albeit minimally. Once iPath conducts the reverse split, the contract undergoes an adjustment that is commonly known as "being made whole", which means the option contact is modified accordingly so that options holders are neither negatively nor positively affected by the split. While we know the reverse split will adjust the price of the underlying shares of the VXX option, the option will be adjusted so that the changes in price due to the split do not affect the value of the option. So if there is positive or negative effect on the option value, just how much will the option be worth post split? You actually don't need to worry about such things, because the options clearing corporation automatically adjusts the price to maintain the option market. However, for those who want an estimate of what the VXX option will be worth, the calculation is simple. Each VXX option contract is (usually) in control of 100 shares of VXX at some predetermined strike price. To find new the share coverage of the option after the split, all you do is simply take the split ratio and multiply by the old share coverage (normally 100 shares). To find the new strike price, take the old strike price and divide by the split ratio.
Let's look at an example of a call option contract for 100 shares of VXX at a strike of $10.00. Since the split is 1 for 4 we divide $10.00 by 1/4, generating a new strike price of $40.00. The option will now cover 25 shares because we multiply 100 by 1/4. Thus, your new call option contract (which will expire on the same day as originally scheduled) will be good for a purchase of 25 shares of VXX for $40.00.
My Recommendation
In conclusion, we are seeing continued lack of volatility in the markets. As such these volatility funds continue to lose value. This second reverse split of VXX in a year is a symptom of the strong bull market. VXX is down almost 65% in one year, currently trading at $12.45. I personally believe this sell-off provides an opportunity to make some bearish insurance bets pre split; VXX will rise during a selloff. VXX is a short-term play in general given its volatility leveraged nature. To bring the product to an investment price that iPath believes is more attractive, it is conducting this reverse split. The reverse split of shares only really negatively impacts investors who own common shares at a total that is not a multiple of four, as they will be forced to sell fractional shares at a loss, or a potential gain, that could results in a taxable event. Owners of options contracts will not be affected besides being faced with owning a new contract at a different strike price for a different number of shares. The total value of the contract will, however, remain the same. Despite the value of the contract not changing, I recommend not purchasing any options ahead of this split, given that volume generally dries up leading to wide bid/ask prices. Thus I recommend getting out of any options positions you may have now.
Disclosure: I have no positions in any stocks mentioned, and no plans to initiate any positions within the next 72 hours. I wrote this article myself, and it expresses my own opinions. I am not receiving compensation for it (other than from Seeking Alpha). I have no business relationship with any company whose stock is mentioned in this article.