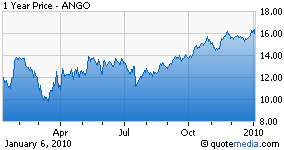 AngioDynamics, Inc. (NASDAQ:ANGO) reported second quarter fiscal 2010 earnings per share of 13 cents, beating the Zacks Consensus Estimate of 11 cents and the year-ago earnings of 12 cents. The company also reported an expansion in its top-line and raised the sales outlook for the entire year.
Sales
Net sales in the second quarter increased 10% year over year to $53.5 million. Growth was registered across all the business segments.
Peripheral Vascular sales increased 6% year over year to $23.2 million. Growth was led by higher demand for the Benephit renal infusion system which AngioDynamics acquired from FlowMedica, and higher sales of EVLT Disposable Kit.
Access sales increased 4% year over year to $16.7 million due to higher sales of PICC dialysis products.
Oncology/Surgery sales increased 28% year over year to $13.6 million. Growth can be attributed to higher sales of LCDs and IRE NanoKnife.
On a geographic basis, the U.S. contributed 89% to total revenues and increased roughly 11% year over year. International operations increased approximately 5% year over year.
Margins
AngioDynamics reported a contraction in margins in the second quarter. Gross margin declined 220 basis points (bps) year over year to 59.1%. The decline was due to lower selling prices of a few products as a result of a competitive pricing environment, higher raw material cost for certain products and an unfavorable product mix.
As a percentage of sales: Research and development expenses declined 20 bps year over year to 8.9%. Sales and marketing expenses declined 140 bps year over year to 28.1%. General and administrative expenses declined 40 bps year over year to 7.5%.
Lower gross margin offset the decline in the above-mentioned operating expenses and was primarily responsible for lower operating and net margins. Both operating and net margins declined marginally by 10 bps year over year to 10.0% and 5.9%, respectively.
Balance Sheet and Cash Flow
AngioDynamics ended the second quarter with cash, cash equivalents and short-term marketable securities of $74.0 million, an increase of roughly 9% in the first six months of fiscal 2010. The company had an outstanding long-term debt of $6.9 million at the end of the quarter. AngioDynamics generated cash flow from operations of $11.2 million for the quarter.
Outlook
AngioDynamics raised its sales outlook for full fiscal 2010. For the entire year, net sales are estimated between $214 million and $217 million, compared to the prior guidance of $211 million to $215 million.
For fiscal 2010, gross margin should range between 59% and 60%, compared to the previous guidance of 61% to 62%. Operating income is expected to range between $19 million and $21 million, higher than the previous guidance of $18 million to $20 million. EBITDA should be between $31 million and $33 million, higher than the previous range of $30 million to $32 million.
GAAP EPS is expected in the range of 46 cents to 48 cents, compared to the previous guidance of 45 cents to 47 cents.
AngioDynamics is engaged in the designing, development, manufacture and marketing of therapeutic and diagnostic devices to treat peripheral vascular disease and other non-coronary diseases.