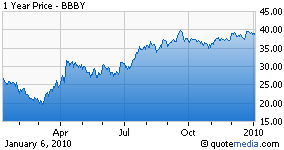 After the bell, one of my favorite Buy List stocks, Bed, Bath & Beyond (BBBY) reported earnings of 58 cents a share which was 15 cents more than the Street's forecast! Dayum... that's a huge earnings beat. The stock is up 8% after-hours.
Sales rose 10.8% to $1.98 billion which topped the Street's estimate of $1.91 billion. Note that this was their November quarter so it didn't include much of the holiday shopping season.
BBBY also forecast earnings for this quarter of 67 to 71 cents a share which was above the Street's estimate of 63 cents.
There's a lot I like about this earnings report. First is that sales growth came in strong. This is the best top-line growth number in two years. And with that, margins didn't suffer which has been a problem in recent years. Year-over-year net margins fell for 14 straight quarters, but have now risen for the past three.
Decreasing margins are like kryptonite for a company. In BBBY's case, net margin fell from about 10% to 6%. That effectively erases a 66% gain in sales. Rising margins have the opposite effect. The problem for every retailer is that you have to walk the line between higher margins and its impact on sales. BBBY has pulled in more sales and higher margins.
Here are the earnings results going back a few years:
| | | | | | |
| --- | --- | --- | --- | --- | --- |
| Quarter | Sales | Gross Profit | Operating Profit | Net Profit | EPS |
| May-99 | $356,633 | $146,214 | $28,015 | $17,883 | $0.06 |
| Aug-99 | $451,715 | $185,570 | $53,580 | $33,247 | $0.12 |
| Nov-99 | $480,145 | $196,784 | $50,607 | $31,707 | $0.11 |
| Feb-00 | $569,012 | $238,233 | $77,138 | $48,392 | $0.17 |
| May-00 | $459,163 | $187,293 | $36,339 | $23,364 | $0.08 |
| Aug-00 | $589,381 | $241,284 | $70,009 | $43,578 | $0.15 |
| Nov-00 | $602,004 | $246,080 | $64,592 | $40,665 | $0.14 |
| Feb-01 | $746,107 | $311,802 | $101,898 | $64,315 | $0.22 |
| May-01 | $575,833 | $234,959 | $45,602 | $30,007 | $0.10 |
| Aug-01 | $713,636 | $291,342 | $84,672 | $53,954 | $0.18 |
| Nov-01 | $759,438 | $311,030 | $83,749 | $52,964 | $0.18 |
| Feb-02 | $879,055 | $370,235 | $132,077 | $82,674 | $0.28 |
| May-02 | $776,798 | $318,362 | $72,701 | $46,299 | $0.15 |
| Aug-02 | $903,044 | $370,335 | $119,687 | $75,459 | $0.25 |
| Nov-02 | $936,030 | $386,224 | $119,228 | $75,112 | $0.25 |
| Feb-03 | $1,049,292 | $443,626 | $168,441 | $105,309 | $0.35 |
| May-03 | $893,868 | $367,180 | $90,450 | $57,508 | $0.19 |
| Aug-03 | $1,111,445 | $459,145 | $155,867 | $97,208 | $0.32 |
| Nov-03 | $1,174,740 | $486,987 | $161,459 | $100,506 | $0.33 |
| Feb-04 | $1,297,928 | $563,352 | $231,567 | $144,248 | $0.47 |
| May-04 | $1,100,917 | $456,774 | $128,707 | $82,049 | $0.27 |
| Aug-04 | $1,273,960 | $530,829 | $189,108 | $120,008 | $0.39 |
| Nov-04 | $1,305,155 | $548,152 | $190,978 | $121,927 | $0.40 |
| Feb-05 | $1,467,646 | $650,546 | $283,621 | $180,980 | $0.59 |
| May-05 | $1,244,421 | $520,781 | $150,884 | $98,903 | $0.33 |
| Aug-05 | $1,431,182 | $601,784 | $217,877 | $141,402 | $0.47 |
| Nov-05 | $1,448,680 | $615,363 | $205,493 | $134,620 | $0.45 |
| Feb-06 | $1,685,279 | $747,820 | $304,917 | $197,922 | $0.67 |
| | | | | | |
| --- | --- | --- | --- | --- | --- |
| May-06 | $1,395,963 | $590,098 | $148,750 | $100,431 | $0.35 |
| | | | | | |
| --- | --- | --- | --- | --- | --- |
| Aug-06 | $1,607,239 | $678,249 | $219,622 | $145,535 | $0.51 |
| | | | | | |
| --- | --- | --- | --- | --- | --- |
| Nov-06 | $1,619,240 | $704,073 | $211,134 | $142,436 | $0.50 |
| Feb-07 | $1,994,987 | $862,982 | $309,895 | $205,842 | $0.72 |
| May-07 | $1,553,293 | $646,109 | $154,391 | $104,647 | $0.38 |
| Aug-07 | $1,767,716 | $732,158 | $211,037 | $147,008 | $0.55 |
| | | | | | |
| --- | --- | --- | --- | --- | --- |
| Nov-07 | $1,794,747 | $747,866 | $203,152 | $138,232 | $0.52 |
| | | | | | |
| --- | --- | --- | --- | --- | --- |
| Feb-08 | $1,933,186 | $799,098 | $259,442 | $172,921 | $0.66 |
| | | | | | |
| --- | --- | --- | --- | --- | --- |
| May-08 | $1,648,491 | $656,000 | $118,819 | $76,777 | $0.30 |
| | | | | | |
| --- | --- | --- | --- | --- | --- |
| Aug-08 | $1,853,892 | $739,321 | $187,421 | $119,268 | $0.46 |
| | | | | | |
| --- | --- | --- | --- | --- | --- |
| Nov-08 | $1,782,683 | $692,857 | $136,374 | $87,700 | $0.34 |
| | | | | | |
| --- | --- | --- | --- | --- | --- |
| Feb-09 | $1,923,274 | $785,058 | $231,282 | $141,378 | $0.55 |
| | | | | | |
| --- | --- | --- | --- | --- | --- |
| May-09 | $1,694,340 | $666,818 | $142,304 | $87,172 | $0.34 |
| | | | | | |
| --- | --- | --- | --- | --- | --- |
| Aug-09 | $1,914,909 | $773,393 | $222,031 | $135,531 | $0.52 |
| | | | | | | | | | | | |
| --- | --- | --- | --- | --- | --- | --- | --- | --- | --- | --- | --- |
| Nov-09 | $1,975,465 | $812,412 | $245,611 | $151,288 | $0.58 | | | | | | |
Finally, here's a BBBY's trailing four-quarter EPS with the red being the company's forecast: