In 2010 few people knew about the Eagle Ford formation. The field's lack of name recognition was justified by the fact that it was only producing about 30,000 barrels per day, while now it is thought to have crossed the million barrel per day mark, bringing it into a very exclusive category of fields around the world. It all happened very unexpectedly and together with the Bakken development took the oil markets by surprise. The fast-paced rate of increase in production was a rebuttal to anyone who ever tried along the way to point out any specific flaws with the assumption that this is a long-term bullish trend for production expectations. It was hard indeed to argue against production rocketing up, often defying even what at times seemed overoptimistic expert expectations.
The imminent hangover:
The EIA recently started publishing a tight oil and gas drilling productivity report, detailing such factors such as "legacy oil production change", which in the case of Eagle Ford shows that it now takes over 80,000 barrels per day in new production to be added each month, just to keep the field from going into decline. At the moment the EIA is forecasting 105,000 barrels per day in new supply, which means that production will increase for now. If we look at recent drilling rate trends as well as the rate of increase in the existing well decline rate we can only conclude that Eagle Ford will peak sometime next year.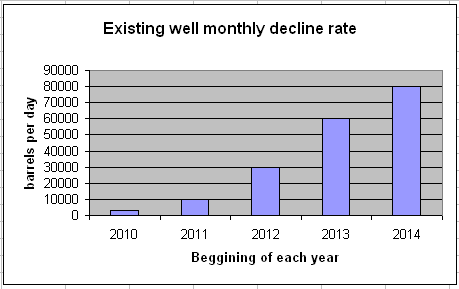 Note: Data source EIA. The expected rate of existing well decline I used for the beginning of 2014 is actually the EIA forecast for November of this year, so by January, 2014 it might be slightly different than the 80,000 barrels per day I assumed.
As the chart shows the trend is towards existing well decline rates taking a monthly bite into production of as much as 100,000 per day by the end of next year. Some may be tempted to argue that while this may be true, we should also expect to see an increase in well drilling rates next year, which will increase the monthly new supply addition to over the expected 105,000 barrels per day we will likely see this month.
The Texas Railroad Commission data on new drilling permits for Eagle Ford tells us a different story. Over 4,100 new wells were drilled in 2012. This year, as of the end of September just over 3,000 drilling permits were issued, so unless the trend picks up significantly in the last three months of the year we will see a slight decline in new wells drilled in 2013. An EIA study on total potential wells that can be drilled in the Eagle Ford and Bakken tells us that ultimately we should expect about 22,000 wells to be drilled in the Eagle Ford (link). We are already at the halfway point as of the end of this year. Assuming that the EIA study is approximately correct, we would run out of places to drill by the end of 2016 if we were to maintain the rate of wells drilled per year at over 4,000.
Financial aspect.
A report published a while ago was the first time it raised alarm bells in my mind in regards to the overall profitability of the Eagle Ford field. It was an investment forecast predicting that in the 2012-15 period, a total of almost $120 billion dollars will be invested in the field (link). Add to that another $30 billion or so invested in the 2010-11 period and we have a total of $150 billion invested by the end of 2015. We now know enough about the most likely scenario for future production in 2014, as well as 2015 to be able to give an approximate guess in regards to the total value of oil produced by then. By the end of this year, total cumulative production from the beginning of 2010 until the end of this year will be about 600 million barrels. Assuming an average sale price of about $85 a barrel, the total value of the oil extracted so far is about $51 billion. Assuming average production of a million barrels per day in the 2014-15 period, and an average price of $90 a barrel, we get another $73 billion, for a total of $124 billion. In other words, the field will not break even by the end of 2015, when it is an absolute certainty that the field will be in decline. I should note that not all Eagle Ford production as counted by the EIA is actual crude oil. Some of it is NGL, which on average fetches a lower price than crude. That is why my assumption for the average price of oil sold at Eagle Ford is lower than the current WTI spot price.
Company profitability claims in question.
We have no way of knowing the exact date of decline, the rate of decline as well as the rate of investment going forward once decline starts to set in. What we know for certain now is that the Eagle Ford development will not break even by the time production decline will set in. We also know that even as the field declines, large sums of money will be needed to continue drilling just to slow the pace of decline. We also know that most of the 11,000 wells drilled as of the end of this year are of much higher geological quality than the rest of the wells yet to be drilled. All these factors, which we are gradually learning about, are reason to worry about the prospect of an increasing number of investments in the field not managing to reach a financial breakeven point. Assumptions of average Eagle Ford breakeven price in the $50-60 range now seem increasingly overoptimistic to say the least (link).
A more realistic scenario will be breakeven in the $80-100 range. We should remember however that this may be the average breakeven price, while for some companies the actual breakeven price will be closer to the $50-60 range, rather than the one I am forecasting given latest data. That implies however that many companies will suffer loses, which might only become apparent towards the end of their project, by which time it will be too late for many investors to avoid taking loses as well.
It is understandable that many people took investment positions in shale oil producers in the Eagle Ford given the euphoria created by the first years of impressive production ramp-up. It is now time to sober up however and start looking at these companies in more minute detail. Aside from reading their quarterly statements and projections for the future, it is wise to also look at the big picture. For instance, it does not hurt to look at the location of firms claim portfolio and compare average county productivity differences. Shell Oil for instance was heavily invested in Dimmit County, where average well productivity rates are bellow the Eagle Ford average (link). The fact that they recently decided to divest their holdings should therefore come as no surprise. I don't think we should be surprised if many other companies will follow suit in coming years either.
Disclosure: I have no positions in any stocks mentioned, and no plans to initiate any positions within the next 72 hours. I wrote this article myself, and it expresses my own opinions. I am not receiving compensation for it (other than from Seeking Alpha). I have no business relationship with any company whose stock is mentioned in this article.