For those traders looking for a contrarian play, Arch Coal, Inc. (NYSE: ACI) may be the stock for you. An avalanche of negative press about the coal industry's long-term outlook, relatively weak coal prices, and savage environmental attacks on the industry from new Environmental Protection Agency (EPA) guidelines have cratered this stock during the last five years.
From its high of $69.66 in June 2008, ACI's stock has dropped nearly 94 percent to trade at $4.53, but the stock has recently rebounded, up 31 percent from the all-time low of $3.45 in June.
How ACI Got into Trouble
Heavy acquisitions during the coal price boom of 2000-08 caught ACI's management with their pants down when runaway energy costs slammed into a wall in 2008. Overall, prices of all grades of coal took a nosedive, exposing ACI's huge Appalachian operation as an inefficient and costly albatross around the neck of the company's P/L.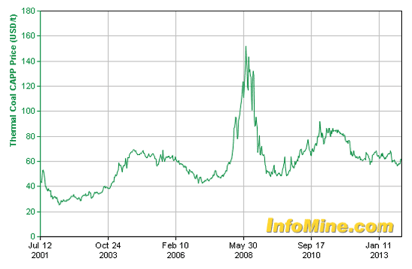 Source: InfoMine.com
In response to radically lower per tonne prices, company management curtailed operations at Powder River Basin and shut much of its mines in Appalachia, with the latter contributing to the bulk of the $523.6 million and $346.4 million impairment due to mine closures and goodwill, respectively, for 2012, leaving the company with a massive loss of $683.9 million for the year-compared with a profit of $141.7 in 2011.
Going forward, further impairments to Appalachia operations are expected, but the bulk have already been taken in 2012.
In 2012, investors' hopes of returning to the days of fat 10-percent-plus profit margins of 2008, when earnings reached $354.3 million on $2.98 billion of revenue, and a $2.47 per share profit, were shattered. As a result, ACI got pounded by investors, uncoupling from its correlation with the IYM, the Basic Materials ETF. See the comparative graph, below.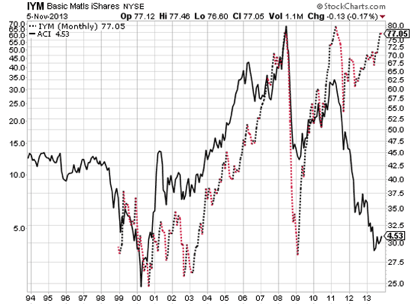 Stable Fundamental Outlook for ACI May Infer a Bottom Is In
On Aug. 8, credit rating agency Moody's Investor Service upgraded its outlook for the coal industry, citing analysis that suggests coal-fired plants will capture 40 percent of electricity generation in the US, up from 2012's 37 percent print.
Though Moody's doesn't expect any significant rebound in economic activity (neither do I) in the next 12 to 18 months, further deterioration of the coal market fundamentals has markedly slowed, led by the expectation of firming natural gas prices into 2015.
"The stable outlook reflects our expectation that over the next year or so coal-fired power plants will capture roughly 40% of US electricity generation, up from 37% in 2012," stated Moody's. "Coal inventories had fallen to roughly 164 million short tons by July this year, so we expect modest improvements in thermal coal production and pricing next year."
Powder River will gain market share at the expense of Appalachia, which is 'a wash' for ACI, as the company operates in both regions.
Technical Picture With Help From the Fed Now Favors Buyers
Risk-On Trade Excellent Catalyst for Battered Stocks
Thursday's 9.1 percent move higher in ACI and the 1.8 percent move in the coal ETF (NYSEARCA:KOL) came suddenly and without news, strongly suggesting that the algo traders, whose bets completely dominate the market these days (grossly unappreciated by many investors), continued to pick up the market's stragglers for the upcoming ride on more Fed 'liquidity'. ACI's throw-away stock price against Peabody Energy's (NYSE:BTU) decisive breakout move on Oct. 30 wasn't overlooked by the machine traders very long.
The stock now appears to be playing catch-up to its healthier rivals.
Don't Fight the Fed-Just Yet
As the Fed prepares to increase its purchases of Treasuries and MBSs (in my opinion), ACI's chart suggests mightier moves in the short term to BTU's already-impressive move from the June lows, with a target price of $5.25 for ACI clearly apparent on the chart.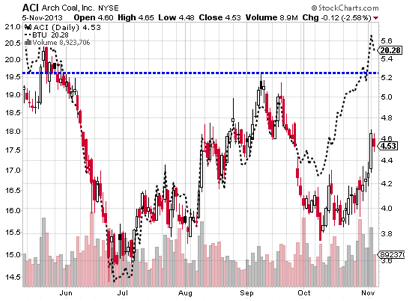 Comments made by St. Louis Federal Reserve President James Bullard on Monday that the Fed should no longer be talking about "tapering" (because the Fed will be hinting at increasing purchases, by December, again, in my opinion), reinforces the thesis of the 'risk-on' trade making a serious comeback with the algos in the materials space. ACI's battered price could provide some unusually high beta for your portfolio as 'everything material' moves way up as a basket, with the most depressed leading the least depressed.
Seasonality Trends
Adding to my optimistic short-term outlook for further Fed liquidity measures to lift the coal space, is the industry's historical seasonal strength in the fourth quarter. As Todd Campbell of Gundalow Advisors, LLC rightly points out in his article of Oct. 3, materials stocks typically fare very well in Q4. According to Campbell's research, "[t]he basic materials ETF (NYSEARCA:IYM) has gained in 9 of the past 10 Q4's, returning an average and median 6.71% and 8.7%, respectively."
Watch for Another Short Squeeze
And, in the case of ACI, too many shorts have entered the market, arming the longs with much dry powder for a short squeeze. Courtesy of Short Analytics, traders of ACI won't give up on the short trade as the price of the stock rises The chart, below, suggests that traders could be stepping in front of a coal freight train during an algo melt-up trade in the sector.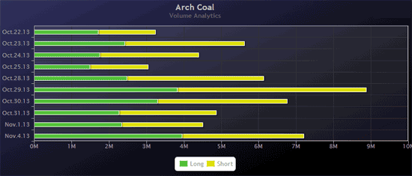 Monday's put/call ratio on ACI's underlying common share took a dive, with "[a] total of 19,814 call and 3,666 put contracts" traded for the day, or a 5.4-times call-to-put volume, according to Avafin.
Conclusion
Though ACI expects further write downs from its Appalachia operation, that fact is already priced into the stock, along with the well-publicized and telegraphed new EPA's guidelines for the coal industry, which, in this case, only affects new mine production.
ACI's stock appears to have exhausted itself to the downside, consistent with another severely battered mining group: gold stocks. All miners have been getting a bid of late, as valuations haven't mushroomed along with many other sectors.
The Fed's capitulation to continue its quantitative easing (money printing) has served up a serious blow to the Fed's credibility to stop the future slide of the US dollar. In this environment, the commodities complex is poised for another run, taking natural gas and coal to higher levels, in dollar terms.
As ACI continues to cut costs, a higher per-ton coal price could shake up the company's P/L and investor enthusiasm for the stock. A move above $5.25 could spook the shorts to unwind their positions, which represent a relatively large 17 percent of the float, according to Yahoo. The bulls could be in full charge of this stock above $5.25 or by year-end, as seasonal demand for this sector by hedge funds rotates in.
Disclosure: I have no positions in any stocks mentioned, but may initiate a long position in ACI over the next 72 hours. I wrote this article myself, and it expresses my own opinions. I am not receiving compensation for it (other than from Seeking Alpha). I have no business relationship with any company whose stock is mentioned in this article.