Copper, nickel, gold, platinum, palladium, all have been rocket ships. The commodity markets have been giving these guys lots of love. And the miners who dig them out have been super-charged. These metals have one thing in common --they have a "future", or to be more precise, they trade on the futures exchanges. And then, there are the orphans, the minerals the markets have left behind, abandoned: molybdenum and cobalt. They only have distant memories of a glorious past when their pricing was high, leaving only a disappointing present, and a cloudy, hard-to-see future. That's about to change.
First, the past -- so much promise. The chart shows the molybdenum and cobalt's peak to over $45 in 2005 and and 2006 respectively. No longer. Their markets have cratered. The present has been ho hum for molybdenum and cobalt compared to nickel, palladium, and copper.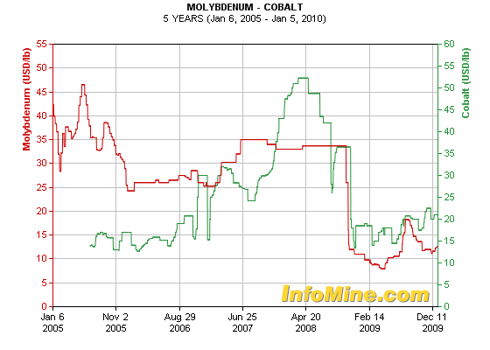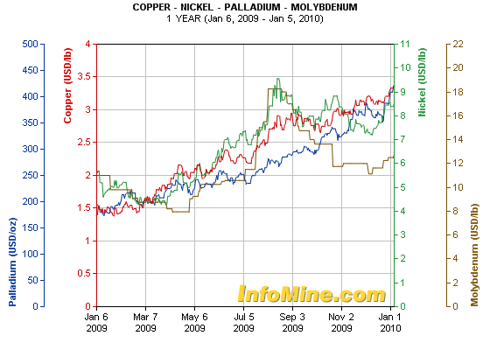 Molybdenum and cobalt have underperformed. The other metals took off while cobalt and moly hibernated. Moly a year ago was trading at 8.5x the price of copper, now it's only 3.5x the price. Moly to nickel was at 2.6x, now at 1.4x. At molybdenum's peak in 2005, it was trading at a price 28 times that of copper.
But, moly and cobalt are going to have a future, and that future comes next month when the London Metal Exchange (LME) launches the first ever futures market for these ignored minerals. These minerals have been priced too low compared to those already traded in the futures market. The added sauce to the coming moly/cobalt price surge will be the speculators. Copper, nickel, aluminum have all been climbing despite big run ups in stores.
The future for those that mine molybdenum look bright. TC has underperformed these last 6 months. We championed the stock in the past and told investors to get out at $14.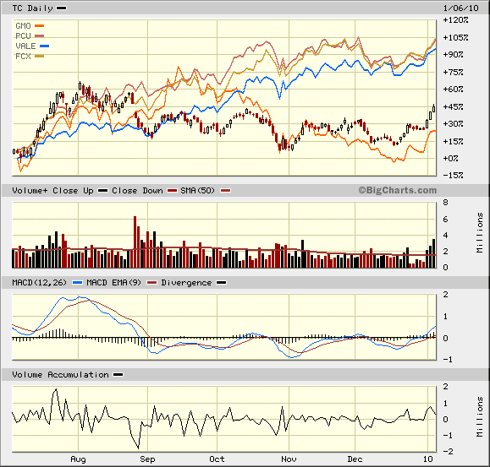 Thompson Creek (TC) spooked investors in August when it did a large secondary offering. Investors worried that the company would buy another miner at inflated prices. The boards had been full of guesses at what it would buy. No one thought it would do the obvious with the cash: invest in itself. TC recently announced a massive build out of its mining assets.
Management has been superb at timing the molybdenum market. They bought the company right before the molybdenum market heated up. At the very top, when the stock price was about $22, they did a large stock offering. That was immediately before the great commodity and market crash. As a result, they went into 2009 with a boat load of money. Other companies were cash poor.
I think molybdenum is poised for a massive comeback in large part to the upcoming launch on LME. TC is a great way to play it.
Disclosure: long TC