North America's biggest farm retail outlet operator Agrium Inc. (AGU) reported last night adjusted Q3 earnings per share of 50 cents on $2.87 billion USD in revenues (52 cents headline minus 2 cents items).
Compared to last year, earnings were down 61.2% from last year's $1.34 adjusted Q3 earnings. They also missed the average analyst estimate of 57 cents (range of 35-69 cents) but beat estimated revenues of $2.82 billion (range $2.42-$3.23 billion). The stock was down at the opening, then rallied to $88.11 on some brokerage firm upgrades, and is currently (3pm) trading almost flat at $87.30 US on the NYSE.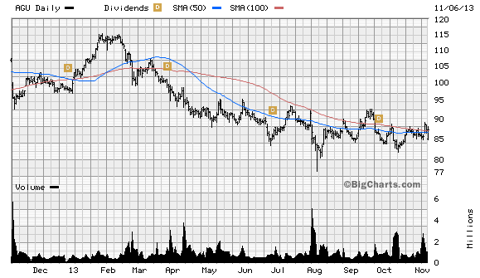 Click to enlarge
Although Agrium's Q3 was a "miss" in analyst parlance, the company had already warned on September 23 that the quarter would be ugly in the wholesale division, due to as much as 30% lower nutrient sales volumes on top of a decline in prices of as much as 30%. Thirty times thirty means a revenue shortfall of as much as 50%. In fact, results weren't as bad as expected in the potash and phosphate businesses.
But repeated plant outages marred the flagship nitrogen fertilizer business. More on that below.
In the September press release, we were told the retail division, however, would be good, better than the drought stricken 2012 quarter, with results approaching the stellar Q3 of 2011.
It should be noted Agrium also released Q4 earnings guidance yesterday of 80 cents to $1.25 per share. This was also a miss and below the $1.51 average estimate tracked by S&P/Capital IQ.
Therefore, the full year 2013 is shaping up to come in at $7.30 to $7.75 depending on the average yearly share count, as the company has been actively buying back shares, buying back another 2.2 million shares at approximately $85 each, during the month of October.
As I have previously written, companies with declining earnings can also use overly aggressive share buybacks as a way to boost EPS by reducing the share count while telling shareholders they are "returning capital."
Retail Division Performance
What stood out for me was the impressive performance of Agrium's retail segment. I have been recommending the stock based on retail being a defensive asset in a declining crop and fertilizer price environment, and I was not disappointed.
Worldwide retail sales in Agrium's Q3, a normally slow period in the USA between the spring and fall, showed reasonably strong business, due to the late and wet spring planting season pushing activity into the summer. I predicted the wet climate would lead to more nuisance weeds and fungi causing extra chemical application, and this is what happened. Retail sales were $2.1 billion, up 15%, and EBITDA was $147 million, up 21.5% from $121 million quarter over quarter. Crop protection sales were up 26% whereas fertilizer sales were up only 3.2%. Seed sales were up 23% and sales of merchandise (primarily in the Landmark Australian business acquired in 2010) were up 16.2%.
I've argued that the Agrium farm retail business is a unique service-oriented network which is hard to reproduce by competitors, both in terms of wide geographic coverage in the US, Australia and Argentina, and the strong relationships it develops with agricultural customers. Q3 service revenues were up 22.8% over 2012, as Agrium's massive US Crop Production Services arm offers testing, consulting and product application services as needed by farmers to maximize crop yields.
Wholesale Division Performance
Here is a chart of the Agrium fertilizer production business, also called the "wholesale" division.
Agrium wholesale product revenues, volumes and avg. prices
| Nutrient | Q3 2013 | 9Mth 2013 | Q3 2012 | 9Mth 2012 |
| --- | --- | --- | --- | --- |
| Potash Sales | $93 million | $457 million | $80 million | $465 million |
| Potash Volume | 265,000 mt | 1.187 million | 160,000 mt | 981,000 mt |
| Potash Price | $349/mt | $385/mt | $503/mt | $489/mt |
| Phosphate Sale | $122 mill. | $495 million | $183 mill. | $596 million |
| Phosphate Vol. | 192,000 mt | 741,000 mt | 260,000 mt | 816,000 mt |
| Phosphate Pr. | $566/mt | $668/mt | $650/mt | $730/mt |
| Nitrogen Sales | $286 mill. | $1.309 billion | $424 mill. | $1.426 billion |
| Nitrogen Vol. | 636,000 mt | 2.485 million | 819,000 mt | 2.763 million |
| Nitrogen Price | $450/mt | $527/mt | $517/mt | $531/mt |
| AMS Sales | $41 million | $224 million | $45 million | $219 million |
| Resale Sales | $210 mill. | $891 million | $254 mill. | $1.037 billion |
Agrium's potash revenues were actually up for the quarter, as the only mine, Vanscoy, was down for only two weeks versus an extended shutdown during last year's quarter. The 65.6% higher potash volumes offset a 30.6% lower average price. Potash sales were split 68% domestic and 32% international, due to the international market being placed in a virtual standstill in the wake of Uralkali (OTC: OTC:URALL) and Belaruskali breaking up. I wrote about the break-up here.
The potash business earned $27 million gross profit compared to $23 million the year before, and the gross margin per ton was $103 versus $140 last year.
The phosphate business was hardly profitable if at all during the quarter, with $7 million in gross profit compared to $47 million a year ago. Agricultural phosphate is declining in price in concert with potash.
In addition, I believe The Mosaic Company (NYSE:MOS) selling a combination sulfur/phosphate product line called MicroEssentials is taking share from straight MAP (monoammonium phosphate) producers such as Agrium. Sales volumes declined 26% and prices declined 13%. To make matters worse, Agrium now depends on imported phosphate rock given the Kapuskasing mine is being retired. Gross margin per ton was only $38 in spite of the fact Agrium has low sulfur and ammonia input costs for its Redwater phosphate facility. The Conda facility in Soda Springs, Idaho, probably suffered due to lack of demand during the summer.
Agrium's nitrogen production has been the most profitable wholesale segment for several years, with over 3 million metric tons of ammonia capacity and 5 million tons of finished product capacity.
Unfortunately, the company suffered from outages at two of its five Alberta nitrogen plant facilities, which slowed production during Q3, and increased costs due to maintenance. The nitrogen segment produced only $76 million in gross profit, compared to $215 million in the quarter last year, on sales of 636,000 tons versus 819,000 tons.
The first plant outage which amazingly was still ongoing in late October occurred at the Carseland Alberta plant (capacity 535,000 mt gross ammonia, 680,000 mt urea, 135,000 mt net ammonia for sale).
The Carseland facility which is located just east of Calgary was closed for a major unplanned turnaround which was brought forward from October to June and took three weeks longer than expected. Lost production was 40,000 tons of urea. This was not disclosed during the Q2 earnings call. The Redwater ammonia #2 plant, the company's largest, suffered a heat exchanger failure on May 24 (disclosed May 31), and was down until sometime in June.
The largest fertilizer complex in Canada, Agrium Redwater produces 1,750,000 tonnes of nitrogen product each year, including 960,000 tonnes of anhydrous ammonia from two plants. Most of this ammonia is then used at other plants in this complex in the manufacture of ammonium nitrate (250,000 tonnes), ammonium sulphate (355,000 tonnes), urea (720,000 tonnes) and UAN (Urea Ammonium Nitrate solution--180,000 tonnes), as well as 660,000 tonnes of monoammonium phosphate. The remaining ammonia (250,000 tonnes) is sold for agricultural, industrial and refrigeration purposes.
Here is the production capacity of the unit that has failed due to a faulty heat exchanger: The Redwater #2 nitrogen annual plant capacity by product is as follows: 680,000 tonnes of gross ammonia, 250,000 tonnes of net ammonia, 720,000 tonnes of urea, 180,000 tonnes of nitrogen solutions, 250,000 tonnes of industrial ammonium nitrate and 355,000 tonnes of ammonium sulphate.
Amazingly, this same heat exchanger failed again on October 15, even though this was not disclosed until two weeks later. The October 31 press release says the whole unit will be down until November 20, and the outage will cost the Q4 20 cents. But a replacement part will not be delivered until sometime in May next year.
Due to these outages at major nitrogen facilities, Agrium's cost of nitrogen product was $331 per ton, during a time when natural gas cost the company only $3.16 per mmBTU, implying an ammonia raw materials cost of only $120 per metric ton using standard industry benchmarks. Gross profit per ton was $119 versus $262 last year's quarter.
According to the company, the Redwater ammonia plant will be out for at least five weeks this fall and would equate to 65,000 metric tons of lost ammonia product. This will reduce finished phosphate production at the sister ammonium phosphate plant in the same complex but the company says it will not impact Q4 sales. This lack of fertilizer production could not happen at a worse time, as Canadian prairie farmers harvest a record crop and look to replace nutrients drawn out of the soil during the short fall application season.
A beneficiary of the Agrium Redwater and Carseland plant problems could be CF Industries Holdings' (NYSE:CF) Medicine Hat, Alberta, plant, or the Yara International (OTCPK:YARIY) Belle Plaine, Saskatchewan, urea plant.
Alternatively, a slack market may cause the lack of production to actually firm up the price of phosphate and ammonia, which have been weak. This is probably why the stock did not drop further when the initial disclosure was made at the end of October. But why does the company not announce major problems to the investment community as soon as they occur?
It could be the components and pipes or "Iron" of Agrium's ammonia plants are just plain old. These plants were owned by Imperial Oil (IMO) and probably built in the 60s and 70s. The plants were bought out when Agrium acquired Viridian in 1996.
I think the Agrium retail farm business is worth the entire share price of Agrium. The whole company is valued at $15.6 billion USD in stock and debt as of the current price. An enterprising private equity firm should buy Agrium in concert with institutional investors, and spin off the wholesale division and save the retail and advanced technologies divisions.
Agrium has had a checkered record in its international wholesale exploits, with curtailed natural gas impacting the Argentine Profertil nitrogen fertilizer operation in Q3 to the tune of 57 days compared to 24 days last year. An election in Argentina could bode for better times at Profertil but political instability continues to dog Agrium's ventures. The MOPCO Egyptian plant is plainly in the wrong country at the wrong time, although the company's exposure is limited to its equity stake. The company also wrote down its interest in Hanfeng Evergreen (OTC:HFGVF) by a further $12 million.
Valuation
The retail business has a target EBITDA level of $1.3 billion in 2015. Regulatory approval of the Viterra Canadian store acquisition (200 plus outlets) was obtained and the deal closed on October 1st.
Given the track record of the outgoing CEO, Mike Wilson, we can only suggest this to his successor, Chuck Magro: get out of wholesale and concentrate on being close to your customers.
Given the revised 2013 EPS range of $7.30 to $7.75, we could see the stock trading at 10X the higher end of the range, or $77.50 USD. However, on an equity buyout basis, we had estimated the company could be worth more than that, as much as $170 per share.
Agrium's stock price may not fall to $77.50 if management continues to buy back shares aggressively, or the market for nitrogen fertilizers, which has stabilized, turns up again. We get the USDA November WASDE and Crop Production reports tomorrow, which could move crop prices.

Agrium Private Equity Valuation April 2013
USD Millions
Current EBITDA
Target EBITDA
Multiple
Value
Global Retail
$952
$1,300
9.5
$12,350
Cdn Nitrogen
$850
$950
6.0
$5,700
Potash
$350
$500
8.0
$4,000
US Nitrogen
$280
$300
8.0
$2,400
Phosphate
$200
$200
5.0
$1,000
Advanced Tech
$43
$100
10.0
$1,000
Other Wholesale
$100
$125
5.0
$625
Profertil
$100
$100
5.0
$500
MOPCO
$0
$50
5.0
$250
Resale Business
$40
$40
2.5
$100
$2,915
Total
$27,925
Less LTD
($2,115)
Equity
$25,810
Fully diluted shares
151.1
Per share value
$170.81
Current Market Price
$92.69
Premium over MP
84.29%
The market for wholesale assets however, has faded since that time.
Nevertheless, a forward-thinking investor should surmise that a lower corn acreage planted next year in the US, and a lack of a Brazilian second "safrinha" corn crop, would be supportive of higher prices for nitrogen fertilizers, and the sun could shine again on Agrium's nitrogen assets.
Disclosure: I have no positions in any stocks mentioned, and no plans to initiate any positions within the next 72 hours. I wrote this article myself, and it expresses my own opinions. I am not receiving compensation for it (other than from Seeking Alpha). I have no business relationship with any company whose stock is mentioned in this article.