This week, Pandora (NYSE:P) released its audience metrics for October. The bulls, no doubt, were heartened by growth in total listener hours to 1.47 billion from 1.36 billion in September. Hours per listener also increased. Note, however, that one extra day in October accounts for 45% of the increase in total hours and 33% of the increase in hours per listener. More importantly, the company lost 1.8 million active listeners.
The following chart shows the total hours and hours per listener adjusted for the number of days in each month: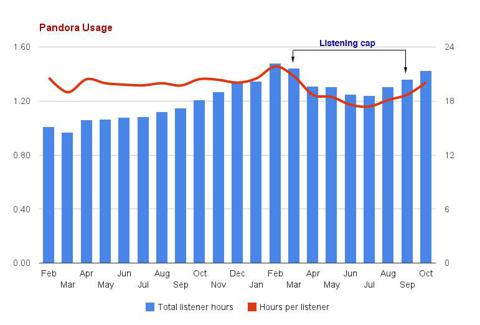 It shows consistent growth in total listener hours until February of this year, when the company instituted a 40 hours per month listening cap on mobile devices. This cap has been lifted in September, and the metrics are trending up - back to the levels seen earlier this year.
Total listener hours per day in October of this year are still below the level reached in February. The number of active listeners declined to the level last seen 6 months ago.
A company that trades at forward P/E of 112 is supposed to grow by leaps and bounds, not stagnate for most of the year.
Note that growth in total listener hours is a double-edge sword. On the one hand, it increases potential revenues, although the company still has to find advertisers willing to pay for the additional ad slots at the same rates. On the other hand, it automatically increases the royalties the company must pay for music it plays.
The reduction in active listeners is attributed mainly to the launch of iTunes Radio by Apple (NASDAQ:AAPL). I must note, however, that the growth in active listeners peaked in December of 2012, and it has been quickly decelerating ever since.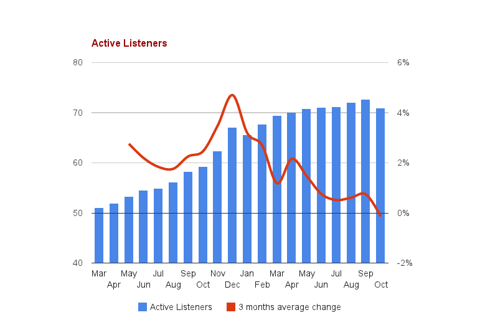 October audience metrics may have underestimated the damage from iTunes Radio. Every person who accessed Pandora radio even for a minute during a month counts as an "active listener". The number of active listeners for October does not include anyone who quit using the service after October 1.
As more and more people try iTunes Radio, we may see continued decline in Pandora listeners. Some earlier studies indicated that 34% of iTunes users may switch to iTunes Radio from other services. It is quite possible that the defection rate will go up as Apple improves iTunes Radio, and as subscriptions for Pandora One service come up for renewal.
Over 30% of all Americans who listen to any kind of radio are active Pandora listeners, so every new powerful entrant into the Internet radio space is likely to take away market share from Pandora. If YouTube launches a new music service by the end of this year, as planned, we are likely to see the first ever year-over-year decline in Pandora usage by January.
The company does understand that it needs to expand into new markets in order to continue growing its customer base; there are simply not enough people in the U.S. to justify Pandora's valuation. The problem, however, is that the new markets will require substantial investments, pushing the profitability further out. The company is barely breaking even after 8 years in the U.S., where it had a first-mover advantage. It will be an underdog elsewhere, considering that almost every smartphone and tablet in the world now comes with a competitor's app preinstalled (iTunes Radio, Google's All Access, or Xbox/Nokia Music).
Conclusion
While the total listener hours increased, hours per listener simply reverted back to their long-term norm following the removal of a listening cap on mobile devices. Going forward, total listener hours will more closely follow the number of active listeners.
The growth in the number of active users has been decelerating all year, culminating in the loss of 1.8 million listeners in October. The only way the company can grow into its valuation is by dramatically raising the rates it charges advertisers and/or inserting more ads into each hour of music. And even that might not matter if the number of listeners continues to decline.
October audience metrics confirm the negative trends and validate the bearish case. I remain convinced that we will see Pandora shares below $10 within the next 6-12 months.
Disclosure: I am short P. I wrote this article myself, and it expresses my own opinions. I am not receiving compensation for it (other than from Seeking Alpha). I have no business relationship with any company whose stock is mentioned in this article.