Editor's Note: This article covers a micro-cap stock. Please be aware of the risks associated with these stocks.
Food Technology Service (NASDAQ:VIFL) is a simple thesis -- a growing industrial processing company with 35% operating margins, a reasonable valuation, and a potential takeover from a private equity buyer on the horizon.
Business Overview
Food Technology Service is in the business of sterilizing medical, food, and consumer products using gamma radiation technology. The process is relatively straightforward: the company receives its customer's products at its facility and passes them on a conveyor belt past a Cobalt-60 source. The process sterilizes the products and they are returned to the customer for use. The company owns and operates a single large facility in Mulberry, Fla., through which it provides all of its sterilization services.
The company began operation in 1985 with the goal using irradiation technology for food products, particularly fish, pork, and fruits/vegetables. Despite the technology's promise, delays in FDA approvals and tepid consumer acceptance of irradiated food products threatened the company's survival early on in its existence. Faced with the urgent need to diversify its revenue base, the company began aggressively marketing the process to medical device companies in need of sterilization services. This effort was met with great success -- the medical device segment represents over 60% of Food Technology's revenues today.
Though the FDA has now approved gamma irradiation for many food types, consumer acceptance of the process remains slow and the market has failed to live up to the company's expectations. The FDA requires all irradiated food products be labeled with the international Radura logo, which despite its benign appearance, has caused apprehension among retailers. The company has also begun to sterilize cosmetics and miscellaneous consumer products but medical devices remain the primary revenue driver for the business.
What really drew my attention to the company was Food Technology's operating margins, which had been running over 35% for the last few years. Achieving margins like these is almost unheard of for an industrial processing concern. For an industrial company to achieve these margins, it would likely require a combination of pricing power and a very lean operating structure, so I decided to give the company a closer look.
Food Technology is able to earn high margins and returns on capital primarily due to its location advantage. The products it sterilizes have a low value-to-weight ratio, meaning transportation costs erode away a competitor's ability to offer lower prices at a remote location. Surely companies in China could perform these services at a fraction of the cost but the logistical expense of shipping large quantities of product would far outweigh the cost benefits. Food Technology's flagship irradiation facility was the first in Florida and it has come to dominate the local medical device sterilization and food irradiation markets.
We can get some clues about Food Technology's regional advantages from analyzing the locations of their largest competitor, Sterigenics. Sterigenics services the entire United States and Canada through its 26 locations with each major market supporting no more than a few service centers. Notice a location in Florida is missing -- unusual given Florida's status as the second-largest medical device market in the country.
The company also has competitive advantages in the form of customer switching costs. The company's services are mission critical and its customers simply aren't likely to switch to an unproven supplier given the potential for catastrophic consequences. Failure to fully sterilize a batch of medical devices could cause multiple deaths and put a company out of business from the resulting lawsuits. For this reason, a government license is required to operate a gamma irradiation facility -- a time- and resource-intensive process that serves as a barrier to entry for potential competitors.
Financials
These competitive advantages have translated into an impressive financial performance by this small company:
Click to enlarge images.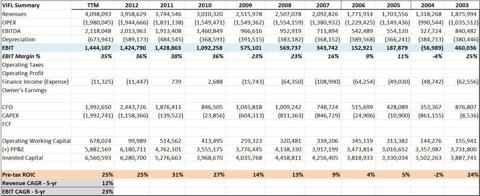 Click to enlarge
Revenues have grown at a healthy double digit pace over the last few years, outpacing growth in the medical device market. Processing and administrative costs are largely fixed, allowing for considerable operating margin expansion -- from 23% in 2008 to an astounding 35% over the trailing 12 months (TTM). This margin expansion has resulted in EBIT growing an average of 23% over the last five years, far outstripping revenue growth of 12% per year. Pre-tax return on invested capital (ROIC) has also been quite impressive, coming in most recently at 25% after having peaked at just over 30% in 2011.
The company has generated considerable free cash flow, though it has been lumpy due to the timing of capital expenditures. They have a pattern of stockpiling Cobalt 60 and then going years without any further purchases. Luckily, since Cobalt 60 is Food Technology's main source of capital expenditures, we can form a fairly robust estimate of their maintenance capex requirement. The Cobalt 60 in use declines at a rate of 1% per month, meaning 11% of the initial stock will need to be replaced over any given year. This means the 1,430,000 curries in use at the start of this year will require an expenditure of $448,000, assuming a price of $2.77/curry (based on a recent transaction with their supplier in July 2012). Allow a couple hundred thousand dollars for equipment upgrades and warehouse improvements, and the annual depreciation expense would appear to be a pretty good proxy for cash maintenance expenditures.
The company operates debt-free and has piled on cash to the balance sheet over years of strong performance. Given Food Technology's attractive business model, it trades at a modest valuation of 6.5x TTM EBITDA and 9.5x TTM EBIT: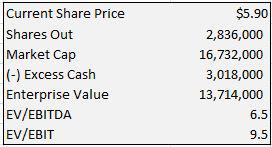 While the company has a strong market position and attractive economics, it just doesn't seem undervalued enough to give it the risk/reward potential I seek in my investments. I question the company's growth potential as consumer acceptance of food irradiation seems uncertain and sustained growth of the medical device market above GDP appears unlikely given the U.S. healthcare spending predicament. Furthermore, it is apparent the company has few investment opportunities for its large cash pile. The competitive advantages that allow it earn outsized returns are limited entirely to its single facility servicing the Florida sterilization market. This lack of scalability qualifies the company has having a niche, rather than the more desirable economic moat status. The company's Florida facility has capacity for 4x the current output and it seems their best hope for expansion is to develop new applications for their process in the food and consumer product markets.
Catalysts
A potential catalyst has recently emerged that has caused me to reevaluate the situation. Let's begin with a bit of history: On Feb. 25, 2011, the company's largest shareholder, Nordion, Inc., sold their 16.7% stake in the company to Fort Ashford Holding, LLC (a California Private Equity firm). Nordion is a Canadian firm that is one of the few suppliers of Cobalt 60 in the world. The company has had a long history with Food Technology Services -- it aided in the design and construction of their flagship facility and loaned the company money to keep it afloat in the early 1990s.
Since taking this initial stake, Fort Ashford proceeded to increase its position through open market purchases. Most recently, they purchased an additional 70,000-plus shares from CEO Richard Hunter at $6.50/share, taking their holdings to 29.9%. Beyond putting forth a proposal on the latest proxy to reinstate voting right for a portion of their holdings considered "control shares," Fort Ashford has done little in the way of communicating their intentions.
What ultimately got my attention was this SC 13D filed by Fort Ashford on Oct. 3rd:
On Sept. 27, 2013, Fort Ashford delivered a letter to the President of the Issuer demanding the Issuer to call a special meeting of shareholders for the purpose of removing Douglas Bell, David Nicholds and Ronald Thomas as directors.
So why is Fort Ashford calling for their heads? While current management can't be accused of destroying shareholder value, they haven't exactly been models of transparency either. The company holds no conference calls and the MD&A section in the latest 10K is a mere 395 words, shorter than many financial statement footnotes. I normally don't mind non-promotional management teams that focus on running their business, but with cash piling up on the balance sheet management, they have an obligation to communicate their capital allocation strategy shareholders.
Given Fort Ashford's line of business, we can make a reasonable assessment of their intentions. Food Technology is grossly overcapitalized and has durable cash flows, making it an ideal candidate for a leveraged buyout (LBO). Fort Ashford could use these cash flows to reduce debt in a classic LBO situation or harvest them for other attractive investment opportunities as Warren Buffet famously did with See's Candies. Or perhaps they see reinvestment potential in the existing business. Any of these alternatives would be far more attractive than the company's current practice of hoarding cash without identifiable reinvestment opportunities.
So what transaction prices are likely here? Given Fort Ashford was buying shares from the CEO at $6.50/share more than a year ago, it would be unlikely they could get away with paying shareholders any less than this. For an upper bound, we can look to a quick-and-dirty five-year LBO model: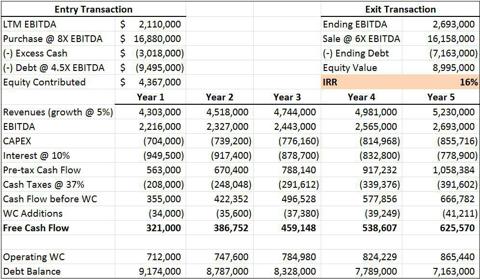 Click to enlarge
The model assumes Fort Ashford pays 8x LTM EBITDA today. Taking the midpoint of a typical LBO leverage range of 3.0-6.0x EBITDA, adjusted for the company's sizeable cash position, would result in them contributing about $4.4M in equity. The model assumes revenues grow at a conservative 5% per annum, half the historic rate, and capex and working capital all scale with revenues. The model gives no credit for potential EBITDA margin expansion that would likely occur given Food Technology's fixed cost base. All free cash flow is assumed to be used for debt reduction.
In the base case where Fort Ashford is able to exit the company around the current 6x EBITDA multiple, they can realize an attractive 16% IRR. This is about the lowest IRR a private equity firm would target so 8x EBITDA could be thought of a maximum purchase price. That said, it wouldn't be beyond a PE firm to form optimistic future projections and justify a higher price, so perhaps EBITDA multiples above 8 are possible.
With a range of potential transaction prices, we can look at some return scenarios for shareholders at today's share price: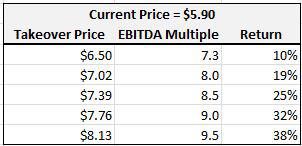 My best estimate would be a transaction in $6.50-$7.00 range and corresponding return of 10%-20%. Is the upside potential huge? Not by any means -- but I believe the strength of the thesis lies in the downside protection. Absent action from Fort Ashford, investors are left paying a reasonable price for a highly profitable company with a durable competitive position. The company has recession-resistant cash flows from its medical device sterilization business and a strong cash position to weather any potential downturn. And with Fort Ashford keeping a close watch, it is unlikely anything foolish will be done by management with their cash hoard.
Investors also get optionality in the form of potential revenue growth through increased adoption of irradiated food products, which the company can support at their facility without the need for much incremental capital. Heightened awareness of food safety from recent salmonella outbreaks could catalyze acceptance of the process and drive revenue growth. Or the aging baby-boomer population could keep the medical device market growing at a heady clip and help sustain the double-digit revenue growth Food Technology has experienced. Either of these scenario could be a boon for shareholders, as Food Technology's fixed cost base would allow much of this revenue growth to flow right to the bottom line.
There are a number of risks worth discussing with Food Technology. It is a micro-cap with just two customers representing 60% of its revenues -- the loss of either would have a large negative effect on their operations. Food Technology has only a single supplier of Cobalt 60, and if this relationship was to become strained, they could find themselves scrambling to secure a new source. And finally, though unlikely, a disaster at their single facility could put the company out of operation for some time or indefinitely. In light of these risks, I believe at a price below $6.00 share VIFL offers an attractive risk/reward potential with a firm catalyst on the horizon.
Disclosure: I have no positions in any stocks mentioned, but may initiate a long position in VIFL over the next 72 hours. I wrote this article myself, and it expresses my own opinions. I am not receiving compensation for it. I have no business relationship with any company whose stock is mentioned in this article.