This time last year going into the March 2009 lows "Lower Quality" stocks were priced for extinction, or the end of the world.

Las Vegas Sands (NYSE:LVS) in March 2009 had been beaten down from its October 2007 high of near $144, or a price to sales ratio of 17, to $1.42, or a P/S of 0.17. That's to say, back in October 2007 investors were willing to pay $17 for every $1 of Las Vegas Sands' sales (anticipated chinese gambling potential), and by March 2009 they were throwing the stock out with the bath water at 17 cents on the Dollar (too much debt and was going bust).

The shares at $19 are currently up 13.4 times from the March 2009 lows, and are trading at a P/S of 2.2. In other words investors are paying $2.2 for every $1 of Las Vegas sands sales. However, what should investors and potential investors in Las Vegas Sands do now?

Research from Ned Davis Research may help. They looked back at the previous 10 cases since 1974 of the ratio of bottom to top quintile returns around the beginning of bull markets. This research confirmed a strong inversion during the first three months of a new bull market. This "normal" inversion of outperformance lasted 15 months from the start of a new bull market.

The Ned Davis Research bottom chart below illustrates this and we have labeled it for the current bull market. It suggests that the current rally of outperformance in "Low Quality" stocks should last until June 2010; however, the gains from January to June 2010 are not expected to match those seen from March 2009 to December 2009.

Therefore, by June 2010 many of the "Lower Quality" recovery stocks will have more than fully priced in any earnings recovery and widespread profit taking is likely. It is better to climb the "Wall of Worry" than slide down the "Slope of Hope."

Returning to Las Vegas Sands, we are late in the day for further dramatic gains. However, the stock could continue to the upside into the April/June 2010 window (Elliot 5th wave up). A 200 day moving average could be used as a potential stop loss to protect profits.

In summary, "Lower Quality" stock outperformance from an historical perspective is entering its final quarter and close attention should be paid to valuations.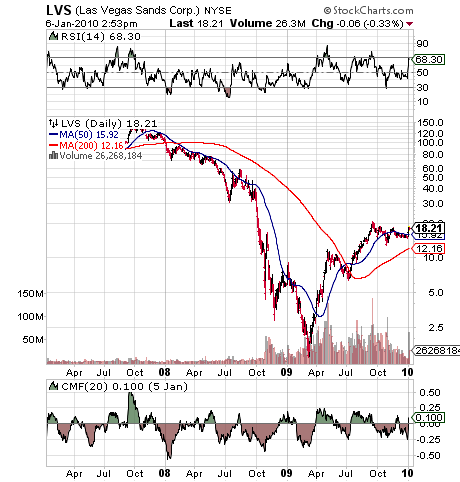 Source: Stockcharts.com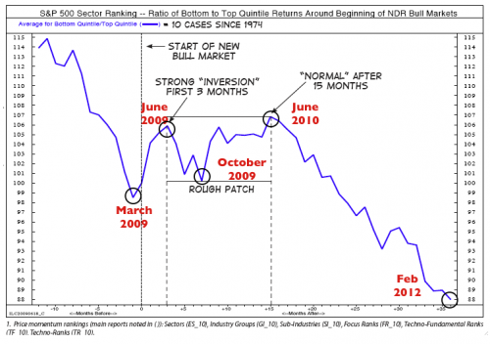 Click to enlarge

Source: Ned Davis Research
Click to enlarge

Disclosure: No positions