Facebook (NASDAQ:FB) has only recently reported it's quarter three results, as I predicted, it beat analysts' predictions soundly. The stock surged out of hours but the next day the gains didn't stick; it reported a fall in the valuable teenager market, which spooked investors.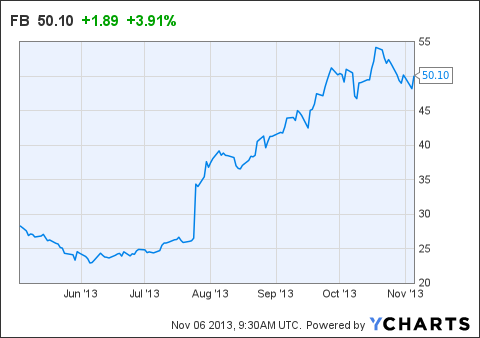 Digging into the numbers Facebook continues to show strong growth both in the top, and bottom line.
Third Quarter 2013 Operational Highlights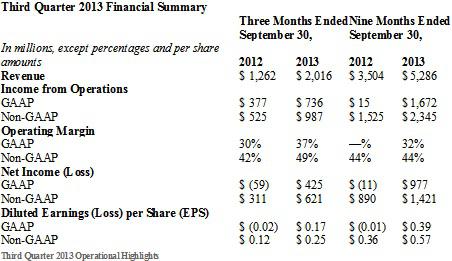 And the important user figures were also very impressive:
Monthly active users (MAUs)

Daily active users (DAUs)

Mobile MAUS (MMAUS)

Q3 2012

Q4 2012

Q1 2013

Q2 2013

Q3 2013

Total increase

MAUS

1.01

1.06

1.11

1.15

1.19

18%

DAUS

0.584

0.618

0.665

0.669

0.728

25%

MMAUS

0.604

0.68

0.751

0.819

0.874

45%

all numbers in billions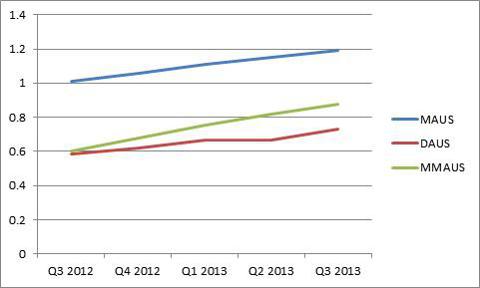 The monthly active users appears to post almost the same increase each quarter of 40 million new users. The trend for the second two numbers is very good; the daily active numbers is increasing faster than the monthly active users, in a nutshell existing users continue to use the site more than they did before; this is counter-intuitive if you, like me, were under the impression that people were getting tired of Facebook, the evidence points in the opposite direction - Facebook is doing an excellent job of making its site more sticky. The Mobile increase is equally impressive, and demonstrates how agile Facebook has been in shifting to mobile; a lot of the growth is coming from its existing user base, but I believe this will change in 2014 - I will come back to this point.
Increased engagement
As I have just shown, Facebook users are on the site more than ever, Facebook fatigue hasn't set in yet, and users are putting more and more of their life on the site. This is great for future revenue, the more essential Facebook becomes, the more possibilities there are to further monetize its users, and continue to drive revenue.
Monthly Active Users and Mobile Users
Okay I did say I'd dig more into this point; at present Facebook is seeing the most dramatic growth from its mobile division, both in numbers and revenue. This is growing much faster than monthly active users, so what is going on, and why do I think this dynamic could change? Currently most of this mobile growth is coming from its current user base, the smartphone revolution continues and with high speed networks, fast processors, and large beautiful displays, the experience of accessing Facebook on a smartphone is better than ever. Users with PC's and laptops are finding it much easier to check Facebook on the go from their mobile.
Heading into 2014 smartphone growth is predicted to continue, but the more important fact is that price points and quality will continue to push downwards, with the exception of Apple (AAPL) which will continue to charge and arm and a leg; this opens up smartphone ownership to a lot more people, and a lot of these people, importantly, don't own a PC, or Laptop. These are not existing users switching to mobile, these are all new users who can put in some serious growth to the monthly active users. Heading into the second half of the New Year I expect to see the Monthly Active Users and Mobile Users growth closing in to similar percentages gains -- a lot of the growth will be coming from these mobile only users rather than current users switching to their mobiles.
Stretching this a little further out and peering into the future this trend of smartphone usage and lower price points should continue into 2015 and 2016. Will you be able to buy a smartphone in 2016 that has the capabilities of today's flagship for $50? I wouldn't bet against it. Today you can buy the Nokia (NYSE:NOK) 520 for under $100, it's no flagship, but it demonstrates that you can have a great experience at a low price point. When buying a share in Facebook you are essentially buying a share in its future revenues, and Facebook still has a lot of growth in both users and revenue ahead.
Risks
I've just posted a rather rosy picture about how Facebook has a lot of growth in top line monthly active users driven by increases in smartphone usage and falling smartphone prices. As mentioned above Facebook continues to engage its existing users with a 25% increase in daily users but, as an investor, you have to acknowledge the risk that something else will come along and users will switch allegiances.
From my experience the hottest site for younger people at the moment is Instagram, Facebook got lucky this time and managed to buy it long before it posed a threat, it may not get so lucky next time and maybe Google (NASDAQ:GOOG) or Microsoft (NASDAQ:MSFT) will get there first.
If anything does come along to pose a threat it is likely to be a small and nimble start-up; the big players have tried and failed to take on Facebook in the social networking space. I'm, like many, a user of Google+; I have no choice in the matter, simply by using any of Google's properties I'm signed into Google+. Until I hear someone saying Google+ me rather than Facebook me, I remain unconcerned about this competitor.
Final thoughts
Facebook delivered excellent results in Q3, better than any analysts predicted, but the stock went sideways due to comments about teenager engagement. This is a legitimate concern, but the numbers don't lie and all around they were very good with top line increases in monthly users; increases in daily usage - driven by existing users; and very strong growth in mobile users. I don't see any reason for these growth trends to slow down in the coming quarters and for this reason I feel quite confident in the continued growth of Facebook.
Disclosure: I am long NOK. I wrote this article myself, and it expresses my own opinions. I am not receiving compensation for it (other than from Seeking Alpha). I have no business relationship with any company whose stock is mentioned in this article.