By Chris McKhann
Micron Technology (NASDAQ:MU) is falling off from yesterday's high, but the options action today is in the calls.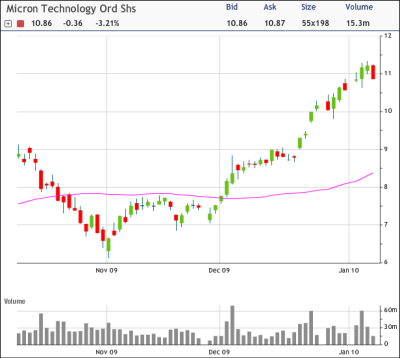 MU is down almost 3%, trading at $10.89 on the heels of a 52-week high of $11.24 set yesterday. Shares had been on a near-vertical run from $6 at the beginning of November.
One trader picked up 10,000 February 12 calls for $0.35 while selling 10,000 February 11 puts at the same time for $0.70. The open interest at both strikes was below 3,000 contracts, so these were clearly new opening positions.
The income from the sold puts more than offsets the cost of the calls. But the trade makes little sense on its own, as the sold puts indicate that the trader is willing to be long shares at that price and therefore thinks that $11 is support for MU, which is already below that.
Looking closer, we see that more than 2 million shares of MU changed hands in the minutes around the options trade. So it is very likely that this option trade was done against an offsetting position in the stock of MU, thereby creating a position that is not outright bullish on the stock.
(Chart courtesy of tradeMONSTER)